Hyderabad: The Geospatial World Leadership Awards 2018 were presented during the Gala Dinner night on January 17, at the Geospatial World Forum in Hyderabad. The ceremony saw the best minds/organizations of the industry being felicitated amidst appreciation from the peer community.
Geospatial Ambassador of the Year: Dorine Burmanje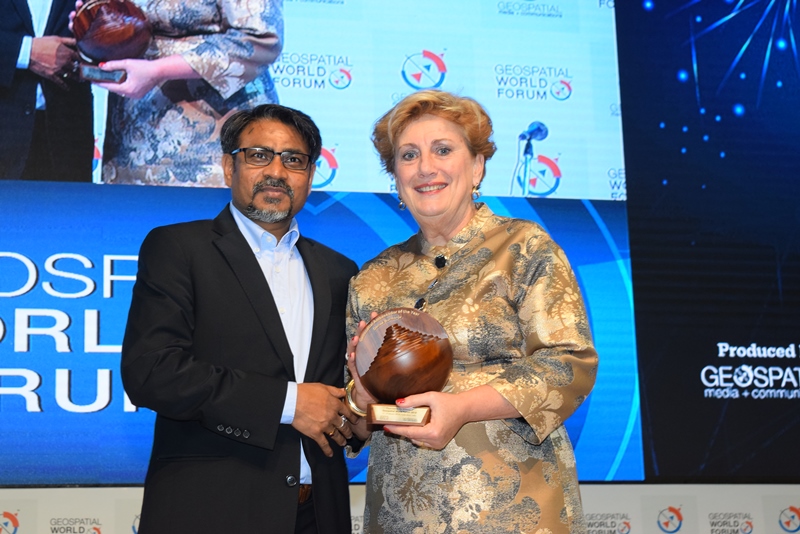 Dorine Burmanje chairs the Executive Board of the Netherlands' Cadastre, Land Registry and Mapping Agency (Kadaster) since 2004. She also co-chairs the United Nations Committee of Experts on Global Geospatial Information Management (UN-GGIM) and is President of the Management Board of Eurogeographics, the umbrella organisation that represents 50 national mapping and cadastral agencies throughout Europe.
Burmanje has created a significant impact in promoting geospatial technology globally. Under her leadership, Kadaster has enabled geospatial technology uptake in many developing countries in Asia and Africa through consultancy and international partnerships. Within the period of her tenure, she has transformed Kadaster into a knowledge organization that helps solve social issues.
In addition to ensuring Kadaster's core task of legal certainty for all Dutch landowners, Burmanje is also active in stimulating innovation by developing new IT tasks and services. Her continuous efforts towards creating and delivering highly accurate and valuable geospatial data has positioned Kadaster as a trusted partner in property and geographic information – both locally and internationally.
Geospatial Business Leader of the Year: Howard L. Lance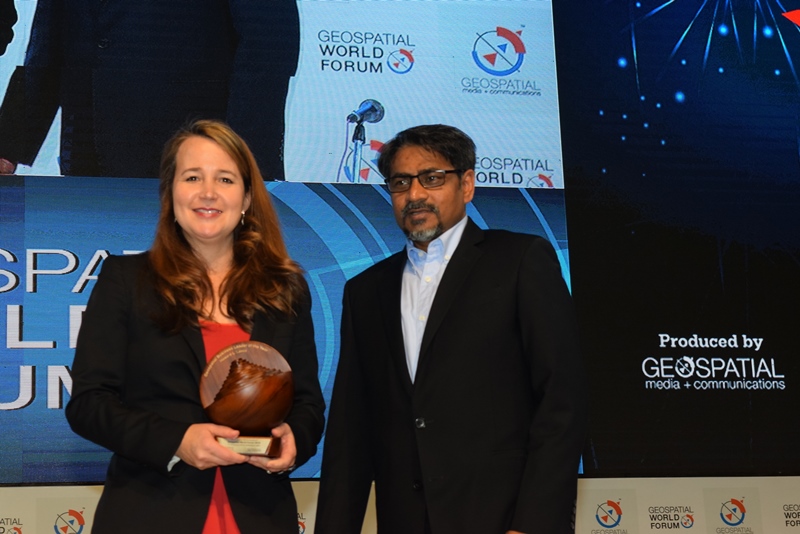 Howard L. Lance was appointed as president and chief executive officer of Maxar Technologies (formerly MacDonald, Dettwiler and Associates Ltd.) in May 2016. He also serves as chairman, president and chief executive officer of its U.S. operating company, Maxar Technologies Holdings Inc.
Within a year of taking over as CEO, Lance successfully executed the acquisition of DigitalGlobe, the global leader in high-resolution Earth imagery and information; giving birth to the new corporate identity of Maxar Technologies.
Maxar Technologies encompasses four of the leading commercial space technology brands—SSL, MDA, DigitalGlobe and Radiant— making it an industry leader in advanced space technology solutions for commercial and government markets, including satellites manufacturing and servicing, satellite communications and ground stations, Earth imagery, geospatial data and analytics —  something rivalled only by national space agencies like NASA or ESA.
Geospatial Solutions Company of the Year: AECOM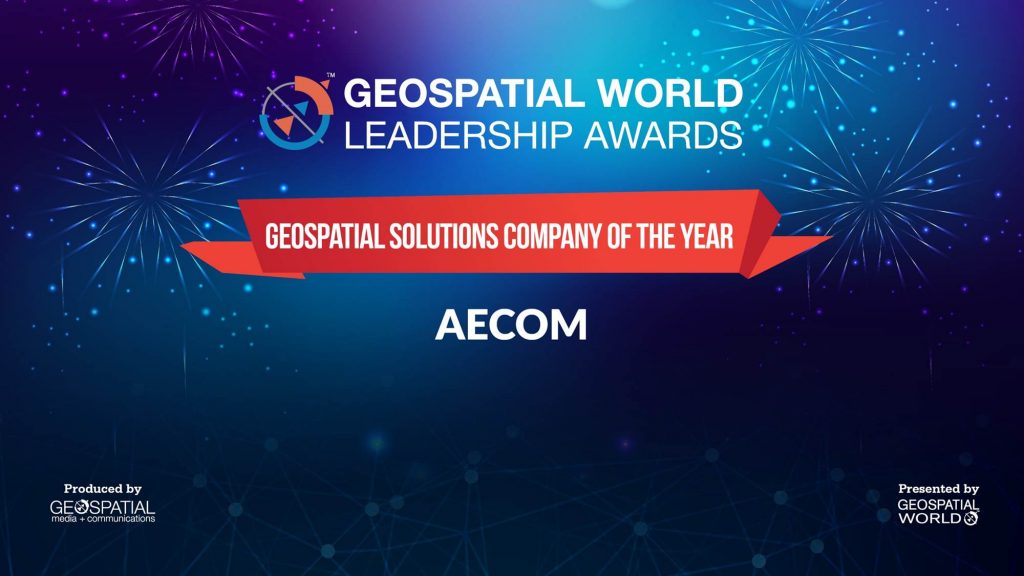 AECOM is a global leader in planning, design and engineering with a key focus on integrating geospatial solutions across a spectrum of services. It is a pioneer in implementing geospatial-enabled solutions in smart cities and infrastructure segment.
The latest geospatial technologies and processes are used to capture, analyze, store, manipulate and present multiple types of spatial information to address complex challenges — from designing better buildings and understanding air quality impacts on a city, to infrastructure route optimisation projects and developing ecologically-sound urban masterplans.
With hundreds of geospatial professionals across the global network, AECOM has been extending the value of geospatial technologies through its multi-disciplinary teams that handle most challenging projects within and across every market.
Making a Difference: Bill & Melinda Gates Foundation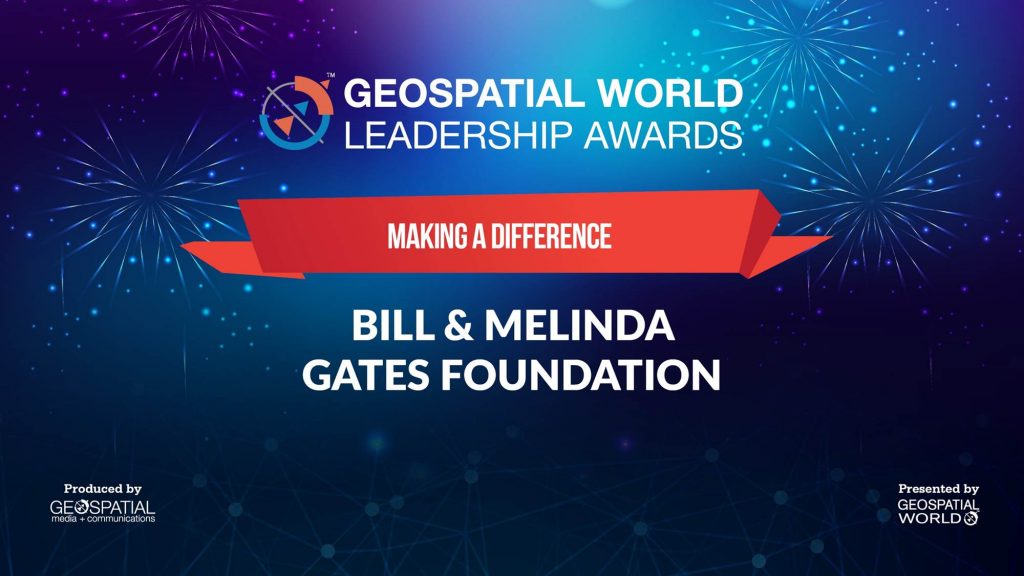 Bill & Melinda Gates Foundation is a shining example on the successful use of geospatial data and technology for a broad range of social, health, and education development efforts globally.
Its grant of $1.3 million dollars for malaria eradication efforts in Zambia has enabled mapping of thousands of vulnerable communities in weeks, led by DigitalGlobe, Mapbox and Humanitarian OpenStreetMap Team (HOT).
The Foundation has partly-funded a research on how technological advancements in remote sensing, cloud computing, mobile technology, and GPS technologies can create a unique opportunity for implementing smarter solutions for smallholder farmers globally. This is in line with its commitment to reshaping crop-based production systems in Sub-Saharan Africa and South Asia in partnership with DigitalGlobe and Monsanto.
The Foundation has put billion-dollar investment into 'Radiant Earth' project, a repository and archive of the world's satellite, aerial and drone imagery, for the planning and management of issues such as land tenure, global health, sustainable development, food security and disaster response.
The Foundation also plans to invest in an organization that will advance the quality, completeness, and sustainability of geospatial data in Africa, with the goal to improve the efficiency and effectiveness of creating and using location-based analysis to accelerate the reduction of global inequities.
Geospatial Technology Company of the Year: HERE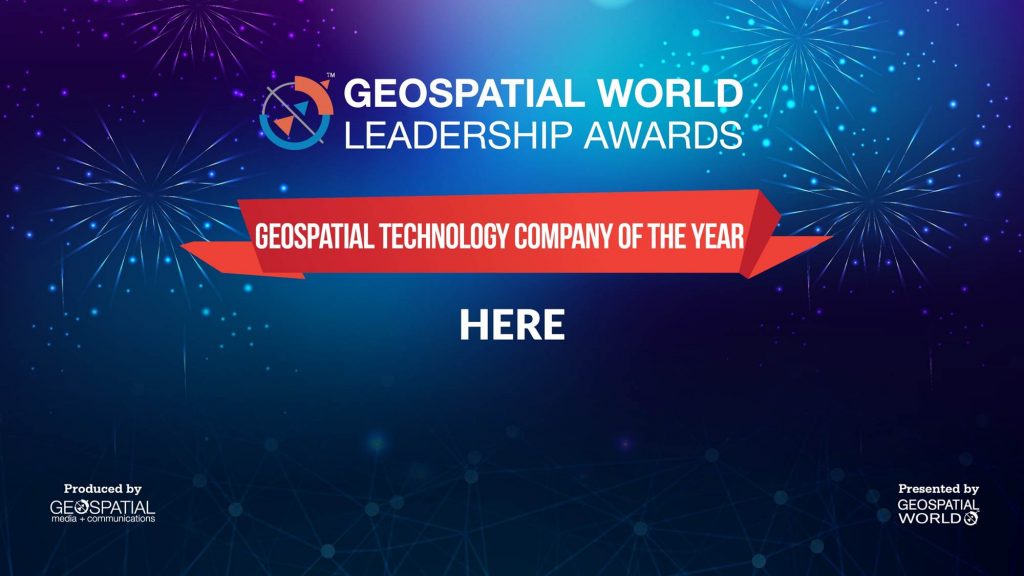 HERE has been at the forefront of providing the highest quality map content in terms of accuracy, speed of delivery and auto-grade quality for decades. In 2005, HERE started building a new type of map that augmented the base map by adding highly accurate features of road geometry, such as height, slope and curvature. Ever since, HERE has continued to add more layers, including HD accuracy, lane-level precision, and a tile-based mapping service.
With its vision to enable the Autonomous World for everyone, HERE has been empowering services like highly automated driving, efficient business logistics and advanced traffic management. It is currently building an open location platform that will further unleash the potential of location-based content and near real-time maps, creating a new era of location analytics, e-commerce and target advertising.
Enabling Public Policy & Infrastructure: Natural Resources Canada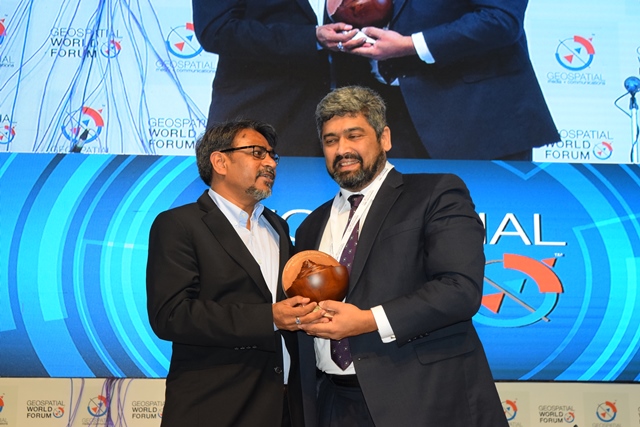 Natural Resources Canada (NRCan) has fostered an enabling policy mechanism and provided a conducive framework for geospatial information infrastructure. In today's digital age when geospatial is becoming more and more ubiquitous, open and inter-disciplinary policies are the key instruments of harnessing the true value of this wonderful technology. NRCan has demonstrated very mature and inclusive approach while setting its geospatial policies and infrastructure, which has been exemplary to other countries as well.
NRCan has crafted an open and encouraging environment for government, businesses, citizens and development organizations to make optimum utilization of geospatial information in their respective functions and responsibilities. It has also taken well-articulated steps to undertake a market study estimating socio-economic value of geospatial information in Canadian economy. This, in turn, has created vibrant and robust geospatial capacity and businesses in the country.
National Geospatial Agency of the Year: United States Geological Survey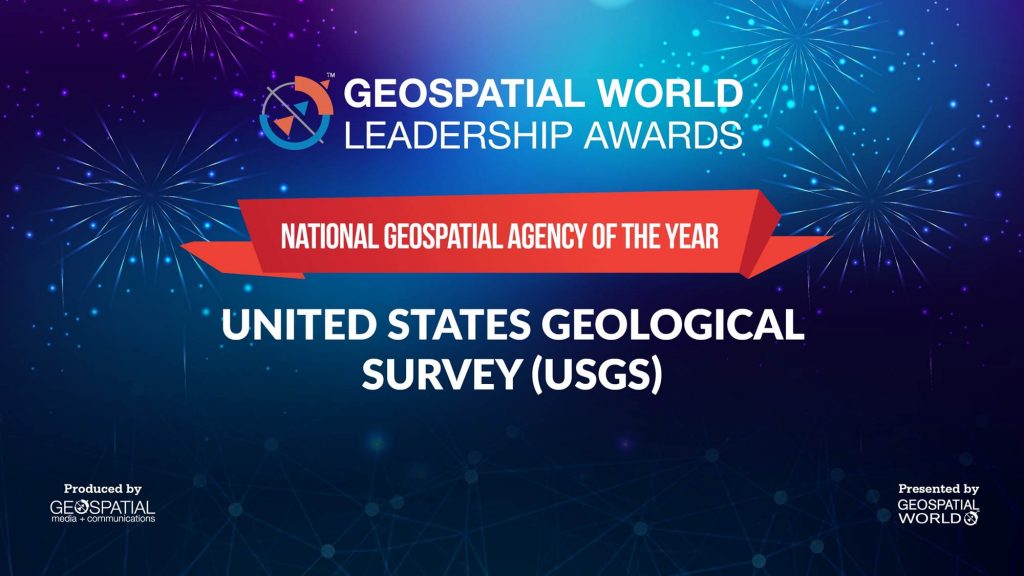 Created by an act of Congress in 1879, United States Geological Survey (USGS) has evolved over the ensuing 125 years, matching its talent and knowledge to the progress of science and technology. It is a world leader in the natural sciences through its scientific excellence and responsiveness to societal needs.
USGS collects, monitors, analyses, and provides geospatial data about natural resource conditions, issues, and problems. Its diverse expertise enables various critical large-scale, multi-disciplinary investigations and provide impartial scientific information to resource managers, planners, and other customers. Its natural science expertise and vast geospatial and biological data holdings are sought out by thousands of partners and customers around the globe.
Its reliable geospatial information to describe and understand the Earth has contributed in minimizing loss of life and property from natural disasters; better management of water, biological energy, and mineral resources; and enhance and protect the quality of life. It is commendable for a national organization to demonstrate the true value of geospatial data and its application for global benefits.
Geospatial Hub of the Year: Geovation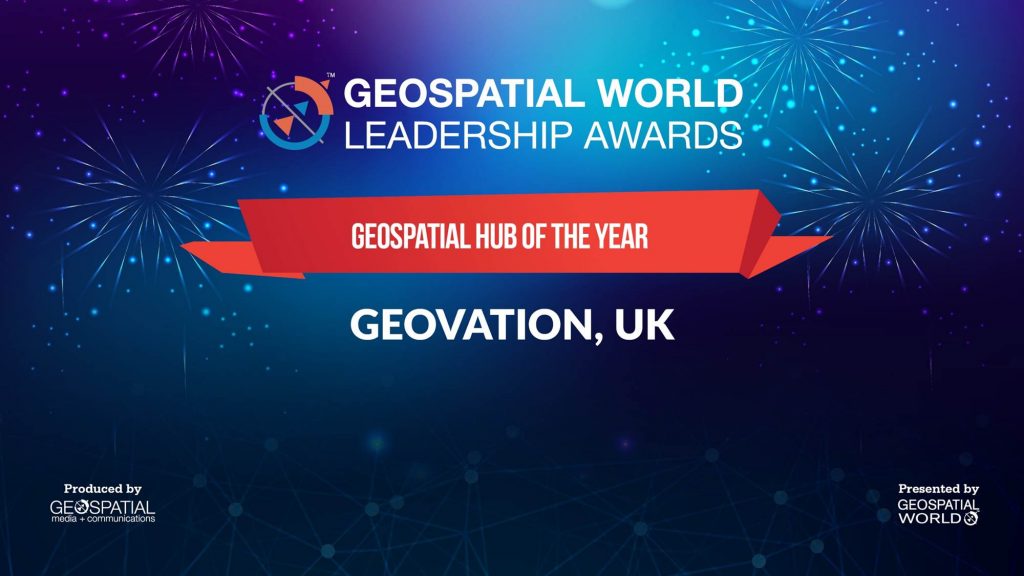 Geovation was designed to give the best possible support to corporations, SMEs, start-ups and individuals using geospatial technology and data to create new products and services. Members of Geovation are working with AI, data science, IoT, drones, SaaS, connected autonomous vehicles and other new technologies to disrupt and transform a variety of sectors, including property, mobility and transport, infrastructure, energy, health and connectivity.
Since opening its doors two years ago to some of the UK's leading geospatial start-ups, Geovation has seen the ventures it supported, raised £11.3 million in investment and created 86 new jobs.
Geovation has also established partnerships with major global names, including IBM, DSTL, Nominet, Intel, KPMG and Dorsey, all of whom encourage and share their expertise and business know-how with Geovation's businesses.
Geospatial Woman Champion of the Year: Anne Hale Miglarese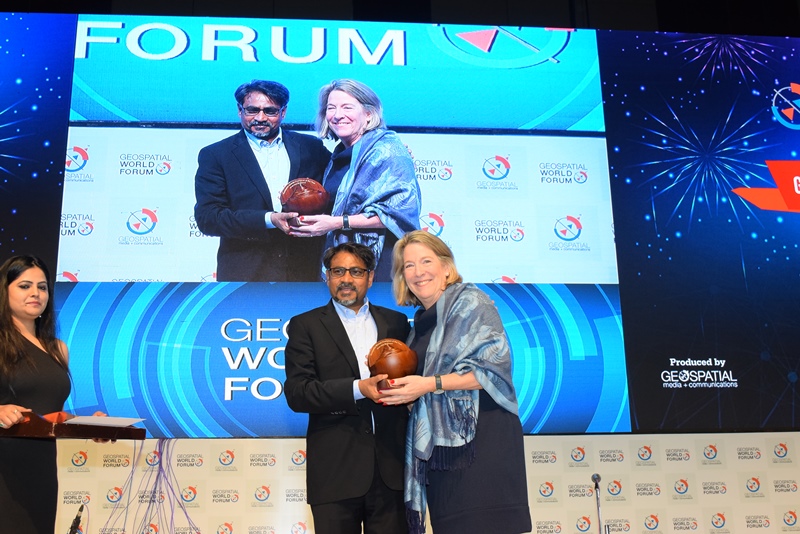 Anne Hale Miglarese is the founding CEO of Radiant.Earth, an open satellite, aerial, and drone imagery archives, with a unique endeavor to answer to the global development community's call for better access to Earth observation data. For putting together Radiant.Earth, she had to work hard to bring a host of top philanthropists and professionals, including the Gates Foundation, Omidyar Network and Amazon, under one umbrella.
A top-notch remote sensing professional, Miglarese has led and managed various organizations championing the technology and utility of geospatial data. Prior to launching Radiant.Earth in August 2016, she served as President and CEO of Fugro Earth Data, a company specializing in airborne mapping, remote sensing and GIS services. She also directed remote sensing and GIS programs for ten years as Chief of the Coastal Information Services branch of the National Oceanic and Atmospheric Administration's (NOAA) Coastal Services Center.
She is active in national policy governing spatial data, serving as past chairman of the Federal Geographic Data Committee's Marine and Coastal Spatial Data Subcommittee. Miglarese currently serves on the board of multiple organizations and academic institutions.
Special Achievement Award: A. S. Kiran Kumar
A. S. Kiran Kumar is a highly accomplished space scientist and engineer with a distinguished career spanning over four decades in ISRO in the satellite payload and applications domains. He assumed the office of the Secretary, Department of Space, Chairman, Space Commission and Chairman, Indian Space Research Organisation (ISRO) in 2015.
Considered the backbone of ISRO's path-breaking innovations and outreach in recent times, Kumar has made immense contributions to the design and development of India's own GNSS system as well as in positioning ISRO as one of the most reliable and economically affordable satellite launch providers in the world. He was also instrumental in evolving the successful strategy for commercializing space industry in India by opening up ISRO to private industry.
Kumar is actively promoting and integrating ISRO's data and technology in national development projects. He led the development of South Asia Satellite, a geostationary communications and meteorology satellite operated by ISRO serving the needs of South Asian Association for Regional Cooperation (SAARC) region.
Lifetime Achievement Award: Steven W. Berglund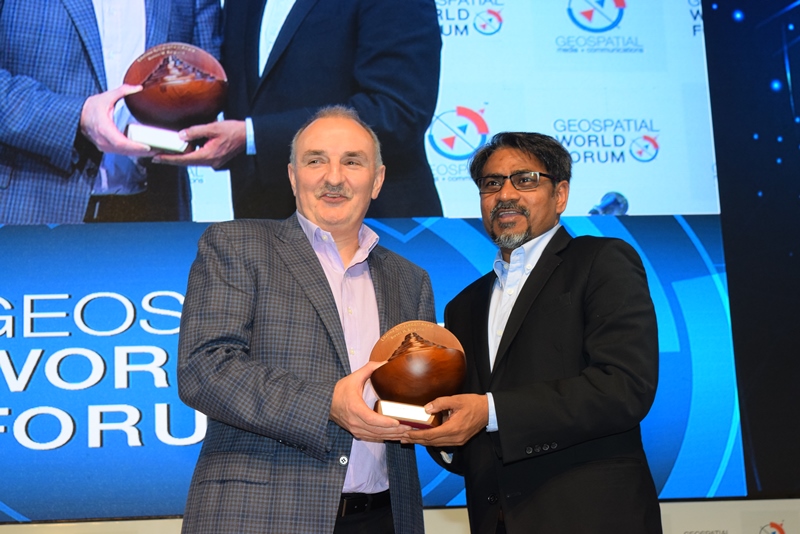 Steven W. Berglund is the president and chief executive officer of Trimble Inc. An engineer by profession, Berglund took over the mantle in 1999 following Trimble's acquisition of Spectra Precision, where he was the President.
Within two decades of his tenure, he has transformed Trimble from a GNSS survey equipment company to a leading geospatial solutions player in the world. Strategic acquisitions of some of the best technology companies under his leadership expanded Trimble's solutions offerings. Trimble is now leading the change in geospatial industry as it moves towards integrating geospatial technology into various industry workflows, including Construction, Agriculture, Transportation, Telecommunications, Asset tracking, Mapping, Utilities, Mobile Resource Management, and others.