The Architecture, Engineering and Construction (AEC) industry is transforming at a rapid pace. Today, the sector is duly augmented by the adoption of integrated technologies, i.e. Building Information Modelling (BIM), geospatial technologies, digital technologies (Cloud, Big Data, AR/VR, IoT, etc.) across the construction value chain. Geospatial technologies, in particular, are bringing throes of change across the AEC industry by bringing in operational efficiencies, eliminating data redundancy, and ensuring cost effectiveness across planning, designing and engineering, construction and operations and maintenance continuum.
Geospatial Media's, 'Geospatial Market in the AEC Industry 2019' report presents a harmonized view of the geospatial market in AEC industry and stresses on the fundamental role it plays in facilitating an incremental construction strategy for project efficiency and outcomes. The report further highlights the strategic shift of the geospatial companies to build capabilities in the AEC industry by way of acquiring construction technology (ConTech) software.
Geospatial Market in the AEC Industry is valued at US$ 58.94 Billion
To understand the geospatial market in the AEC industry – the number to focus on is US$ 58.94 billion (2018), i.e. approx. 17.2% of the total global geospatial market, valued at US$ 339 billion in 2018 is engaged in the AEC industry. The geospatial market in the industry is expected to grow at an exponential rate owing to the rise in infrastructure investment and ConTech investments in economies like China, Japan, and India. These regions are currently at a nascent stage of geospatial adoption which shall continue to be enhanced in the next decades.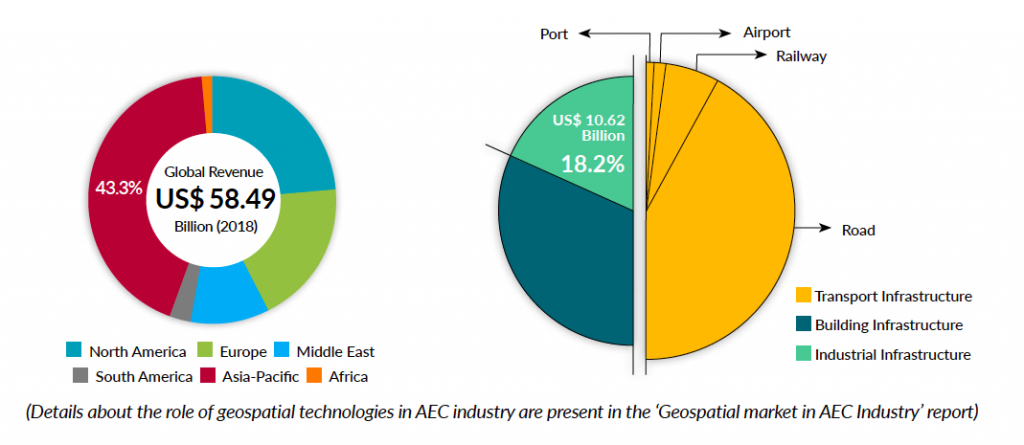 2018, the year of Mergers and Acquisitions
Over the past three years, geospatial companies in both hardware and software segments are found to be expanding their AEC technology portfolio by acquiring companies in the construction technology (BIM, etc.) segment. Software companies, such as Bentley and Autodesk were found to be acquiring more companies than hardware and system integrator companies to advance their 3D visualizations and BIM capabilities. Simultaneously solution and system integrator companies are acquiring ConTech companies to improve asset management strategy, and to enhance technology capabilities in engineering companies.
Investments in ConTech is on the rise
Since 2009 there has been an upward trend in companies investing in ConTech start-ups, and this trend is going to see an exponential trend in the coming years. Most of the ConTech investments are aimed to help solve complex problems and streamline construction processes. A study by Swiss Re and CBI Insight (2018), highlights the vast investments by venture capitalists (VCs) in BIM, data-analytics software and design and planning software; proving the imminent surge of investments in ConTech marvels to enhance the efficiency in the AEC industry.
The AEC industry is ripe for disruption. Known to be one of the most information-dependent sectors and yet as one of the least digitalized sectors of all – the industry is open to new technologies to enhance productivity, efficiency and efficacy. If you are interested in an in-depth understanding of the geospatial market in AEC industry, you can purchase the Geospatial Market in AEC Industry's report.