The year 2018 would be really remarkable for the international Geospatial industry, with a number of significant conferences, events, and expos of the latest innovations. Let's have a glance at the Geospatial conferences that you shouldn't miss this year.
January
Jan 15-19, 2018: Geospatial World Forum 2018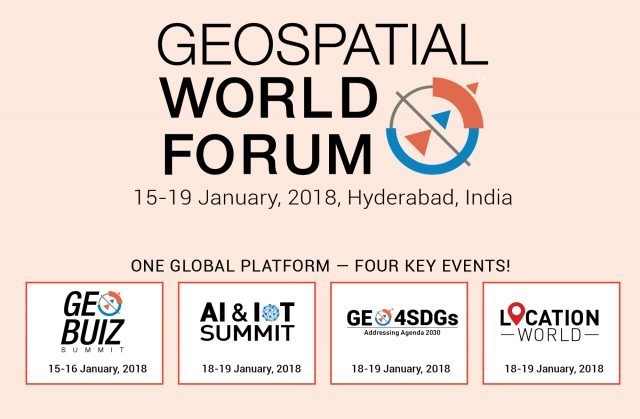 Geospatial World Forum 2018 will be held in the Indian city of Hyderabad. It will establish the connection between geospatial technology and the Fourth Industrial Revolution (4IR), a technology revolution, which will transform the way the world functions. The platform will be hosting four crucial events – GeoBuiz Summit, Location World, Geo4SDGs, and AI & IOT Summit.
Jan 22-24: DGI 2018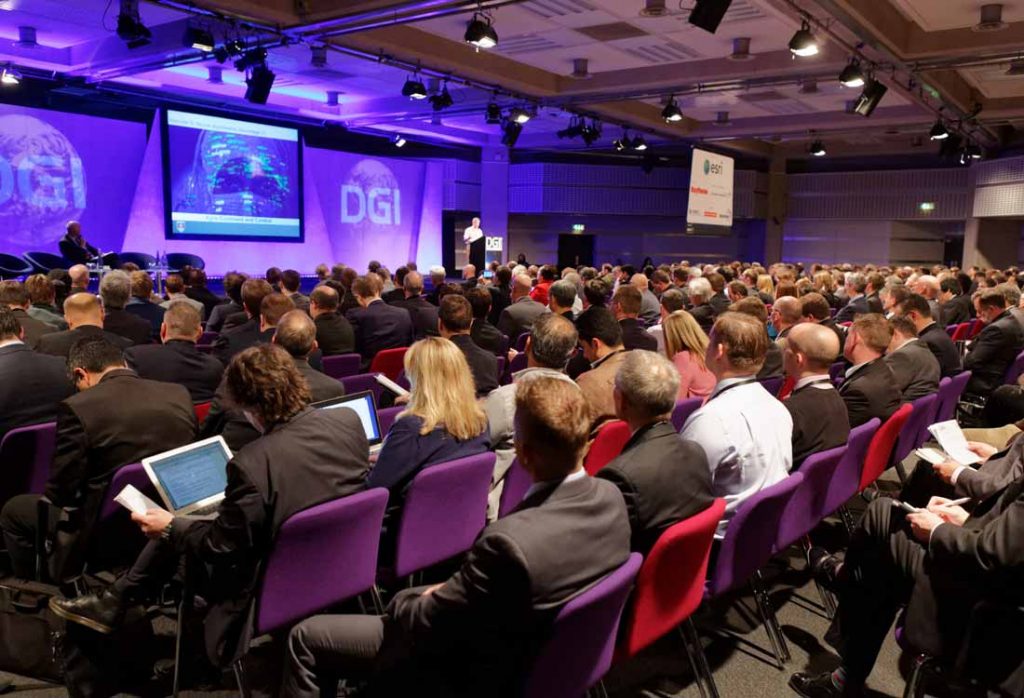 DGI is the only European large-scale annual meeting place for military and civilian geospatial intelligence agency leaders. Interactive conference sessions and new exhibitors provide a unique opportunity for 575+ geospatial intelligence experts from 50+ different nations and agencies to benchmark, network and test new technology.
Jan 30-31: ICSCSU 2018 – 20th International Conference on Smart Cities and Sustainable Urbanism
The conference aims to bring together leading scientists, researchers and research scholars to exchange and share their experiences and research results on all aspects of Smart Cities and Sustainable Urbanism. It also focuses on challenges encountered and solutions adopted in the fields of Smart Cities and Sustainable Urbanism. The annual conference will be held in Jeddah, Saudi Arabia this year.
February
Feb 5-7, 2018: ASPRS Annual Conference and International Lidar Mapping Forum, Denver, Colorado
The three-day event will provide attendees access to almost unparalleled geospatial solutions and networking. The events will maintain parallel technical programs, including ILMF product reviews and ASPRS workshops, awards, and committee meetings.
 March Geospatial conferences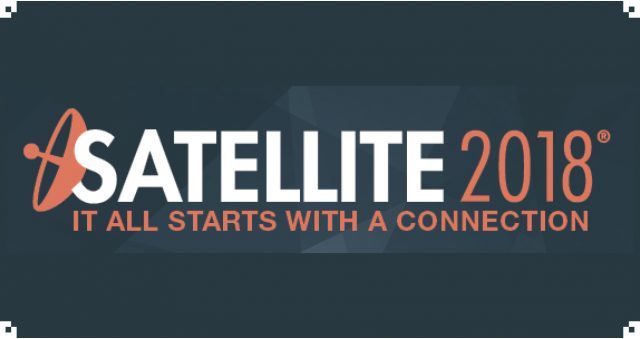 Mar 12-15: SATELLITE 2018
SATELLITE 2018 "It Starts with a Connection" will be held at Walter E. Washington Convention Center in Washington D.C. Professionals from around the globe will gather for SATELLITE 2018 to expand their knowledge in the fields of satellite communications and space technology.  With forward-looking keynotes and in-depth sessions in the conference, SATELLITE 2018 will explore the latest innovations in building the future of connectivity.
Mar 26-29: 6th International Conference on Remote Sensing and Geoinformation of Environment, Cyprus
The conference will be held at the Aliathon Holiday Village in Paphos, Cyprus.Its Technical Program is open to all topics in Remote Sensing and Geo-information of Environment and related techniques and applications. There will be workshops on remote sensing and Earth observation applications, information extraction from laser scanning data, and Earth Observation for the coastal and marine environment.
April
Apr 9-11: GeoSmart Asia and Locate 2018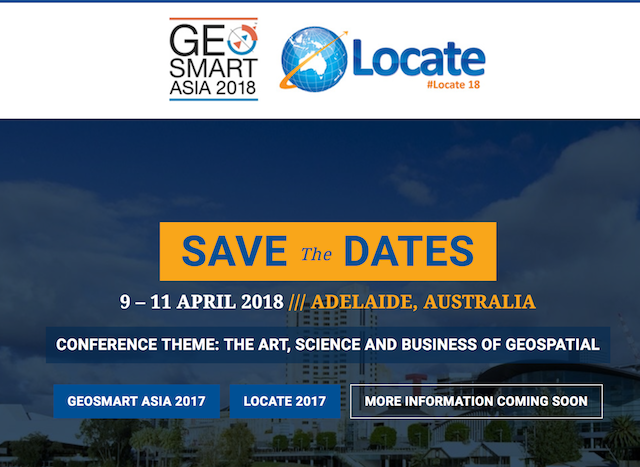 GeoSmart Asia provides a platform for dialogue and discussion on the application of geospatial technologies across the region. The three-day event in Adelaide, Australia, will include workshops, plenaries and thematic sessions, participatory experiences, social events, and an exhibition displaying state-of-the-art technologies. GeoSmart Asia joins hands with Locate this year to deliver a dynamic and powerful experience in the Asia-Pacific region by bringing geospatial leaders and experts together with industry innovators and technology providers from across the region.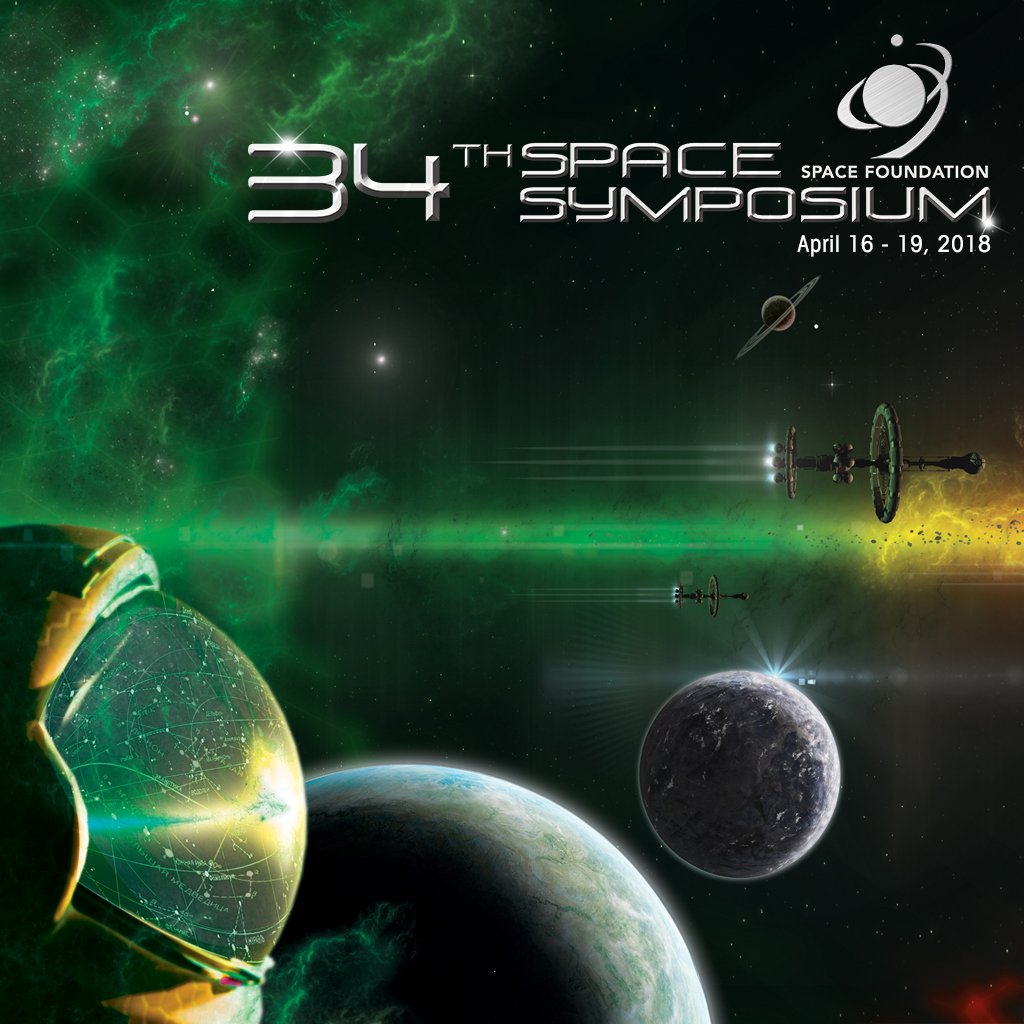 Apr 16-19: 34th Space Symposium, Colorado Springs
The 34th Space Symposium will be a leading event for the space industry this year. Thousands of delegates from multiple countries will attend to deliberate on space technology and the latest industry trends. The Space Symposium is acclaimed as the premier U.S. space policy and program forum.
Apr 17-19: 7th Digital Earth Summit (DES) 2018, Morocco
7th Digital Earth Summit 2018 will be a major event in the international community of Earth observation and geospatial information science. It will be held in the Moroccan city of El Jadida. The main objective of DES-2018 is to bring together scientist and professionals from the global fraternity to present latest achievements, discuss challenges and share experiences.
Apr 22-25: USGIF GEOINT
Organized by the United States Geospatial Intelligence Foundation, GEOINT 2018 would be among largest gathering of industry and academia in the field of defense, intelligence and geospatial technology. It will be held in Tampa, Florida.
Apr 24-25: 9th IGRSM International Conference and Exhibition on Geospatial & Remote Sensing (IGRSM 2018)
The conference, with the theme Geospatial Enablement, is aimed at disseminating knowledge and sharing expertise and experiences in geospatial sciences in all aspects of applications. It also aims to build linkages between local and international professionals in this field with industries. The organizing committee of the conference especially requests for high-quality submissions in areas related to geospatial science and technology. The conference will be held in Kuala Lumpur, Malaysia.
Apr 26-27, 2018: EnerGIS 2018 – GIS for Energy
EnerGIS is a GITA ( Geospatial Information and Technology Association) sponsored conference which features inspiring and challenging talks about GIS within the Energy Industry. A meeting place for GIS & Geospatial professionals to gather with our colleagues from around the corner, and around the world, discussing topics of current interest and new challenges within the industry.  This year the two-day conference will be held in Canonsburg, Pennsylvania.
May
May 2-4: 3rd GEO Data Providers Workshop
Organized by the European Space Agency in Frascati, Italy, the conference brings together data providers and users to share knowledge and best practices in the management and use of Earth observation data to enhance the Global Earth Observation System of Systems (GEOSS). The 3rd GEO Data Providers Workshop will feature 3 days of dynamic sessions aimed at connecting data providers and users as part of the GEOSS Platform community.
May 6-11: FIG 2018
The objective of the conference is to share experience and knowledge in the surveying profession among the various cultures and societies and to enhance the ability of all people and governments to use information and tools properly to optimize activities required to achieve the SDGs. The theme of FIG2018 Congress "Embracing our smart world where the continents connect: enhancing the geospatial maturity of societies" finds its meaning in the joint effort for the "Geospatial Transformation of the World".  The conference will be held in Istanbul, Turkey.
May 14-17: Internet of Things ( IoT) World
IoT is a futuristic technology that will rapidly change the world and the 2018 world conference in Santa Clara, California will provide you with all the information on IoT that you need to know – and much more. The annual event acts as a platform for more than 250+ exhibitors and provides them sessions on the developer stage, ecosystem center stage and watch startup pitches.
June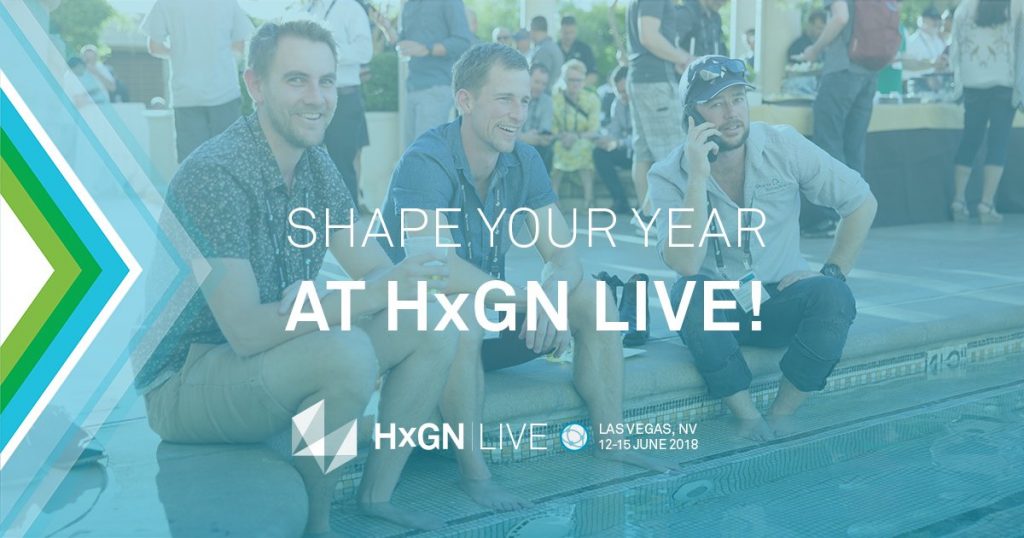 June 12-15: Hexagon Live Conference
The four-day Hexagon conference will be held in Las Vegas, Nevada. The premier cross-industry technology conference welcomes business leaders from around the world each year. Its keynotes and sessions enhance skillsets with interactive training and help in making new connections that enable professional networking
June 13-15: ITEC 2018
ITEC assists the industry in the transition from conventional vehicles to advanced electrified vehicles. The conference is focused on components, systems, standards, and grid interface technologies, related to efficient power conversion for all types of electrified transportation, including electric vehicles, hybrid electric vehicles, and plug-in hybrid electric vehicles. The conference will be held in Long Beach, California.
July
 July 3-6: GI Forum 2018
The four-day forum will be held at Salzburg, Austria. GI_Forum provides a platform for dialogue among geospatial minds, creating an informed GeoInformation Society, hoping to contribute to a more just, ethical and sustainable society. At GI Forum 2018, keynote speakers will highlight new developments, offer visionary insights into trends and developments, and at the same time be individually accessible for researchers.
July 9-13: Esri User Conference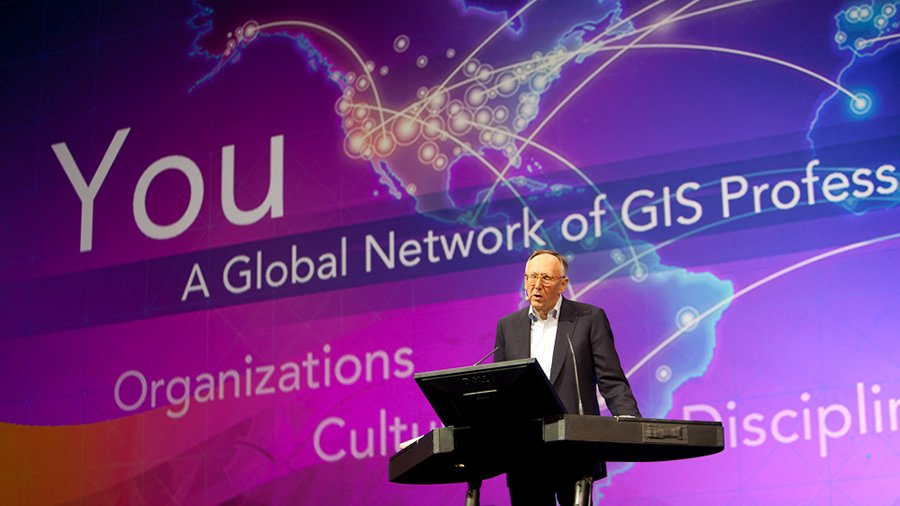 To be held in San Diego, California, Esri UC 2018 will help in networking and collaborate with peers in executive positions for learning best practices and discover new, focused solutions that will help organization unlock the full potential of data. The conference is indispensable for users of GIS.
July 15-19: Microsoft Worldwide Partner Conference
The conference is an avenue or sharing insights on transforming business. It provides industry experts the opportunity to hear top Microsoft leaders and fellow Microsoft partners. This year's conference will be held in Las Vegas, Nevada.
August
27-31 Aug: FOSS4G 2018
The International Conference for Free and Open Source Software for Geospatial will be held in Dar es Salaam, Tanzania this year. Its vision is for an accessible and inclusive conference that complements the existing OSGeo while empowering the Open Data, Participatory Mapping and Internet of Things work currently underway. This ranges from locating schools to the instrumentation of communities with cheap, open source, 3D printed weather stations that improve community resilience to climate change.
September
 Sept 10-14: World Satellite Business Week
The World Satellite Business Week hosts roundtable discussions, presentations and a packed social program offering unique networking opportunities and invaluable insight into the current and future prospects for the industry, particularly critical at this time of tumultuous economic and political events. The conference will be held in Paris, France.
September 27-28: 4th International Conference on GIS and Remote Sensing

The theme of this year's conference to be held in Berlin, Germany would be "Mapping the Future with GIS & Advancement in Remote Sensing". The conference will focus on new development in the field of GIS and remote sensing.  The event aims to aggregate researchers, academicians, and scientists from the GIS and remote sensing community to create a platform for the mutually beneficial exchange of information on technological advances and pioneering scientific achievements.
October
Oct 9-12: GIS Pro and CalGIS 2018
The yearly conference of GIS professionals will be held in Palm Springs, California. From workshops to keynotes to breakout sessions, the conference offers significant content on Emergency Preparedness, Drones/UAVs, Asset Management, and Emerging Technologies. Its committee also developed a full program track to support GIS Leaders and Managers; another that will help prepare GIS professionals for GISP Certification.
Oct 16-18: INTERGEO 2018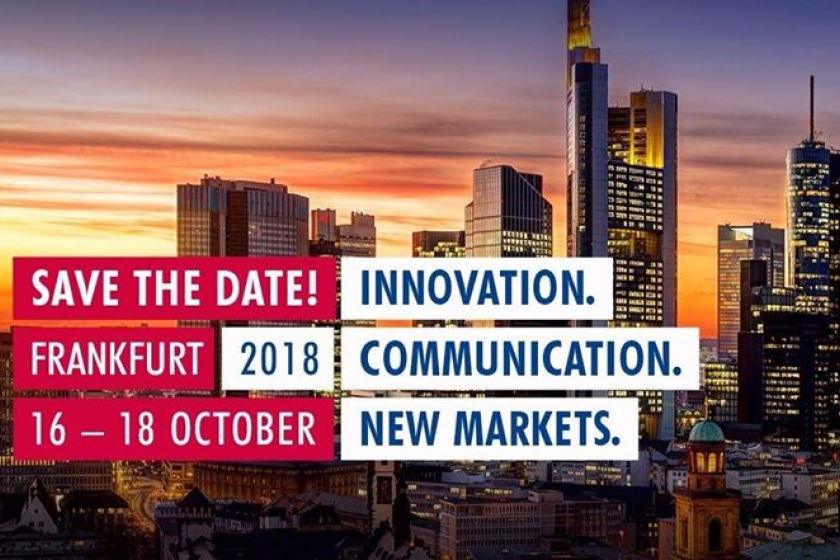 The aim of INTERGEO 2018, Frankfurt, is to provide a comprehensive review of the standards, innovations, and trends in their respective growth sectors. INTERGEO covers the gamut of processing, using and analyzing geodata. INTERGEO provides both exhibitors and visitors a platform to discuss the latest developments in the sector over the course of three days.
Note: We will keep on updating it as dates of new Geospatial conferences are released