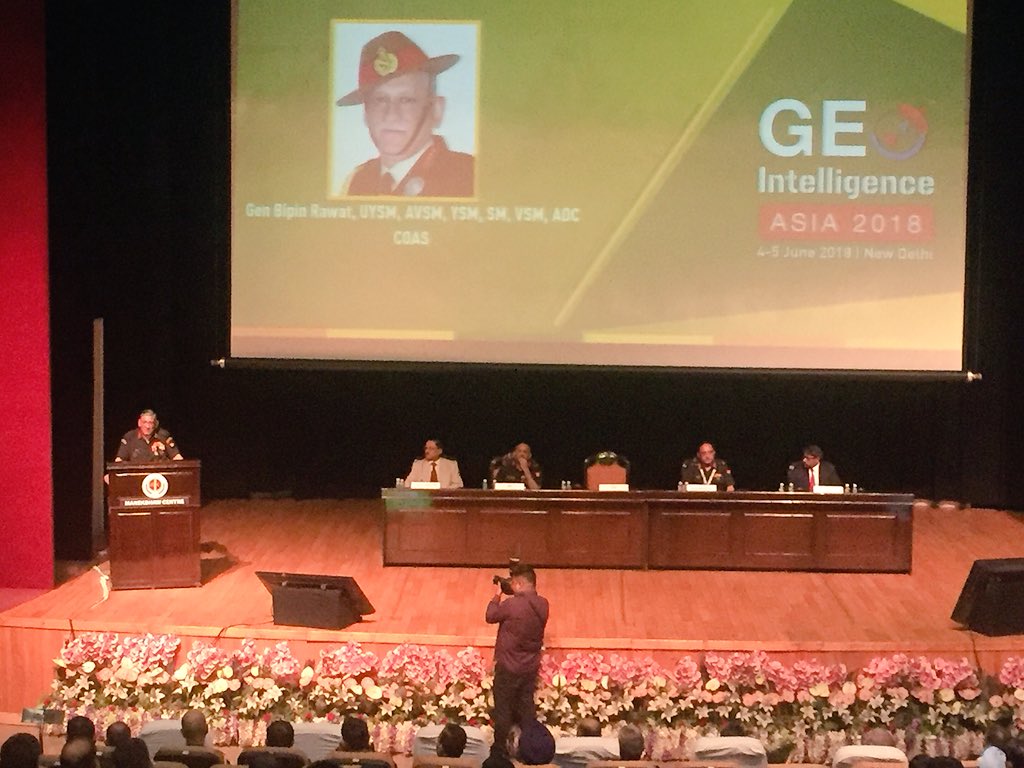 Battle field awareness is essential to any region. The Indian defense system has plethora of sensors to collect data. However the challenge lies in channelizing and analysing this humongous data. Geospatial Intelligence can solve this problem to a large extent.
At the Geo Intelligence Asia 2018 General Bipin Rawat, Chief of the Army Staff, Indian Army said, "We in the armed forces have thorough knowledge of the geography. The armed forces are the repository of Artificial Intelligence. The only thing that we lack is recording the vast information that we have. The Director General of Information Systems has been made responsible for integrating technologies and making best utilization of these technologies during battles or during operations.  We have to start looking at information systems as directorate which will help us during war fighting."
Stressing on a different dimension Lt Gen Girish Kumar, Surveyor General of India said that location is key to every activity. All smartphones nowadays ask for location. Hence a huge amount of data is being produced. The data is then analysed and used as intelligence by various businesses. This intelligence is also being widely used by the defence services.
He also said, "What we require is high resolution dataset which should be current, updated and seamless. To do that we have maps which are 1:50,000 scale. Moreover, we have already initiated the move to generate 1:10,000 scale. Even though map printing cannot be done at this scale. But digital data is available at 1:10,000 scale for the entire country seamlessly. For urban areas we need to have larger scales may be up to 2000 scale."
Another area that needs immediate attention is capacity building. "We need to develop professionals who can be used not just to generate data but to provide analysis which can be used in day-to-day functioning," he added.
Agreeing to this Gen. Rawat said, "We must build capabilities within and train our personals to handle technology."
Emplacing on the fact that data is being touted as the next oil, Lt. Gen. Anil Kapoor, Director General Information System on the occasion said, "There is a challenge of handling huge amount of data. Be it operations, logistics, supply chain, etc. Actionable intelligence and real-time situational awareness can lead to better decision making. The Indian Army is in the process of redefining and refining legacy applications to the state of the art by taking the help of Big Data analytics, spatial analytics and AI — the digital fabrication tools of today.:
He further added, "We need to learn software applications in critical areas to include multi sensor fusions, Ai-based predictive analytics for decision support to commanders, smart just-in-time logistics, Ai-based cyber security defensive, smart cantonments and many more such applications that will enhance Indian Army's information system."
Lt. Gen. Kapoor concluded by saying geospatial technology today has become the key driver for Fourth Industrial Revolution.