In an effort to get more and more people onto the Internet platform, Facebook released a series of maps to better understand the challenges facing unconnected communities. To begin with, earlier this week it released the population datasets for Malawi, South Africa, Ghana, Haiti, and Sri Lanka. The social media giant hopes to keep adding more countries over the coming months and plans to increase connectivity around the world based on this data.





Facebook population dataset
The population datasets were released publicly since Facebook believes this data could be useful to NGOs, humanitarian agencies or even companies in many ways, including for things like aid planning, disaster response, and infrastructure planning. "Developing communication technologies to reach the rest of the world is not a challenge we will solve alone. We want this data to be a new source of information to empower other organizations to achieve their missions. For example, The Red Cross is already planning to use the population maps to help combat malaria in Malawi, and to target humanitarian aid after natural disasters. By sharing our data and the problems we are working on publicly we hope to stimulate an open approach to solving local and global challenges," Facebook announced in a post.
The Connectivity Lab team at Facebook is working on communication technologies aimed at connecting people in rural areas who currently do not have access to the internet. Earlier this year, Facebook announced that it was working on high-resolution population maps to learn how people were aggregated in various parts of the world. This is expected to help it design the best communication technologies for each region.
Dataset analysis
The data, which can be found on the website of CIESIN at Columbia University, is a joint effort between Facebook, the university's Center for International Earth Science Information Network, and the World Bank. The High Resolution Settlement Layer provides estimates of human population distribution at a resolution of 1 arc-second (approximately 30 metre) for 2015. The estimates are based on the latest census data of each country and 0.5 metre satellite imagery from DigitalGlobe. They are created based on World Bank statistical model that incorporate population demographics, infrastructure development and existing internet penetration to identify the connectivity gaps and how to fix them. State-of-the-art computer vision techniques were used to identify buildings from commercially available satellite images. Using this building information, Columbia University used census data to generate population estimates, validate the result against other, more coarse-grained datasets and then the World Bank Living Standards Measurement Study (LSMS) program validated the final dataset against anonymized "ground-truth" household surveys.
From a first analysis of the dataset, information was extracted on how people are aggregated near urbanized areas that have more than 10,000 people. A clustering algorithm was performed to automatically identify urbanized areas, and the remaining population was determined on the basis of how close they are to the nearest city. The cumulative distribution of the distance of population to the nearest city for 23 countries (covering about one third of the world population) is shown in the figure 2 below.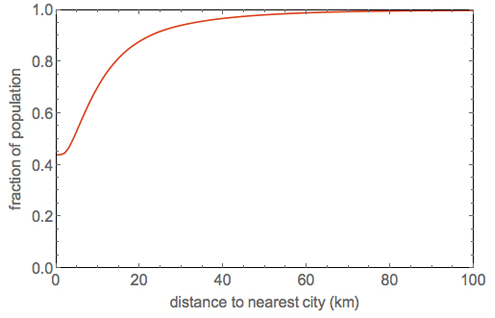 The results
This preliminary analysis reveals that slightly less than 50% of the population lives in cities. However, 99% of the population lives within 63 km of the nearest city. Therefore, it could be safely concluded that developing communication technologies that can bridge 63 km with sufficiently high data rates could connect 99% of the population in these 23 countries.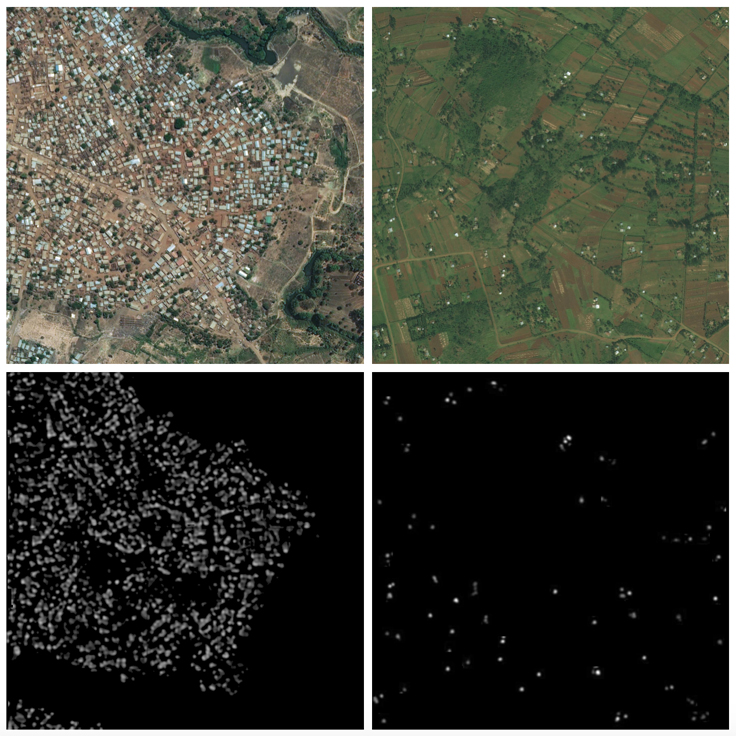 Around 10% of the world's population lives in areas where there is simply zero Internet connectivity. Connecting these remote and rural areas will require the development of new wireless communication technologies and platforms. "Our new dataset provides us with information on population distribution and location characteristics that will help us design these technologies more accurately. We would love to hear ideas (preferably also in an open manner) on how to bridge this distance in an economically viable fashion for line of sight and non-line of sight use cases, and we hope that by sharing these datasets we will stimulate further research," the Facebook post added.