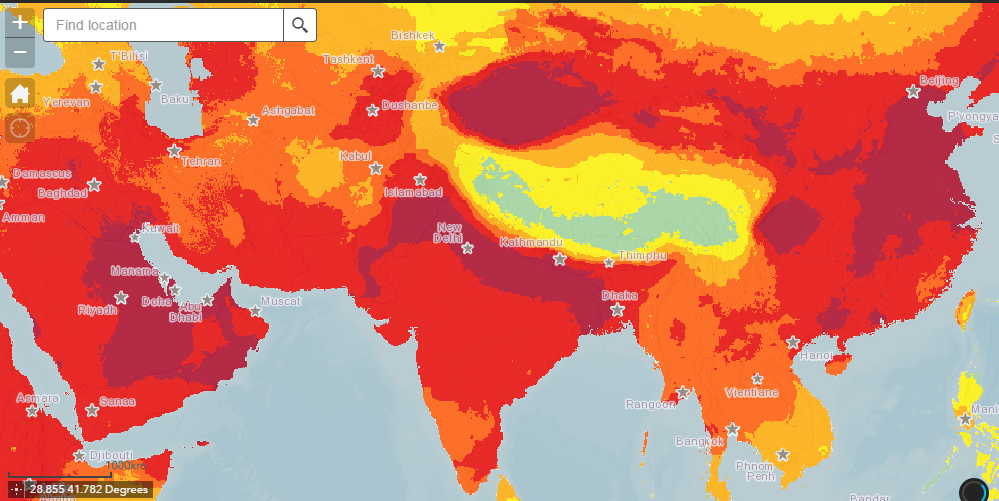 India suffers from worse air pollution than China is not news anymore. What is new and alarming is that air pollution levels in India is worsening sharply. Going by available satellite data, the entire Gangetic Plain suffers from pollution levels of 7 to 15 times above the World Health Organization guidelines. What is further alarming is the fact that as many as 30 cities fall in that category. And while Delhi often is under the spotlight because of its national capital status, there are at least four cities where the mean PM 2.5 levels are higher than Delhi.
A look at the WHO Global Urban Ambient Air Pollution Database would come as a shock with the entire Gangetic Plain marked in deep maroon, reflecting very high PM 2.5 levels.
Check out the WHO Global Urban Ambient Air Pollution Database here  
Air pollution levels in India
A study of the WHO database, further reveals that among the cities, Gwalior ranks on top with a PM 2.5 level of 176 µg/m3, followed by Allahabad with (170 µg/m3),  Patna (149 µg/m3) and Raipur (144 µg/m3). Delhi and Ludhiana rank fifth with a PM 2.5 level of 122 µg/m3. The WHO guideline chose an annual average concentration of 10 µg/m3 as the long-term guideline value for PM2.5.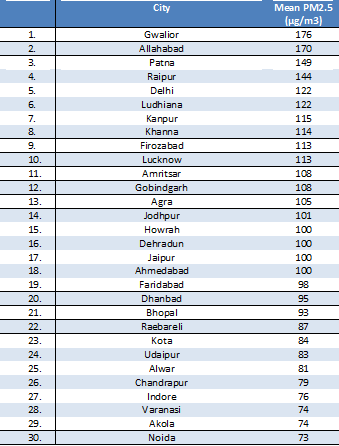 A number of rapidly industrializing tier-2 and tier-3 cities such as Ahmedabad, Jaipur, Jodhpur, Bhopal, Varanasi and even smaller hilly cities like Dehradun figure in the top polluted city list. This indicates that industrial and vehicular exhaust are choking large parts of the country with little oversight or monitoring mechanism.
Interestingly, the most polluted cities are concentrated in the north and central India. And while with western and eastern India had a handful, southern India had not a single one in the list. Also, a careful study of the map revealed South India is comparatively less polluted than the North.
According to a WHO assessment of the burden of disease due to air pollution, more than 2 million premature deaths each year can be attributed to the effects of urban outdoor air pollution and indoor air pollution (caused by the burning of solid fuels). More than half of this disease burden is borne by the populations of developing countries.
India's air quality worsening steadily
According to the Greenpeace Energy Desk, which decoded the data from NASA satellites, air pollution levels in India have been worsening over the years, with a steady deterioration seen in the last 10 years.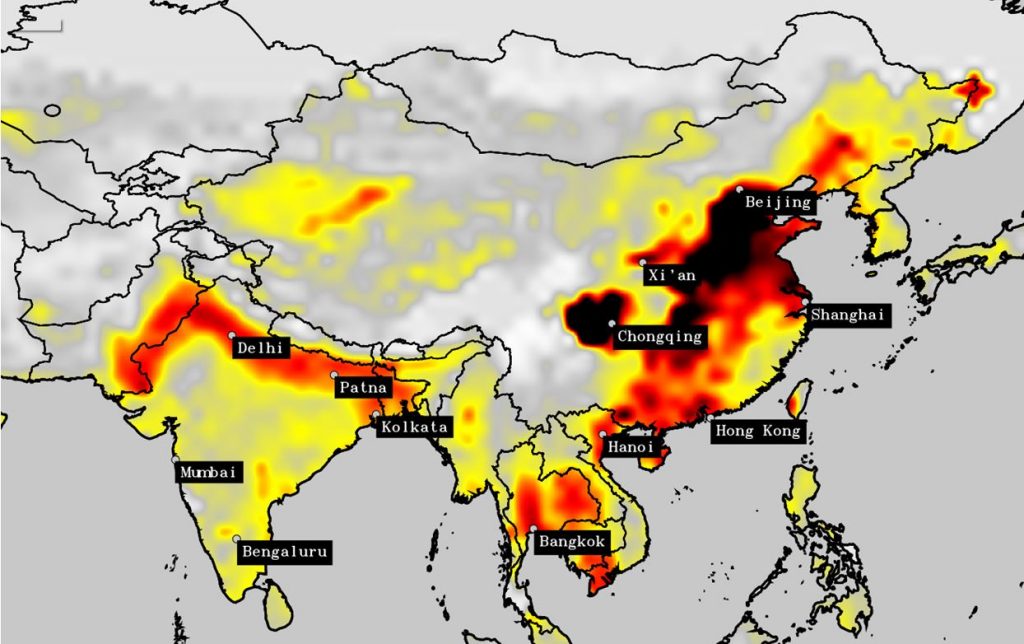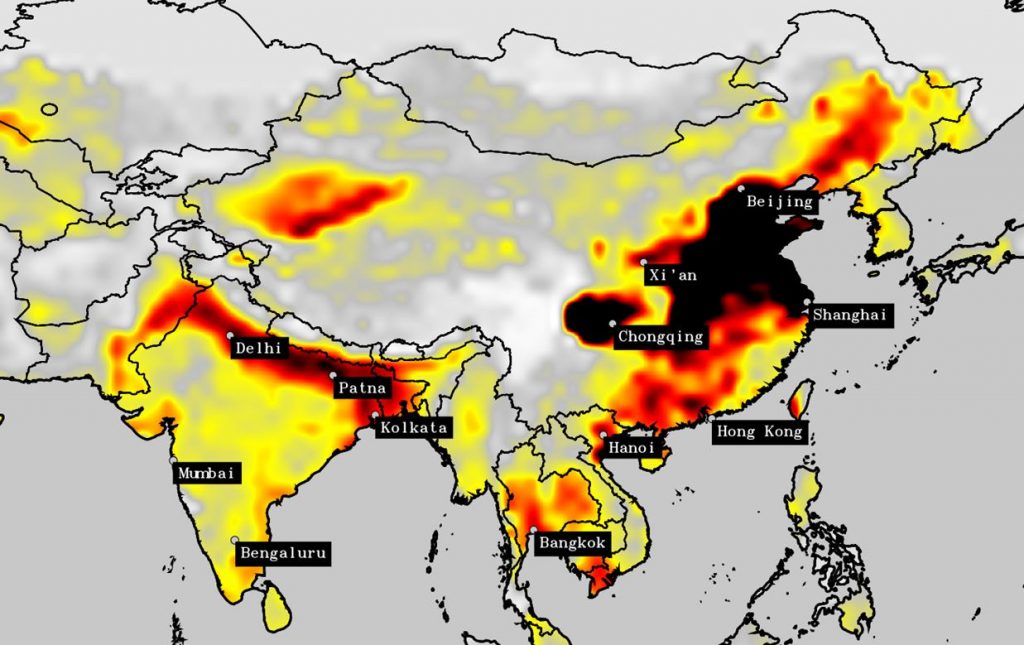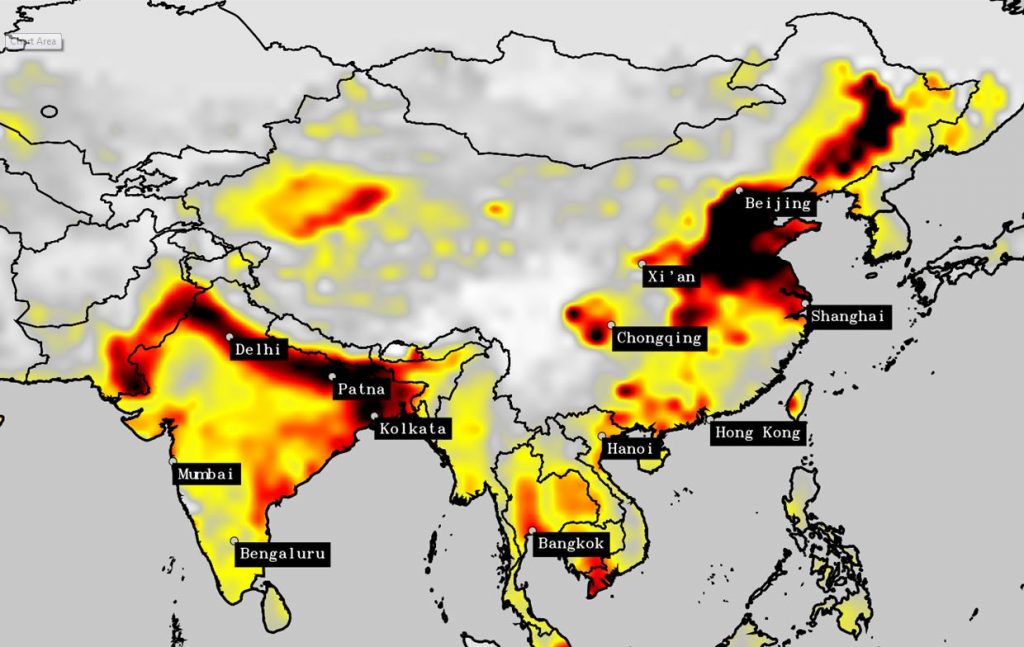 China has the largest air pollution monitoring system in the world, with 1,500 stations across the country collecting smog data. Those stations, however, only cover air inhaled by around a quarter of the Chinese population. In India, however, the situation is worse with 39 stations, beset by problems, monitoring air inhaled by a tiny fraction its people.
Urban India is among the smoggiest places in the world and the post Diwali smog this year in Delhi and surrounding areas had rung alarm bells all over the country. For over a week the National Capital was engulfed with a thick smog, mostly due to stub burning by farmers in North India.
Meanwhile, nearly three quarters of India's air quality monitoring stations have recorded pollution 70% worse than national standards. The problem is particularly acute in the highly populated north, with West Bengal, Bihar, UP and AP witnessing the largest pollution increases in recent times.
Earlier, a WHO report had said half of the world's 20 most polluted cities were in India. Delhi was no longer the world's most polluted city, and dropped to 11th position with smaller towns galloping past Delhi to grab second and third spot.
The Iranian city of Zabol was ranked as the world most polluted city, with the dubious distinction of second and third spots going to Gwalior and Allahabad, respectively.
What does WHO Global Air Pollution Database say
The WHO Global Urban Ambient Air Pollution Database reveals that over 80% of people living in urban areas that monitor air pollution are exposed to air quality levels that exceed the safe limits. Populations in low-income cities are the most impacted. The database reveals that 98% of cities in low- and middle income countries with more than 100 000 inhabitants do not meet WHO air quality guidelines. However, in high-income countries, that percentage decreases to 56%.
In the past two years, the database – now covering 3000 cities in 103 countries – has nearly doubled, with more cities measuring air pollution levels and recognizing the associated health impacts.
As urban air quality declines, the risk of stroke, heart disease, lung cancer, and chronic and acute respiratory diseases, including asthma, increases.