Geospatial is enabling the world economy and society, today. With location becoming all-pervasive in our everyday life, we are witnessing an exponential growth in the amount of spatial data being generated and captured. Geospatial analysis is increasingly being taken seriously around the world to derive new information and make informed decisions.
From tracking traffic to saving people from looming catastrophes, Geospatial is enabling the world to move at a faster, more convenient and safer way. As an industry, Geospatial services generate US$400 billion in revenue per year. However, their total economic contribution is several times higher. The findings of the Global Economic Impact of Geospatial Services report developed by AlphaBeta for Google reinforce the statement. The report, by examining consumer surveys across 22 countries illustrates how Geospatial services are making an economic impact.
According to the study, in the realm of Geospatial, digital maps are significantly impacting our lives. They have become powerful tools for policymakers as well as businesses. Digital maps have supported roughly $1 trillion in sales by businesses. As per the report, the Geospatial services industry:
Generates consumer benefits worth overUS$550 billion.
Creates approximately 4 million direct jobs, and potentially 8 million indirect ones.
Improves revenues and costs by at least 5% in sectors, contributing approximately 75% to global GDP.
Positively impacts the society and the environment. For instance, efficient transportation due to GPS navigation could potentially reduce global CO2 emissions by 5% per year.
Three Major Beneficiaries of Geospatial Services
The benefits that Geospatial services extend to the community can best be categorized into consumer benefits, business benefits and societal benefits.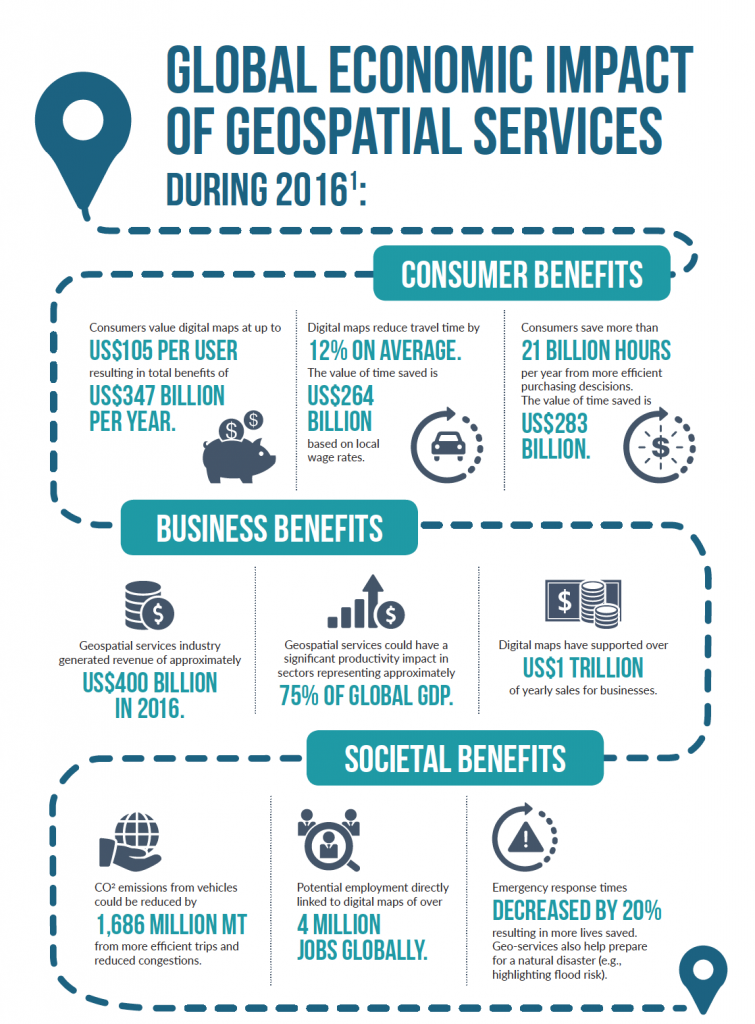 Consumer Benefits
Everyday consumers are getting largely benefitted by Geospatial services. Be it reducing travel time using a digital map or getting saved from disasters, Geospatial services are making us live a better life. As AlphaBeta surveyed 9,000 internet users across 22 countries, it came out with the finding that modern mapping services have the potential to unleash consumer benefits worth over US$550 billion per year.
Travelling through quickest routes discovered through navigation systems enable commuters to save, on average, 6 hours of annual travel time on buses and trains, and 13 hours of annual travel time by car.  An additional $10 per person on fuel is also saved per year. This amounts to around US$22 billion at the fuel pump. The total value of time savings due to shorter commutes is estimated to be more than US$260 billion in 2016.
Digital maps allow people to save more than eleven hours per year when it comes to locating stores/restaurants etc. This amounts to a total estimated consumer benefit of around US$280 billion. With access to digital maps, commuters also feel safer.
Business Benefits
The benefits of Geospatial services are not limited to businesses which produce or sell industry-related products, such as satellites or navigation software. Other businesses are increasingly using digital maps for market research and identifying most profitable locations for their store network. Through targeted business listings in digital maps, businesses can also connect directly with customers and thus achieve higher growth.
Out of the total $400 billion revenue generated in 2016 by the Geospatial services industry, approximately $200 billion is driven by businesses selling satellites and other location-based data products. Another 39% is generated by companies selling Geospatial apps and devices. The remaining 4% can be attributed to services including consulting and education. Companies have been largely using geo-targeting to acquire new customers. A well-maintained presence on Google My Business (GMB) enhances the business' chance of getting selected by a consumer by 29%. AlphaBeta conducted a survey and discovered that digital maps facilitated business sales worth more than $1 trillion globally in 2016. Recent research suggests that total Geospatial revenue could be worth $1.6 trillion in the US alone. This study confirms that Geospatial services have a strong multiplier effect: their use adds value in a range of industries that together drive nearly three-quarters of the world's GDP.
Social and Environmental Benefits
No benefit is worth having if it is not getting extended to the community at large. Geospatial services have been able to positively impact the society as well. To start with, the industry is creating a large number of jobs. Analysis indicates Geospatial services create more than 4 million direct jobs, and potentially 8 million indirect employment opportunities.
We are all aware of the menace called 'air pollution.' The number of cars worldwide is set to double to 2 billion by 2030. Consequently, traffic would increase and air pollution will become the top environmental cause of premature mortality by 2050. By suggesting alternative routes and by highlighting travel times, Geospatial services can mitigate this issue. 53% of internet users surveyed have agreed that digital maps have enhanced their willingness to use public transport. This could potentially reduce global CO2 emissions by up to 1,686 million tons, equivalent to 5% of the world's total CO2 emissions in 2016.
Geospatial services are becoming an important facilitator of urban planning. Be it improving traffic flows through "intelligent" traffic lighting system or designing more efficient cities, better known as smart cities, Geospatial is helping urban planners to better understand the changing landscape and make more informed decisions on critical planning issues.
Geospatial services also help governments to connect strongly with their citizens and overcome geographical hurdles during elections. In India, Geospatial services could cut response times for ambulances by 3.5 minutes and for fire brigades by 2 minutes. Geospatial technologies are also helping save lives when natural disaster strikes. They can also help in preparation for disasters by showing best evacuation routes or identifying fuel shortages. They also play a critical role in preserving the environment and wildlife by enabling monitoring of health of animals, detecting poaching, raising awareness on environmental issues such as deforestation etc.
The partnership between academia is also greatly enhancing the quality of education along with encouraging innovation in Geospatial products and services.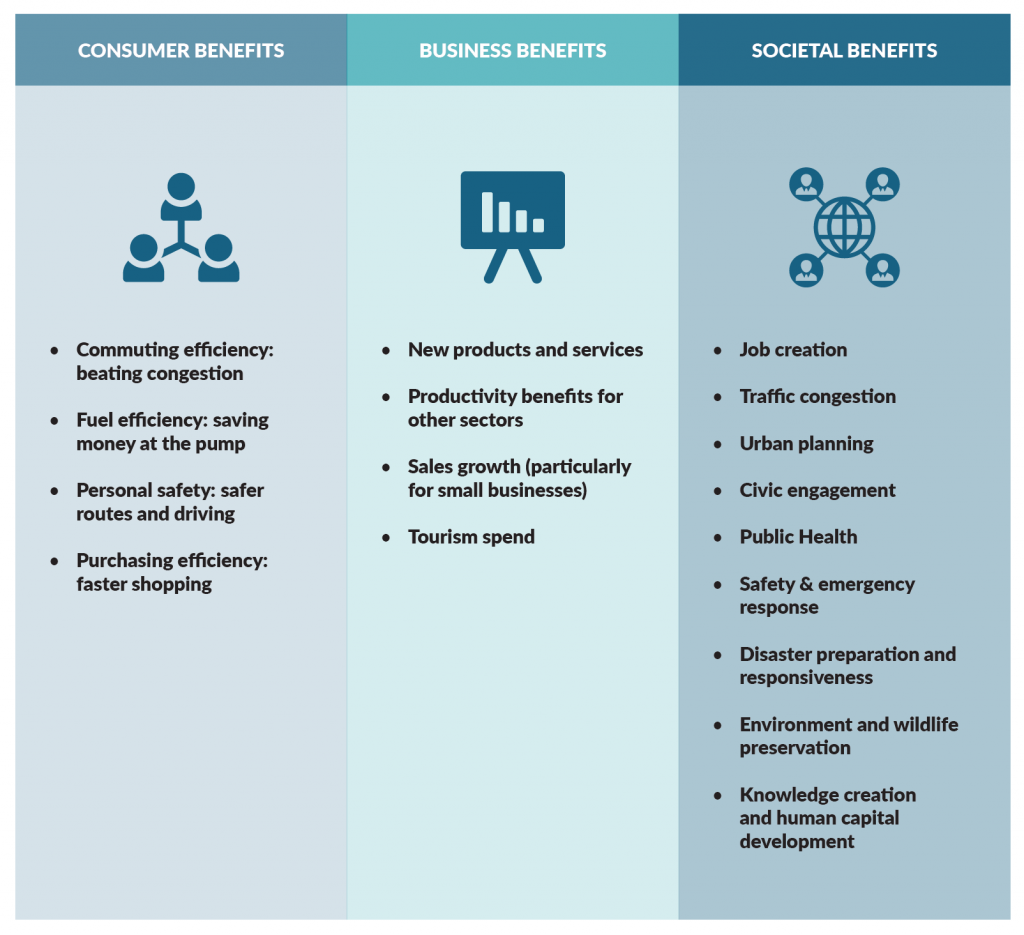 What Next
Despite the range of benefits, geospatial services bring to consumers, businesses and societies, the use of geospatial services is not spreading as widely as it should. While businesses, academia, public agencies and civil society organizations must increasingly adopt these technologies, governments must actively undertake promotion, adoption, and implementation of the emerging applications of geospatial technology and data. More and more policies should be framed to support collection, sharing, and use of geospatial data and services. It is also imperative for governments to participate in events such as the Geospatial World Forum to understand best practices to facilitate the development of a successful local geospatial industry. There is still a long way to go and all sectors should work collaboratively to achieve a more productive presence of the geospatial industry.