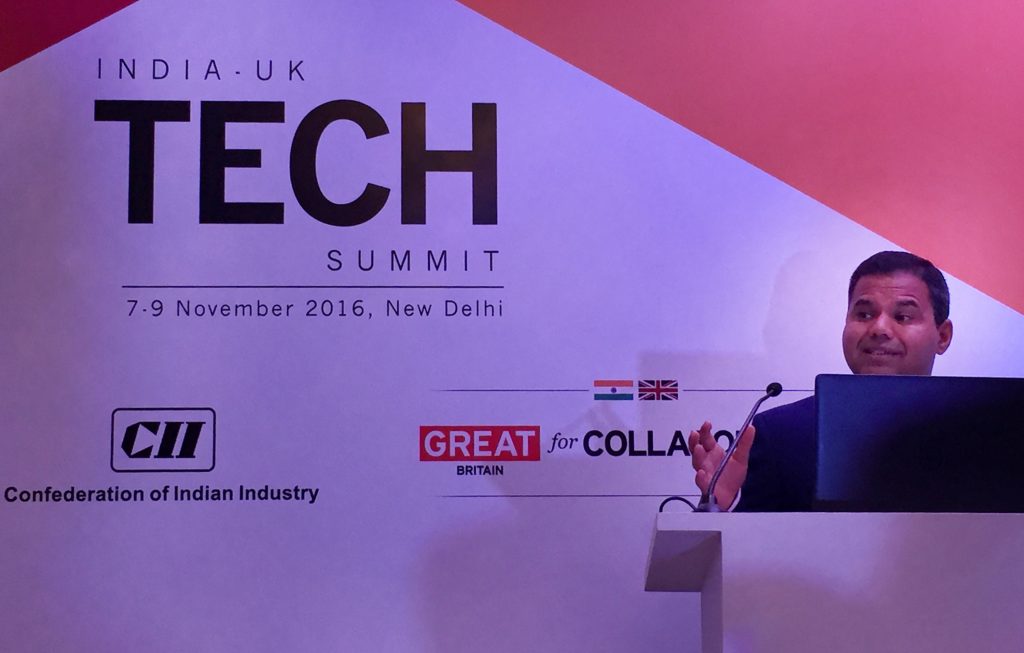 If there is one phrase that reverberates throughout Deputy Mayor of London for Business Rajesh Agrawal's communiqué at the India-UK Tech Summit in New Delhi, it is: London Is Open.
London has one of the world's most diverse tech ecosystems, with 53% of foreign employees and more female founders than Silicon Valley. And Agrawal is quick to drive the message home that London will continue to be the best place in the world to do business even after Brexit. "Like a magnet, London attracts people from around the world — be it for tourism, for education or for business. Things will not change after Brexit," he tells Geospatial World. "London attracts and creates the world's most innovative companies in convergence sectors, such, as FinTech, AdTech and RetailTech, and others like FashionTech, CyberTech, EdTech, MedTech, artificial intelligence, virtual reality and Internet of Things."
India on London's radar
Insisting that London wants to work more closely with India in the technology sector, Agrawal points out that British Indians have contributed significantly to the city's economy. "Indian companies employ nearly 50,000 people in London, and about 40% of the fastest growing Indian companies investing in the UK are based in London," he says.
India is also the second largest investor into London after the US. Since 2005, India has accounted for 11% of all investment projects into London. "Investment levels from India have increased by 20% in the last decade. Tech is the top sector for Indian investors, accounting for 46% of all Indian investment and a total of 124 projects over the period," Agrawal smiles, as he lists out the key companies in this ecosystem: Cigniti Technologies, Kayako Europe, Sonata Software, Infotech Enterprises, Lodha Group Construction, Tatat Elxsi and Cipla Life Sciences.
"London has many accelerators and some of the world's most successful incubators — Google Campus has helped around 1,000 startups," Agrawal tells. One of the major factors that work in London's favor is that it has access to the best new talent. "We have four of the world's top 50 universities — more than any other city in the world — and two more world-leading institutions — the universities of Oxford and Cambridge — within 50 miles of the capital," the India-born Deputy Mayor elaborates.
An entrepreneur-turned-politician, Agrawal moved to London 15 years ago and founded RationalFX (2005) and Xendpay (2014) — both companies utilizing technology to reduce the cost of international money transfer for businesses and individuals. Talking about his transition from the world of business to the political arena, Agrawal quips, "I feel like I have turned from being a carpenter to being a gardener. Rather than just making a piece of furniture, I'm nurturing the entire ecosystem. Improving the lives of people through technology is one of my passions, and I'm thrilled to have received a chance to fulfill that."
IE20 business program
So, it is apt that Agrawal is at the forefront of the India Emerging (IE20) business program, which aims to support 20 of India's most innovative and high-growth companies with global aspirations. "If a deserving company is in the need of funds, we will help them get ready venture capital. 155,600 digital tech professionals are working in London. We can help you find the right staff and location for your business. The program can help you make best use of tax breaks and investment schemes, and connect with business support networks and trade associations," explains Agrawal.
As the conversation draws to a close, Agrawal points to the importance of clusters in the tech sector. "If you put entrepreneurs in a room full of non-entrepreneurs, you will slowly see the whole culture of the place transform toward business. So, when people ask me whether entrepreneurship can be taught, I tell them I don't know whether it can be taught, but it can definitely be caught — like an infection!"