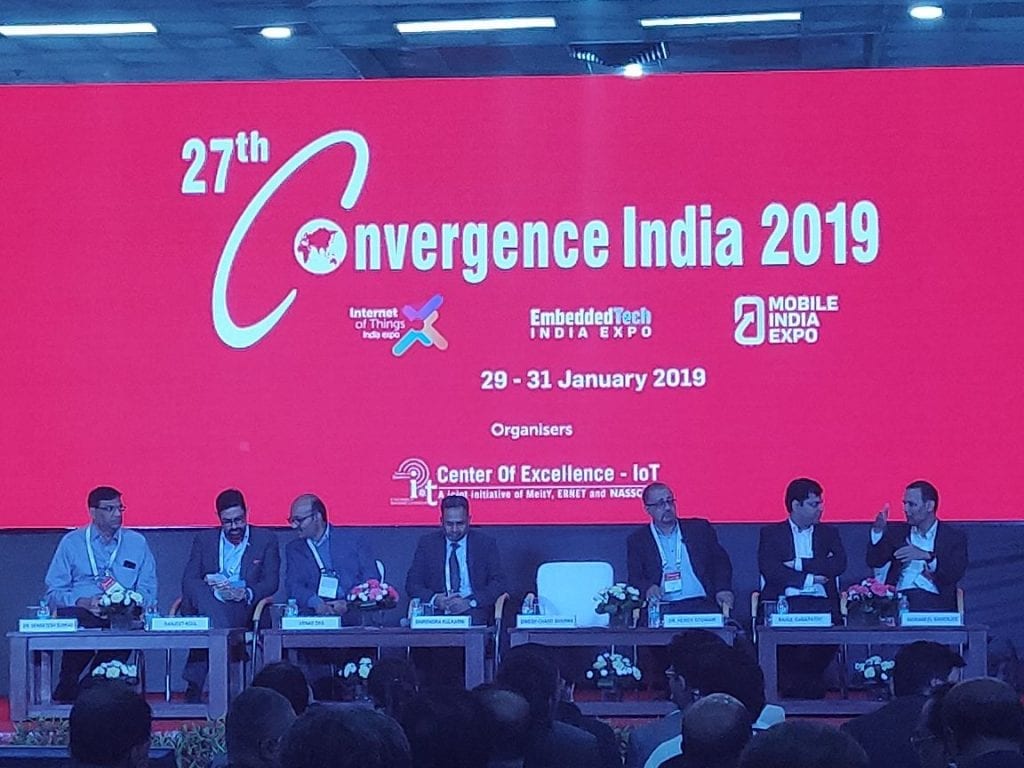 Artificial Intelligence (AI) and IoT have a great potential to disrupt industries across multiple verticals. AI and IoT are emerging technologies but they are not in the nascent stage gone by the research that is being undertaken and the increasing number of applications.
At 27th Convergence India 2019, the applications of AI, IoT , and their convergence were discussed. The combined power of AI and IoT has revolutionized workflows and industries are preparing for the next stage of transition. IoT and AI are together offering us an unprecedented advantage in terms of capacity building and enhancing efficiency.
AI and IoT in tandem
Dhirendra Kulkarni, PreSales Senior Director, PTC, said, "Earlier there was no way of seamless interconnection. But with the advent of IoT, the paradigm changed."
Highlighting the versatility of IoT, he also said that IoT can be many things depending on the purpose. It can be a product. There are so many possibilities. There are also additional technologies like MR and VR that are further augmenting IoT, added Kulkarni.
IoT augments 3D data that can be used for a large number of purposes. It is also bridging the deep gap between the digital world and the physical world.
Speaking about the radical shift in the nature of manufacturing and how companies are preparing for it, Kulkarni said, "33% of the impact of IoT is coming from manufacturing industry, that's why the emphasis is on smart industry and companies don't want to miss the bus".
Augmented Reality is transforming the way assembling is happening. Predictive maintenance can be totally transformed using this.
IoT and AR have provided opportunities for connecting devices to different parts, that was previously not possible, said Kulkarni.
Framework of Industry 4.0
Venkatesh Sukand, Mentor, INSOFE, explained the underlying framework of Industry 4.0and how it enhances efficiency.
"Industry 4.0 basically comprises of two things: Using the data and making it more efficient," said Venkatesh Sukand, Mentor INSOFE.
Prioritizing Indian issues, he said we need India specific solutions.
There are 3 sectors in India where a lot of work has been done: Healthcare, Agriculture and Smart Infrastructure. A lot of start-ups are doing innovative work in these domains, added Sukand.
He also revealed a study that was carried out in EU and said that almost 57% of companies expect a very high impact from AI. But a lot needs to be done on the capacity building front and most companies are lagging here.
"If data is the oil, AI is the engine that utilizes the oil", said Arnab Das, VP, Service Line Leader – Intelligent IoT and Edge, Aricent.
Explaining the algorithmic dynamics of IoT and taking stock of current capability, he added, "We have the ability to create models that can learn. And it requires intense computing power to make inferences and take directions.
Because of the diversity of sources and the proliferation of data, industry and academia is making huge progress and this would lead to great strides, opines Das
Historical disruption
AI and IoT will usher in the biggest technological transformation ever known in human history.
"IoT alone will add between 4-11 trillion dollars to the world economy, according to a McKinsey Report. The main drivers of IoT are going to be six sectors: Automobile, Healthcare, Agriculture, transportation &logistics, public utilities, retail, telecom", said Indraneel Banerjee, Partner, McKinsey & Company.
He further said that in the next 5 years, 46% value in automobiles will come from IoT. And around 66% value will be in software and data.
But a lot needs to be done and we need to foster innovation for that.
"Only 30% of companies globally are currently using IoT. Among ASEAN nations only 13%. In India, research is going on, but we are not ready to deploy. Most projects are still in pilot phase", said Banerjee.
For promoting IoT adoption what is needed is strategizing the projects and focusing on adding value to business and showing that there is real value and skillsets are constantly upgraded.
Now or never scenario
Ranjeet Koul, Vice President and Country Manager, Aeries, said, "5G will be a big game changer in how machines will interact with us. And it will redefine revenue streams, creating new models".
He further added that it is a now or never scenario and no country can afford to lose pace in IoT.
Terming IoT acknowledge revolution,  Koul underlined the importance of using technology for creating more skills and increasing efficiency. In this quest for efficiency, AI and IoT would be our most natural choices.
AI is no longer just a vision, it is very much achievable, implementable, and being embedded in the business process currently, added Koul.