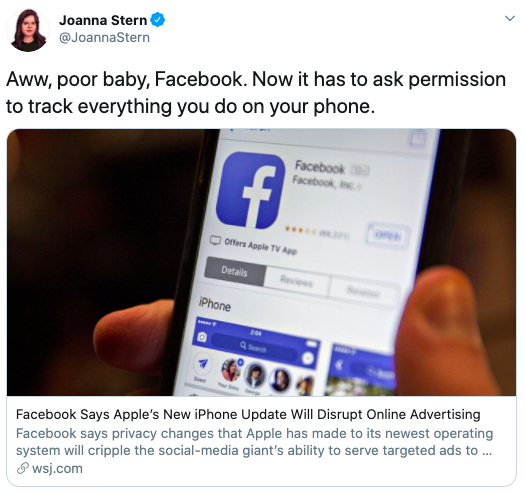 That one tweet by Joanna Stern, Senior Personal Technology Columnist, Wall Street Journal, captures the entire essence of the latest Apple-Facebook tiff over consumer behavior tracking, as the former switches to opt-in/opt-out strategy on IDFA (Identifier for Advertisers) tool on iOS 14 next month.
Apple's move shakes up the entire location marketing industry, most notably Facebook. In multiple blogs published on August 26, the social media giant expressed its displeasure, squarely blaming Apple for hurting "many of our developers and publishers at an already difficult time for businesses". Facebook also claimed it won't collect IDFA on its own apps on iOS 14 devices, while reminding its users they had a choice about how their data was used on Facebook (YAWN!) – which probably invited the tweet from Stern!
ALSO READ: COVID-19 — Finding the middle ground in safety vs data privacy debate
Oh Sh** Google!
The situation would be funny if it didn't involve an issue so grave – people's right to privacy. More so, coming on the back of newly released court documents revealing that Google's own engineers disagreed with and/or were confused by the privacy settings when the company secretly tracked people's movements, which was uncovered by Associated Press in 2018.
"The day the AP story was published, Google turned into crisis mode and held a self-styled 'Oh sh**' meeting," the documents made available by Arizona Attorney General's office revealed. They are part of a new version of the earlier lawsuit filed against Google by the State in May 2020 "for deceptive and unfair practices used to obtain users' location data", which "Google then exploits for its lucrative advertising business". The fresh lawsuit includes emails and chat logs of Google employees expressing their frustrations and confusions.
"Your name came up today during our Monday morning 'Oh sh**' meeting in relation to this story," said an email that went out to the entire Google communications team.
"I agree with the article [AP's]. Location off should mean location off; not except for this case or that case," read the email from an unnamed Google employee in an internal email that were released as exhibits by the court on August 21.
"Speaking as a user, WTF? More specifically I **thought** I had location tracking turned off on my phone. So our messaging around this is enough to confuse a privacy focused [Google software engineer]. That's not good," the chat logs quote another Google engineer saying.
The May lawsuit was heavily redacted, but now a less redacted version has been made available following a court order. The original almost 50-page complaint cites testimonies from Google employees and contains nearly 100 additional exhibits, including internal documents that were obtained from Google over the course of the nearly two-year investigation, the AG's office said.
The lawsuit categorically says the investigations have revealed that Google uses "deceptive and unfair practices" to collect as much user information as possible and makes it difficult for users to understand what's being done with their data, let alone opt-out.
ALSO READ: Digital contact tracing why Americans have a problem with it
Surveillance-based business model
In November last year, Amnesty International had come out with a report accusing Facebook and Google of running a "surveillance-based business model" that is "undermining the very essence of the right to privacy" and "threat to people's rights, including freedom of expression and opinion, freedom of thought, and the right to equality and non-discrimination".
The United Nations has recognized the right to Internet access as a human right given how it has become so embedded in our lives. The physical restrictions imposed upon by COVID-19 will only accelerate the pace of digitalization.
None other than Tim Cook had warned way back in 2018 that the business of selling ads against personal data has become a "data industrial complex" where "our own information, from the everyday to the deeply personal, is being weaponized against us with military efficiency". Cook had of course just stopped short of naming Google and Facebook while giving a keynote at a data privacy conference.
This is not about Apple vs Facebook or anyone else. Apple can afford to play the good guy here because it has very little stake in the online targeted ad business.
This is about individual privacy — a fundamental right recognized in the UN Declaration of Human Rights. As technologies get more and more pervasive, it's time for governments to adopt digital public policies that have at their core universal access, and reduce privacy breaches to restore people's trust.