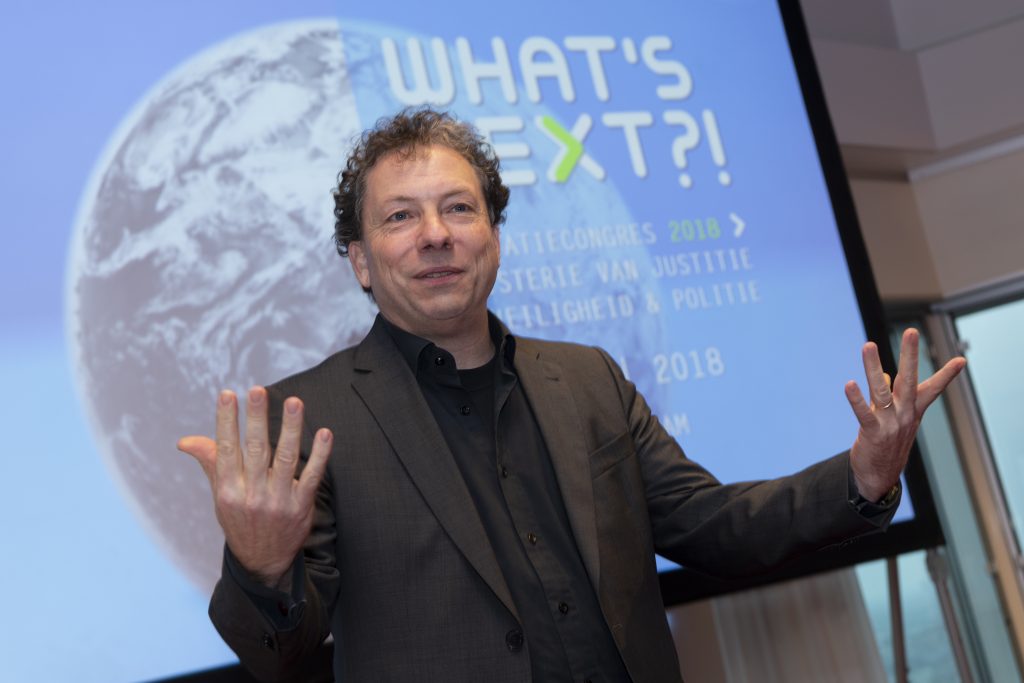 I head a  team that is responsible for enhancing innovation capacity of the Ministry of Justice and Security of the Netherlands and its executive organizations such as the national police, public prosecutors, immigration officers, law enforcement staff, The Child Care and Protection Board, Custodial Institutions Agency, among others. There are 1,80,000 people working for the ministry. It is a huge organization and the task of my team is to make the organization more innovative. So, we organize symposia and conferences about innovation; we are financing innovation projects and are exploring new methods of working for the ministry. We also try to bring in new technology and new (external) partners, scientists and businesses, tells But Klaasen, Head of Innovation, Ministry of Justice and Security, the Netherlands, in an interview to Geospatial World.
Have you used geospatial, location or Artificial Intelligence technologies?
Yes, we have, under a special project that was initiated three years ago. I wanted to start a program that is technology driven and we chose space technology. That's because the new generation of satellites can provide much more information than traditional satellites. But we didn't have any use cases, so it was really technology driven. We confronted policymakers, our legal team and executive offices with this new technology, and asked them which of our challenges could be addressed with this new technology. They came up with nearly 10 use cases that were further debated with the industry and research institutes, because if I am not aware about what the technology can do, it limits my imagination. We had an interesting discussion and came up with several use cases. The one that is very important is detection of wildfires — because fire services are part of the ministry.
In the Netherlands wildfires can cause many problems, as we are a very densely populated country and almost every area has critical processes for our society. We have to better detect the draught parts in our national parks and satellite imagery can help us in doing that. This is key information to guide fire trucks to the right places in the right numbers. We are now engaged with the industry and have got into a partnership to develop commonly and procure new sensors and analytical tools. About procurement, European regulation enables us to partner already with the industry in the research and development phase of innovation. Besides wildfires, we can use this technology for tracking and detecting illegal ways of drugs production through gas and smoke detection.  So, yes, space and satellite technology is quite important for us.
Does satellite imagery also help with the determination of origin of migrants
At this moment we are exploring how to use satellite imagery for the determination of origin. For instance, if someone says that he is coming from a village where he had to cross a river, the immigration officer can check the location of the village, and if a river actually surrounds it. This is quite helpful because immigrants come from all parts of the world and this technology provides us with very accurate information about the situation in their native countries.
Other than satellite imagery and maps, do you also have use cases from AI, data analytics and Machine Learning; and what role does AI play in crime prevention?
We do have use cases, and many examples and experiments with AI. AI can be very important for predictive policing as it can detect new patterns. We are actually experimenting with AI to detect new patterns that can be indicators for criminal activities. Currently, it is in the experimental stage. Sometimes we see very interesting results, but AI is still not a fully grown up technology. Another key question is whether we can use it in other law enforcement situations.
How can location and geospatial technology strengthen law enforcement?
These technologies make it possible to track and trace people, cars, and containers, so can also come in handy in customs. When a suspect is on the run, you might track his/her movement. However, this is not always easy due to weather conditions. At this point, we don't have 24×7 satellite surveillance for civilian security and we are not aiming to have that in the future. Other technologies like analytic tools for data from CCTVs and sensors can also be helpful. For example, we also have a television program called 'Hunted', in which people are asked to stay invisible in society for three weeks, and a team of former policemen tries to track them. The research Institute and our partner in science and technology called Organization for applied scientific research (TNO), has developed a predictive tool to track and predict where a criminal will flee if he is on the run.
Do you also handle organized crime in the ministry, and are emerging technologies helping in dealing with such crime?
Actually, the professional organized crime is hard to beat because it is set up and managed in a very professional way. Also the underworld is connected in many ways to the upper world, which makes it difficult to detect. What looks like a legal company, might actually be a cover up for illegal activities. Emerging technologies like AI and Machine Learning might help in detecting patterns, but I think that one technology is extremely important in this light: privacy enhancing technologies. To analyze organized crime, all organization like municipality, banking, social security and others need to share there information to get a complete picture and understand how the crime is actually organized.
But at this moment it is not possible to share that information with all these organizations because of privacy legislation.
Privacy enhancing technologies help us to share specific information and analyze that, without sharing the sensitive data. This technology is not ready to market yet, but we do have some interesting prototypes. Coming years we will invest in this technology to make it more mature so that it can be used in the fight against organized crime.
Do you think geospatial framework is needed for police, and can it make the justice system more transparent?  
I think it can be helpful, especially the next generation technologies that are emerging now. But more a general remark as we are here now at the Interpol World Conference: I think for Interpol, the police and other Law Enforcement Agencies that we can make more use of the possibilities that new technologies can bring us and work together. We all have similar challenges, so let us cooperate. We might even underestimate these possibilities. So let us embrace these new technologies, as I am convinced they can make our work more efficient.
Also Read: Advancements in location to alter human-technology interaction