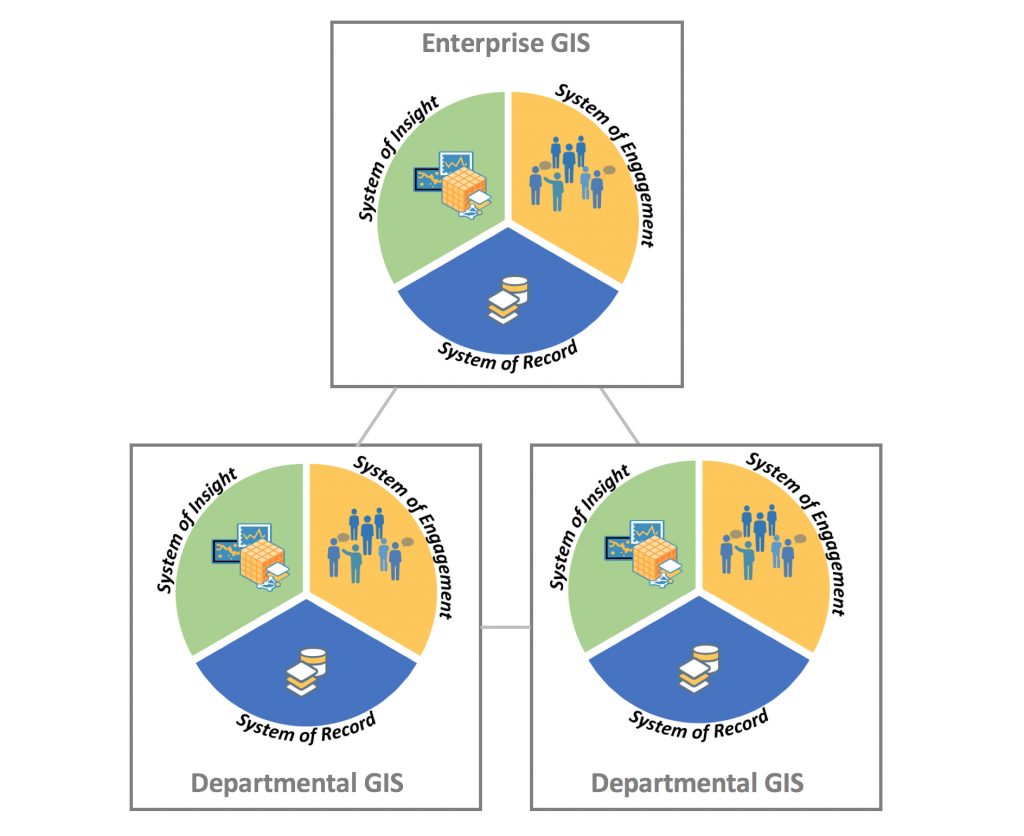 Geographic information systems (GIS) have proven their worth in a vast array of disciplines and organizations. Today, hundreds of thousands of organizations use GIS for managing their systems of record, making maps and performing spatial analytics. The unique power of GIS rests in its ability to integrate multiple sources of information and provide a common visual language.
The web GIS pattern has democratized geographic information access and is broadening its reach significantly. It has transformed GIS beyond siloed applications and simplified access by abstracting geographic data into standard spatial services. Esri has engineered the concept of web GIS into platform technology that supports simple and smart mapping, powerful analytics, application programming interfaces (APIs), and apps that deliver functionality for mobile devices, the web, or the desktop. This web GIS platform empowers a range of users from individuals, workgroups, departments and even entire organizations.
The platform enables interaction and collaboration between multiple self-contained web GIS deployments, scaling web GIS to achieve the concept of a system of systems. We call this pattern distributed GIS. Interactions in distributed GIS revolve around shared items (web maps, web scenes, layers, apps, dashboards) with optional automatic replication across multiple GIS systems that leave the data at the source of truth.
Administrators set up their nodes in this network and create the rules of engagement that reflect how the parts of their organization interact, including defined roles that limit what individuals can access, edit or create. The resulting distributed GIS enables two-way dialogue among multiple entities at a far greater scale than previously envisioned.
The transition from web GIS to distributed GIS revolves around the importance of identity. Identity allows administrators to preserve role-based permissions that exist in each organization. Users gain portability with access to their apps and maps from wherever they log in. Organizations can leverage roles in configured apps that bring together people and processes to address cross-cutting issues.
Many Systems
GIS functionality is already readily integrated into any workflow where maps and spatial information aid understanding. The flexible nature of this next-generation GIS enables new integrations that scale with the infinite capacity of cloud computing and ever-growing number of sensor feeds from the Internet of Things
These new patterns of GIS deployment (web and distributed) are designed to enhance all aspects of GIS, bringing GIS out of the back room and across organizations. GIS now plays many roles within organizations.
System of record—GIS records measurements and the attributes of everything related to place. It provides the authoritative management system for all geographic features, from parcels, pipe, and roads to work orders, sales territories and customer locations. Sensors are now a key component of this system, adding real-time tracking and ensuring the ability to look at location data through space and time.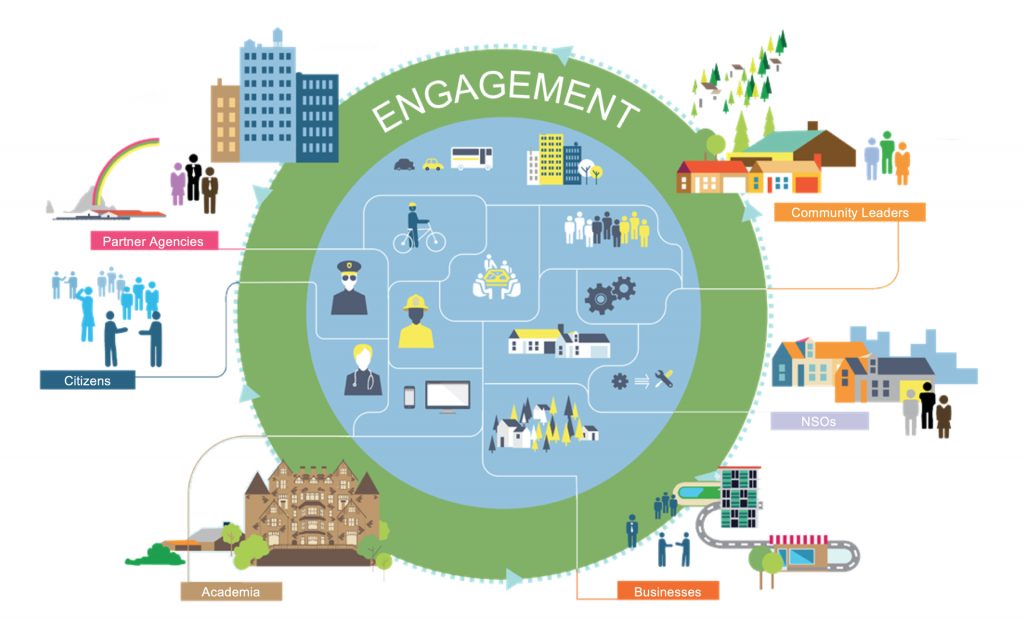 System of engagement—A GIS also provide the system to engage people within and outside of the organization using shared maps, story maps, dashboards, and apps. Enabling everyone to share a common single source of information across devices, anytime and anywhere. This platform is not just a communication system, it provides apps to facilitate two-way collaboration and crowdsourcing of information.
System of insight—GIS provides insight into your data through the visual display and deeper analytical tools. Maps have always provided a common language for understanding and conveying a great deal of complex information quickly. Smart Maps, 3D scenes, and visualizations expand on this rich tradition providing new ways of gaining understanding. But not all insight is visual, GIS provides a rich set of analytical tools to discover patterns and improve understanding.
System for geodesign—GIS is increasingly being used in design scenarios to evaluate potential impacts and integrate design data. Geodesign allows designers to bring together all data—CAD drawings and models, city infrastructure, land use and zoning boundaries, and aerial imagery—providing an environment that supports iterative design feedback.
Scaling web GIS to distributed GIS brings together all types of geospatial data, keeping the data quality and maintenance in the hands of the creator and the lineage intact. It allows everyone to not only discover and get the data but also use the data directly by accessing the data as a service. As a result, those that deploy distributed GIS are able to focus more on the business value that geospatial information brings to their organization—rather than data management and discovery.
Digital Transformation
Many organizations are eager to achieve digital transformation by turning data into insight and improved processes. Distributed GIS aids transformation in several ways; by providing the infrastructure to modernize their systems of record, transforming collaboration and awareness by leveraging the system of engagement, discovering new patterns and information buried in the piles of big data using the system of insight, and finally providing new ways to approach design using the principals of design.
Real-time data and analytics, propelled by the common denominator of location, help modernize enterprise business systems. Distributed GIS enables the progression of digital transformation from recording to real-time monitoring, and ultimately to anticipating action. Organizations achieve dramatic increases in performance by automating actions with prescriptive, rule-based reactions. Geospatial information and techniques allow organizations to incorporate real-time and big data analytics into their workflows, providing opportunities for significant digital transformation.
Transformers Taking Action
Organizations and governments that scale web GIS to distributed GIS implement transparent, data-driven strategies that transform their operations. Following are some examples of how distributed GIS has taken hold in a variety of sectors:
Utilities—Electric utilities have long been at the forefront of taking GIS to the field. Distributed GIS enables utilities to empower field crews to collect and access data, automate input from their network with SCADA sensor systems, model the performance of their system to know the load, anticipate demand, and manage the maintenance workforce for rapid response in case of an outage event. The addition of real-time data on weather, crews, demand, and outages, helps staff keep power and revenue flowing. Distributed GIS allows utilities to scale the secure sharing of asset data across wide geographies or for events that span multiple Web GIS deployments. The result is an inclusive environment where all workers can visualize and provide input for an informed awareness and fast response.
Cities—Cities have embraced distributed GIS and the open data movement as a means to foster transparency and engagement with citizens. Many are taking the next step, going beyond open data to encompass open services. Web GIS empowers city staff, businesses, app developers, nonprofit organizations, and the public to create and access dynamic applications on the fly. Distributed GIS adds scale to Web GIS by enabling the linkage of Web GIS instances for multiple city departments. Now, public safety, public works, parks and recreation, planning, transportation, water, and other departments have access to all the city's data about every specific place, anytime and anywhere.
Natural Resources—A global natural resources company recently improved their efficiency and effectiveness, by making the transition from disparate GIS deployments with different software versions, approaches, and maturity levels to a distributed GIS that integrates many web GIS platforms. The distributed GIS approach accommodates all workflows and business cases, eliminating the duplication of data that often made it impossible to re-create a map because the data could not be found. Allowing anyone to publish services for any scenario resulted in enthusiastic uptake by the workforce. Collaboration has increased by creating a widely accessible system where data is managed just once. Sharing information products captures expert knowledge, unlocking the wisdom for all.
Disaster Response—In the safety and security space, the term common operating platform (COP) is used to describe a single point of truth where all stakeholders share a common view. The distributed GIS approach shines in event management, where multiple city departments and federal agencies can share their Web GIS that contain an inventory of their assets and personnel, scaling the parts into a whole that allows all actors to react in a coordinated fashion. The addition of real-time situational awareness ensures that everyone is cognizant of incidents and respond as they happen. The recent Hurricane Harvey response in Florida provides a good example of the value of distributed GIS. The US National Geospatial-Intelligence Agency and many local agencies organized their data as services and made them available for other federal agencies, state and local governments, and stakeholders such as the American Red Cross. This transparent and more connected approach allowed responders to integrate this high-quality geospatial intelligence within the context of the unfolding event. More than 300 items were shared across multiple agencies, and 12,400 users accessed and shared these services for an informed response.
Organizations and governments are already realizing the value of scaling web GIS to the distributed GIS pattern. And they are increasingly looking to use the systems of systems approach of distributed GIS to address their biggest challenges. Maps and GIS provide the common language to address local, national and global policy objectives, web GIS provides the platform, and distributed GIS enables this to happen at scale.