Wearable technology is one that can't be labeled as 'new', but the concept has been refined over the decades. It is no longer limited to gizmo freaks and geeks, ever since Google Glass and smart watches became mainstream.
At the FIFA World Cup 2014 finals, Argentina and Germany were locked in a scoreless draw till the 88th minute. Pressed for time, German national coach Joachim Low, decided to get in 22-year-old midfielder Mario Gotze into the game. Little did he realize that his decision was going to be golden as Gotze went on score the only goal of the match to became the only substitute in the history of FIFA to score a World Cup-winning goal, thus helping Germany win its fourth World Cup trophy.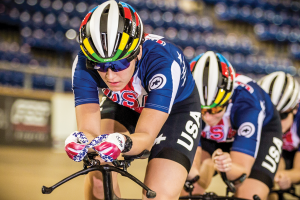 What many don't know is that Low picked Gotze over his other options on the bench for a reason. And wearable technology played a crucial role in that decision. Leading up to the World Cup, the German team wore wearable devices during the practise sessions to monitor everything from speed, distance, and heart rate of each player. The data collected was analyzed to see how exactly each athlete performed. This information was then used to plan future strategies.
Even as wearables are still not allowed on competitive soccer matches and FIFA is looking to establish a global standard for this, the rules at the Olympics rules surely allowed the US clycling team to use a smart eyewear to see key metrics such as speed, power, distance, cadence and heart rate, plus more data from any number of connected sensors. The Solos smart eyewear combines the power of mobile devices and state-of-the-art lightweight smart glasses so that riders can tap their full potential. It leverages technologies developed by Kopin Corporation for mission-critical applications like heads-up displays for US Military Joint Strike Fighter pilots.
Blast from the past
Wearable computing devices are an integral part of connected soldier systems that provide a tactical advantage and improve troop safety. Wearables like fitness trackers and, more recently, smart watches have received a lot of attention. But the diversification of wearable technology is beyond that. In the past couple of years, wearable technology has formed a bridge to related disciplines. For example, augmented reality overlays digital information onto the real world.
Catch up with our Info-graphic Section to know the interesting history of wearables: https://www.geospatialworld.net/brief-history-wearable-technology-infographic/
In the mid-'90s the term wearable was used in conjunction with portable computers for the first time, and the Defense Advanced Research Project Agency (DARPA) hosted the very first 'Wearables in 2005' workshop in July 1996. But it took a backseat in the late '90s as mobile phones became the consumer gadget of choice. In 2014, there was an explosion of new wearable products. While military forces and business professionals have been using wearable technology for decades, the private consumer market has only recently taken off with products like smart glasses, smart watches, fitness trackers, etc.
Beyond defense and homeland security, among the first ones to take to wearables was the healthcare sector, especially those focusing on acute challenges with memory issues like dementia or autism. The technology is seen as such pathbreaking one that the US Justice Department (DoJ) in 2014 said it would cover the cost of GPS tracking devices for children with severe autism and other similar conditions. It is estimated that one out every 68 individuals has an Autism Spectrum Disorder (ASD), and according to a 2012 study in Pediatrics, 49% of children with ASD have a tendency to wander.
New York Senator Charles Schumer was then quoted as saying "the voluntary-use GPS tracking devices, which cost approximately $85 each, will be similar to the ones used for tracking people suffering from Alzheimer's for which the DoJ already provides grants."
Alzheimer's Association, the leading voluntary health organization in Alzheimer's care, support and research in the world, have for some time now been calling for use of wearable devices to track "individuals suffering from Alzheimer's and/or dementia who are often prone to wandering". One cutting-edge solution for wandering seniors with Alzheimer's is to use a life-saving location device. Using GPS tracking, these devices allow seniors to be found quickly and safely.
Breaking the Glass ceiling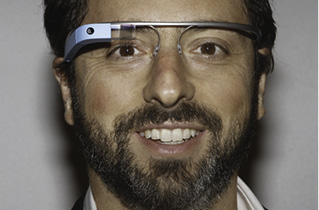 Mainstreaming of wearable technology took off in 2011 when Google developed the first prototype of what came to be known as the Google Glass Project. The technology is based on military research of head-mounted displays starting back in 1995. Released in 2013, it was the first voice-operated optical head-mounted display product to combine hands-free Internet access with augmented reality features and the ability to capture images.
Even though Google Glass, which saw Google Co-Founder Sergey Bryn quitting his executive responsibilities at the company to personally focus on this project, was ultimately discontinued in early 2015, it has been credited for bringing the subject of wearable devices out of specialized tech conferences and into the general public attention. With the advent of Google Glass, numerous companies made a run into the smart wearable market, including Apple Watch, Samsung's Galaxy Gear, and others. Wearable technology has today evolved into numerous types of devices, including glasses, watches, headgears, rings, etc.
The numbers speak for themselves
The overall market for wearable technology is expected to reach $31.27 billion by 2020, at a CAGR of 17.8% between 2015 and 2020, according to a new market research report released by MarketsandMarkets in 2016.
The report says the growth of wearable technology in the consumer electronics sector is mainly attributed to increasing demands for wearable scanners and computing devices in warehouse, logistics, and the other operations where efficiency is a pre-requisite. Wearable electronic devices find compelling applications in fitness and sports.
From smart wristwatches that record heart rates to intelligent bands that track physical activities; wearable technology in the form of fitness monitoring devices attract increasing attention from health-conscious consumers. It identifies the major players in the wearable technology market as Apple (US), Fitbit (US), Garmin (Switzerland), Jawbone (US), Nike (US), Pebble Technology (US), Qualcomm (US), Samsung Electronics (South Korea), etc.
The overall market for wearable technology is expected to reach $31.27 billion by 2020, at a CAGR of 17.8% between 2015 and 2020
Analysts at Technavio on the other hand expect the global augmented reality market to grow at a CAGR of over 174% during the period 2016-2020. "The market is rising at such a drastically fast pace as the technology is relatively new and has endless potential. The unique user-experience created through AR technology is the prime factor for its adoption in the mobile gaming industry," states Sunil Kumar Singh, a lead research analyst for human machine interface research, Technavio.
The hot, hot products
The Apple watch became 'the' wearable to own long before it even released. With the agenda of keeping its user motivated, Apple Watch measures your workouts, tracks your activity and helps encourage healthy routines. But it doesn't just stop there. Being able to check your notifications, or see who is calling feels like the future, especially when you are exercising or in a situation where grabbing your phone isn't really an option. The minute you overlook the high pricing, you realize how convenient this product actually is.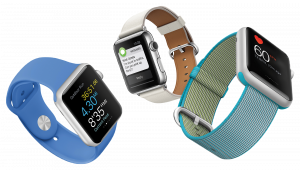 One can't really miss out on Fitbit while discussing wearables. Founded in 2007, the company is known for its fitness products that not only help you improve your health but also keeps you motivated. Fitbit tracks every part of your day — including activity, exercise, food, weight and sleep — to help you stay fit and motivated. Fitbit currently sells six activity tracker wristbands. The Blaze, Fitbit's newest device, is a watch that provides a cross between an advanced fitness tracker and a basic smartwatch. Blaze offers PurePulse Heart Rate readings, all-day activity tracking, sleep monitoring and workout summaries.
Users can also enjoy wireless syncing to hundreds of devices, music control of mobile playlists, smart notifications like texts and emails and a connected GPS system to map routes when synced with a compatible device. Fitbit is accessible on 200+ phones, including Android, iOS and Windows — more than any other tracker.
All about augmented reality
Augmented reality is a live, direct or indirect, view of a physical, real-world environment whose elements are augmented by computer-generated sensory input such as sound, video, graphics or GPS data. By contrast, virtual reality replaces the real world with a simulated one. Ever since Google launched its Glass, developers from around the world have been trying to take on it by creating their own wearable display glasses. So the real question is 'Will 2016 be the year of smart glasses?'
Microsoft thinks so. Microsoft HoloLens, the company's holographic, augmented reality headset wowed us when it was unveiled at a Windows 10 event at the beginning of last year. With the aim of 'going beyond the screen', Holograms lets the user visualize and work with their digital content in relation to their real world, unlocking new insights and capabilities. Is HoloLens getting the happy endings we see our movies? We like to think it is.
Microsoft has partnered with Legendary Entertainment, the media giant behind blockbuster hit movies such as the Dark Knight trilogy, Man of Steel, Inception, Jurassic World, Interstellar, and many more, including its latest release, Warcraft. The new collaboration aims to explore how Microsoft's HoloLens headset can break down the boundaries between reality and what's depicted on screen. "HoloLens gives storytellers a new medium to tell stories, develop richer characters, and delight people. With HoloLens, there is no longer the boundary of the screen between fans and the content they love. Characters can jump off the screen and into the living room — giving every fan the chance to direct and star alongside them in their own mixed reality movies," says Kudo Tsunoda, a senior executive with Microsoft.
Looking into the future
Although glasses, smart bands and smart watches are the most commonly referenced wearable devices, developers are looking at every aspect of the human body. Take AirWaves for example. As pollution becomes a problem across the globe, the AirWaves mask emerges as a solution. The mask creates an artificial micro-environment that is both cleaner and greener — and by tracking data from masks around the world, AirWaves can produce a data network mapping air conditions around the globe.
While the smartphone remains the consumer's device of choice, the world of wearable technology promises to entertain consumers, save them money and help them live healthier lives. The interest of technology companies in health and wellness have resulted in a host of wearable devices, from fitness bands that monitor activity and sleep patterns to flexible patches that can detect heart rate, body temperature, and more. The rise of wearable devices like the Apple Watch and Samsung Gear will create new avenues for marketing, including smarter, sturdy customer data collection — and stronger insights into user interaction.
Sanskriti Shukla
Sr. Sub Editor