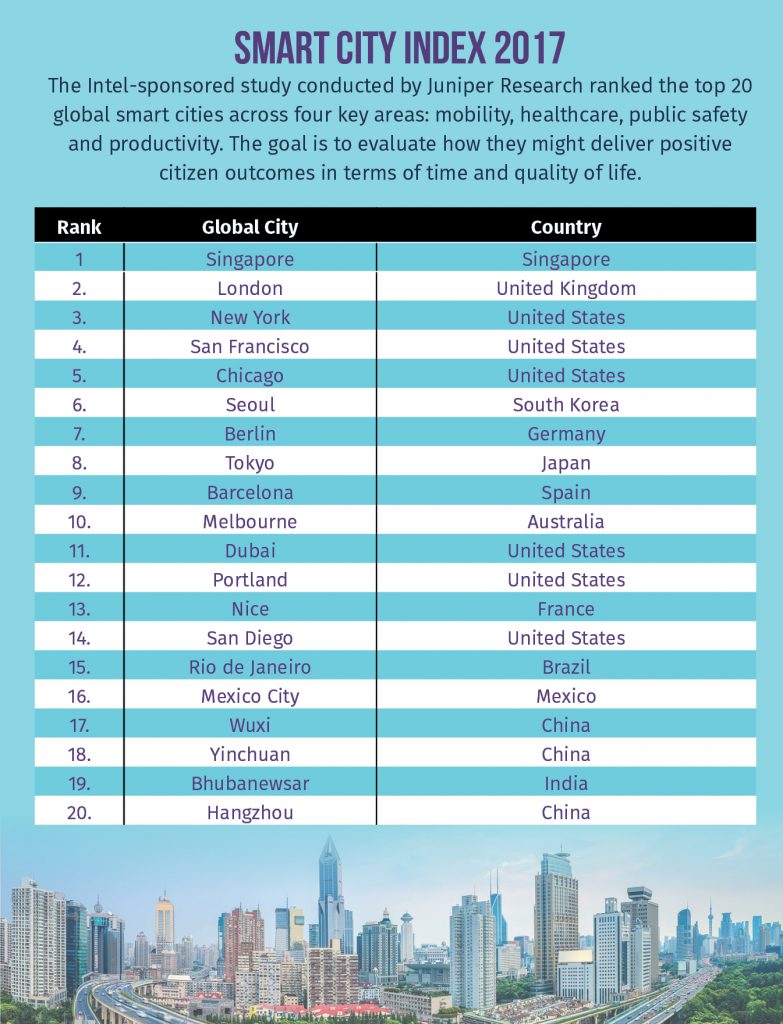 A smart city is all about providing better living conditions to the citizens, while making it more sustainable, resilient and livable. Technology is the backbone of a smart city.
"A city can be defined as 'smart' when investments in human and social capital and traditional (transport) and modern (ICT) communication infrastructure fuel sustainable economic development and a high quality of life, with a wise management of natural resources, through participatory action and engagement." —
Caragliu and Nijkamp 2009
The notion of a smart city is not new to the world. It all started in the mid-'90s when urbanization gained momentum with better employment opportunities and living conditions attracting people to cities. There was a pressure on the cities now to fulfill their aspirations and thus began the search for technologies that could increase efficiencies, bring down costs and generate value-added jobs and above all sustainable living conditions and economic growth in the cities. To put it simply, cities began their journey towards smartness. With the passage of time, these cities set an example to the rest of the world by being livable and technologically advanced cities.
Now this concept has become mainstream and is more popularly known as "smart cities". Every city is in the race to be smart and has come up with varied delineations and philosophies about how a smart city should be. While some say smart cities are all about technology which connects every nook and corner and provide intelligent solutions to its citizens, other consider that a smart city is nothing but about its citizens.
The debate can go on over the definition, but a look at different smart city visions all over the world makes one thing very apparent — a smart city is all about providing better living conditions to the citizens while making it more sustainable, resilient and livable. The idea is to improve the quality of life of its citizens where technology is the backbone.
ICT,
sensors

and location

For building a smart city, which provides smart solutions to its citizens, technological literacy is the key. Smart solutions are conspicuously based on Internet of Things, geospatial and ICT, sensors and location. These technologies are like a thread which channelizes all data from different aspects of the city, such as traffic, utilities, finance, health or waste management to monitor and deliver improved services, improve e-governance, and advance analytics and in result smart and intelligent solution.

"The idea of what is smart is connecting sensors with software, and then streamlining those together with enterprise workflow around the given solution. And, in all this geospatial provides the core ingredient needed to help facilitate and deploy smart city solution," elaborates Nigel Clifford, CEO, Ordnance Survey, UK.

For example, a smart solution in waste management monitors the level of garbage in bins with the IoT sensors. When a bin is about to be filled to the brim, an alert is sent to garbage pickup vehicle passing nearby so that it can empty that bin. This would assist city administrators in maintaining the cleanliness of the city.

"Internet of things is like a neuron which spreads all across the city and senses beats of the city. IoT transmits data to the command and control center where human-based analysis, as well as machine analysis, help to respond to the need of the city and its citizens," says Amit V Singh, Director, PwC India, which is one of the consultants for the Government of India's ambitious 100 smart city project.

Because location is at the heart of Internet of Things, for delivery of good governance in a smart city — ranging from smart safety to smart infrastructure to smart planning — geospatial technologies provide the underlying foundation and ultimately the fabric upon which solution can be built.

"Location data allows us to pinpoint exactly where we need to do what and at the right time. Location data is critical for planning as well as futurize with exact certainty," says Tan Boon Khai, CEO, Singapore Land Authority. Singapore, which has embarked on a smart nation journey and could be considered to be most advanced in this aspect, has limited land resources because of its small size. "Whatever we build has to be right. To build right we need to plan right which is sustainable and recyclable and for that we need accurate and concise and detail data," he explains.
Smart solutions for smart citizens
A recent Intel-backed study estimates that smart cities would save up to 125 hours of every urban resident each year and this can be done by providing them smart solutions such as smart parking, smart traffic management, smart health management, smart waste management and smart mobility. These solutions based on technology can ease their life with all information away by one digital touch.
Let's take an example of mobility which is a key concern of any growing city. Here smart traffic solution can be a great help which can help commuters by giving them real-time traffic information where. Smart parking will let them know where the parking place is available and so that they can park their vehicle without any hassle. And for travelers who use public transport information of travel modes can solve save their time by providing real-time information.  Iain Langlands, GIS and Data Manager, Glasgow City Council, gives an example how in his city smart mobility is helping local citizens. Glasgow has a smart public transport system which gives regular information to the daily commuters about public buses, timings, seat availability, current location of the bus, time taken to reach a particular destination, next location of the bus and the density of passengers inside the bus for their ease.
"Bus operators in the city have the sensors in their buses. So, if the bus is going to be early to the next bus stop the bus is temporarily and very slightly is slowed down at the red light little longer than it should be to make sure the bus is on time and do not ahead of the schedule," he explains. The system has been designed so smartly that passengers and even drivers are unaware of the delay as they are very little delays.
Singapore and Seoul are exemplary in providing smart healthcare solutions. Both the cities address health care service provision for elderly citizens through a range of technologies, including digital service platforms as well as remote monitoring devices. Meanwhile, London has applied a broad strategy that combines innovation like bicycle share schemes, telehealth and a strategy to reduce health care inequality in the city.
India, when started its ambitious journey towards smart cities, came up with a pan-city solution. "Pan-city solutions are the application of selected smart solutions to the existing city-wide infrastructure. Its applications involve the use of technology, information, and data to make infrastructure and services better," explains Pratap Padode, Founder and Director, Smart Cities Council India.
For instance, wastewater recycling and smart metering, which can make a huge contribution to better water management in the city, are part of pan-city solutions. These solutions are based on IoT and geospatial which also provides a better digital platform for integrating multiple subsystems. These may comprise of traffic management, parking, bus and paratransit operations, and Wi-Fi-projects etc.
One-stop platform for all data
For cities to provide smart services, data from all domains need to be collected and correlated for better functioning. Smart City operations must be decentralized and serve areas with common needs where citizens can get all information of the city services at one touch, where they can interact with citizens local government and give their feedback too.
This requires a platform that serves as one-stop shop for all information which also acts as a two-way communication channel between citizens and governments and also between government to government so that they can take a smart decision.
Take for example the Singapore One platform. It is a GIS-based platform that has all the information about the city and enables citizens to look for solutions like information on land availability, parking availability, local transport system information etc. The platform also gives an idea to the government of the city in a holistic way so that they too can work towards smart of the city in a smart way.
"The ultimate goal of Singapore smart nation is to benefit its citizens. So once the data is available, we make sure that it is proliferated into public domain, which can then benefit the citizens in their daily lives," adds Tan Boon Khai.
The Indian city of Bhubaneswar, which recently ranked among the top 20 smart cities in the world, has also designed a similar platform. The BhubaneswarOne portal has three level of openness and capability – first level is where citizens can download information like land use, second level is for department and agencies, and the third is for the Bhubaneswar Development Authority which is the nodal point for system integration.
"BhubaneswarOne portal has citywide geo-referenced data linked with each other and it gives government and citizens information about the city," says Dr Krishan Kumar, Municipal Commissioner, Bhubaneswar. "If there is some sewerage work going on in some areas, the information is available to the citizens so that they are aware of the maintenance work, the disruption in services, and possible road blocks due to that. The information is available to local government bodies as well so that they are aware where the work is being done, or if a road cutting permission has to be given it will be keeping in mind the maintenance work etc.," explains Dr. Kumar, who also functions as the Vice Chairman of the Bhubaneswar Development Authority and also the Managing Director of Bhubaneswar Smart City Ltd, a Special Purpose Vehicle (SPV) formed for the implementation of smart city proposal.
Citizens – the heart of a smart city
A city is nothing but its citizens. Therefore, while building a smart city it is very important to know about the needs of people of that city is. Then comes the task of educating them about the smart solutions and engaging them in the programs. The ultimate objective should be getting their feedback on how they want their city to not just be smart but sustainable too.
"A smart city is all about how we can do more with less resources. And this is where technology can help us – not only for efficient systems in governance be it delivery of public services or management of the city infrastructure where the citizens are at its heart," says Dr Kumar.
Langsland of the City of Glasgow shares a very interesting story. "When Glasgow was developing the GIS and mapping division of the city, we decided to map all the ATM machines in the city for citizens. However, once the mapping was done and the information was available to citizens, they said the information was of no use to them since they didn't want to know about locations of all ATMs, but only about those which had money."
Now Glasgow has feedback kiosks at every 1 km where citizens can simply convey to city administrators what they want or how they want their city to develop.
Agrees Dr. Krishan Kumar: "It is very important to know what citizens require. If citizens and government envision together, implementation will be more impactful".
For example, the city of Milton Keynes runs a scheme for promoting citizen-led sustainability issues in the city. The scheme provides funds and support to engage citizens and help turn their ideas around sustainability into a reality. Citizens are skilled to operate effectively in a smart city. There is an online platform called Urban Data School to teach students about data skills as well as informing citizens about what a smart city is. In the process, their feedback and information about their requirements are also collected through various channels like social media, mobile app platforms, volunteered information and solicited information.
A city becomes a favorite when it fits the need of its citizens and provides them affordable housing, quality education, economic perspective and better job opportunities. It should also provide cultural space, entertainment, and of course clean and safe environment. Such a city becomes smart when it learns how to utilize the available resources optimally, technology becomes an intrinsic part its persona. By adopting technology, a smart city gets equipped with smarter governance and management, leading to better lives and thus happier citizens.
Also Read