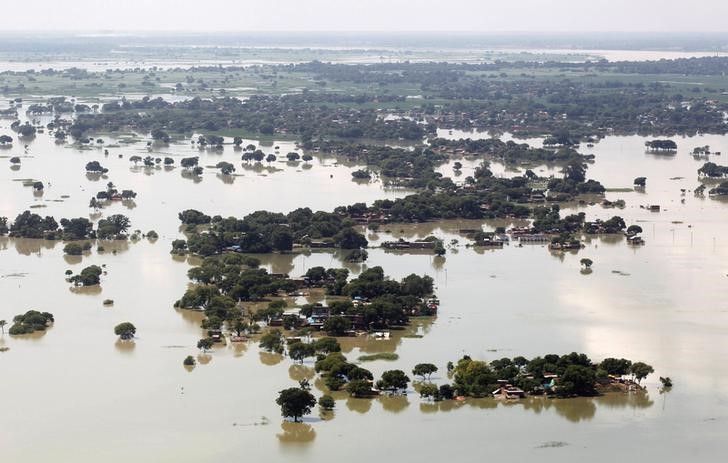 Climate change threatens to unleash more frequent floods. Satellite-verified flood insurance can underpin smallholder farmers' livelihoods, as well as helping nations meet global development goals.
It's a familiar sight from developing nations on our TV screens. Stranded families survey submerged crops and livestock in dismay, as swollen rivers claim their livelihoods. Once hit by such a devastating event, smallholder farmers have little option but to use their savings – or more likely, to seek credit – to shore up their homes and buy new seed for the coming season. With few prospects for any kind of income in the short term, their lives become increasingly precarious, reducing their ability to recover from future shocks.
Most models predict an increase in the frequency of extreme weather events as climate change takes hold, so efforts are needed to strengthen the resilience of vulnerable agricultural communities. The United Nations Global Assessment Report on Disaster Risk Reduction 2015 (GAR15) emphasized the role of risk-sensitive agriculture in strengthening livelihoods and food security. And Goal 11 of the UN Sustainable Development Goals has the objective of "making cities and human settlements inclusive, safe, resilient and sustainable." But how best can we do this?
Building new infrastructure to help communities physically withstand floods; developing policies that avoid development in high-risk areas; conserving wetlands and forests to strengthen natural protection; flood climate and introducing flood-tolerant crops all have the potential to help prevent weather events from becoming disasters. However, even the wealthiest and best-prepared countries cannot head off all shocks, let alone poorer economies. So, efforts to prevent floods must be supported by initiatives to cushion the impacts of those that occur.
Safety net
Many countries are realizing that insurance is one way to do this. In India, some 30 million smallholder farmers are affected by floods every year. The government is currently subsidizing the largest crop insurance scheme in the world – Pradhan Mantri Fasal Bima Yojana (Prime Minister's Crop Insurance Scheme) – with the aim to cover more than half of all farmers within the next two or three years. However, some of India's most vulnerable states are home to its poorest farmers. In Bihar, which loses between 0.5-120 million USD to floods every year, 78% of the population earn less than US$2 per day. How can the poorest farmers on meager incomes experience the peace of mind enjoyed by the insured educated classes?
At the International Water Management Institute (IWMI), we believe we have the answer. In collaboration with the Indian Council for Agricultural Research, Disaster Management Department, Institute of Water Modelling (IWM), SwissRe and NGOs, we have created an Index Based Flood Insurance (IBFI) product, specifically designed for smallholder farmers in developing countries. The CGIAR's Climate Change, Agriculture and Food Security (CCAFS) and Water, Land and Ecosystems (WLE) programs funded the project.
The IBFI combines hydrological and hydraulic modeling and newly available 10m-resolution satellite images from the European Space Agency. Rainfall data for a river catchment area is first added to the model, which shows how run-off will travel and collect. If a trigger water-level is reached (calculated using 35 years of hydrological data), satellite images are used to verify the depth and duration of the flood. This accurately identifies those farmers that are eligible for compensation.
Trial run
We are running pilot projects in the districts of Muzzafarpur in Bihar and Sirajganj in Bangladesh later this year to test the IBFI. In preparation, we used the mathematical model to recreate the past 35 years of floods across floodplains in these two districts. This enabled us to accurately estimate flood parameters, including inundation extent, depth, and duration, for every 300x300m pixel. By relating the flood parameters to associated losses in paddy rice crops, agro-economists and insurance experts developed a pay-out index for villages in each district.
We conducted a Willingness To Pay survey among random participants in the pilot area to tailor the product to local capabilities. The majority of participants wished to be part of the pilot scheme while expressing their need for affordable insurance premiums in line with their incomes. We are testing a subsidized public-private partnership business model at micro level, where individual farmers buy the insurance, and also at meso level, where a group of farmers is insured jointly and receives subsidy support from the government. The insurance scheme is currently being introduced to the communities, with the pilot set to run during the monsoon season from June to October.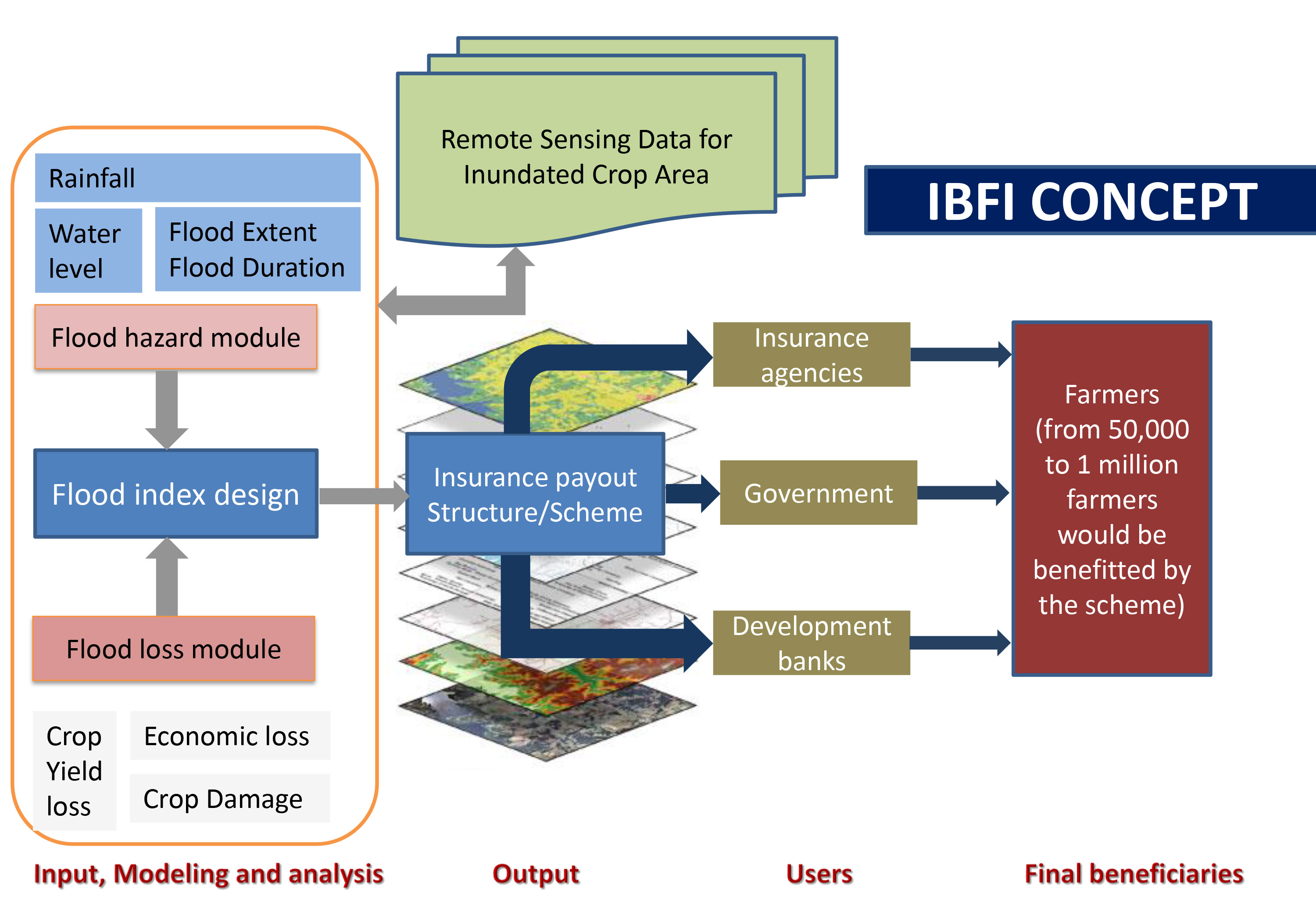 A mobile-based app enables farmers to enroll in the IBFI scheme. The app has: a custom-built registration form for capturing data, such as the personal details of policyholder; the facility to geo-tag the relevant agricultural fields to automatically calculate coverage based on the location and area; on-the-spot verification of relevant documents; time stamping; and an e-signature option. When a field agent enrolls a farmer, his or her details are transmitted to the cloud-based server of the insurance company. The farmer later receives an SMS informing them of their policy number, while the relevant bank or financial institution receives an instruction to transfer the insurance premium to the insurance agency.
Once the pilot is under way, we will use satellite data to verify insurance claims and assist in calculating pay-outs. When a flood occurs, we will assess the extent, depth and duration from the satellite data. The system's capability was demonstrated during recent flooding in the River Ganges. Due to monsoonal rainfall in upstream parts of India and Nepal, so much water flowed into the river that its width swelled from one to two kilometers to 10-15 km. From Landsat satellite imagery on 31 Aug 2016, we were able to map the extent of the agricultural area submerged by floodwater. And, using the mathematical model, we were also able to estimate the depth duration of floodwater in each village across the districts.
Raising resilience
The flood insurance product will generate flood characteristics across the selected districts throughout the monsoon season in the pilot districts and will notify via SMS the insurance company, bank and farmers when the pre-determined threshold of flood depth/duration is breached. The insurance company will award pay-outs accordingly, crediting the money directly to each eligible farmer's bank account. The farmer receives a final SMS notification indicating settlement of insurance claim. If any farmers wake up to find swirling floodwaters threatening their livelihoods, they can be sure they will be compensated for their loss.
Following the publication of GAR15, the Sendai Framework for Disaster Risk Reduction 2015–2030 was adopted in March 2015. Among its seven targets are the aims to: 'Reduce direct disaster economic loss in relation to global Gross Domestic Product (GDP) by 2030', while one of its four priorities states that: 'Public and private investment in disaster risk prevention and reduction through structural and non-structural measures are essential to enhance the economic, social, health and cultural resilience of persons, communities, countries and their assets, as well as the environment.' Using insurance to build in resilience within agriculture in developing economies has the potential to help nations meet their Sendai targets and the wider SDGs.
• For more information on the IBFI project, see here
Watch a short film about IBFI