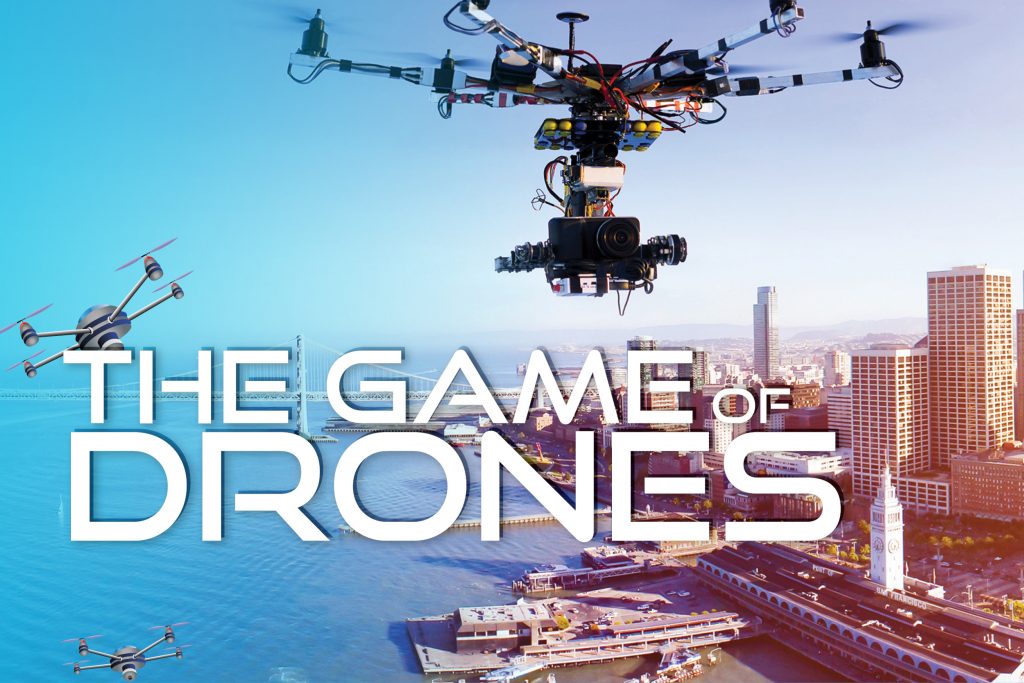 The global drone industry is booming and policy makers are having a tough time keeping up. While some countries have clear, established drone laws, many others do not, or the existing regulations do not take into account how much the UAV landscape has changed over the last several years
Drones, UAVs, UAS, RPAs, or whatever you may call them, unmanned aerial systems are set to become a defining feature of this century. Thousands are already in operation in most developed countries worldwide. And that is likely to grow to hundreds of thousands as drones of different shapes and sizes are deployed by armed forces, border patrols, government agencies, emergency services, fire departments, scientists and farmers, to sports enthusiasts, hobbyists, photographers and even wedding planners.
Drones can offer various advantages, not only in terms of potential economic savings but also environmental benefits — less fuel consumption, fewer CO2 emissions, and reduced noise. The increased use of drones for civilian applications has presented many countries with regulatory challenges. Such challenges include the need to ensure that drones are operated safely, without harming public and national security, and in a way that would protect areas of national, historical, or natural importance.
Feet on the Ground or Head in the Sky?
According to a report by MarketsandMarkets, the global UAV drones market size is expected to increase to $21.23 billion by 2022, at a CAGR of 19.99% between 2016 and 2022. The drivers for this market are rapid technological advancements in drones, growing demand for drone-generated data in commercial applications, and increasing demand for them in commercial applications. "UAVs are democratizing data and information. They are democratizing how we see the world," says Jim Van Rens, President, Riegl, USA. In that way, UAVs are very similar in terms of their disruptive nature and impact as Google was decades ago, he believes. "Google came along and it transformed how we looked at the world, how we experienced the world and the UAVs are doing the same thing."
There are an endless number of areas where information from drones can be applied, iterates Anil Nanduri, Vice President, New Technology Group GM, UAV Segment, Intel. "Inspecting a bridge, a tower, inspecting any area after a natural disaster, the damage they do to buildings and surroundings… are all very intense work and are often even unsafe for human visits. Drones can be much quicker, faster and capture a lot of data — one drone flight can get you gigabytes of data, which needs to be processed," he adds.
Mathew Wade, Marketing Director, senseFly, explains the first big penetration has been in the geospatial market — surveying, mining, construction, etc. "We have seen very big growth in the field of agriculture and that is going to be one of the strongest sectors in the future. I think the upcoming sectors can also be 'infrastructure' and 'inspection'. Think about bridges, dams and railways across the world and the figures are astronomical. All these need maintaining and checking regularly and that is a big opportunity for drones to grow big."
Google, Amazon and Wal-Mart are in race to build drones for delivering products. DHL Express has made scheduled drone deliveries, though the expansion of such operations is under regulatory review
For instance, in the US alone, there are 600,000 bridges and inspecting a bridge is a very complex exercise. As these infrastructure age, they need more frequent inspections. "It is not humanly possible to have that level of scale to do this on a regular basis, but drones can inspect these in faster and that itself is an economical opportunity. You are saving time, saving cost and creating jobs. Also this kind of problem is not unique to US alone, for every country this infrastructure or inspection of this infrastructure is a key requirement," elaborates Nanduri.
"The drone industry is diverse, innovative and international. It has an enormous potential for growth with the associated possibility to create jobs," said a prepared statement from the European Aviation Safety Agency (EASA). The Agency has been tasked by the European Commission to develop a regulatory framework for drone operations as well as concrete proposals for the regulation of low-risk drone operations.
Among all the major applications of commercial drones, the media and entertainment market is expected to hold the largest share in 2016. The main driver for the growth of this application is the increase in the use of UAV drones by professionals to record videos and capture high-resolution pictures. The market for precision agriculture is expected to grow at the highest CAGR during the forecast period.

Different countries, different rules
Technology develops faster than law. A brief examination of history of the development of technology shows that technical advances sometimes surpass the development of legal systems. The global drone industry is booming, and so is the problem. In such a quickly evolving ecosystem, policy makers are having a tough time keeping up. While some countries have clear, established drone laws, many others do not, or the existing regulations do not take into account how much the UAV landscape has changed over the last several years.
" The major challenge is that every country has different regulations, they are less restrictive or highly restrictive… and for us it is very difficult to meet all these, sometimes, unreasonable requirements," explains Zdenko Kurtovic, CEO, GeoZone.
In some countries, the rules for operating drones in the national airspace have been relaxed. For example, in the US, the release of the Part 107 rule by Federal Aviation Administration (FAA) for drones below 55lb has paved the way for multiple opportunities in commercial sectors such as mapping, surveying, and inspection, among others. The rules and regulations are being modified for the European countries too so that they can reap the benefits of drones for driving the growth of the economy.
DJI, the world's largest drone manufacturer, was naturally upbeat. "After years of work, DJI and other advocates for reasonable regulation are pleased that the FAA now has a basic set of rules for integrating commercial drone operations into the national airspace," says Brendan Schulman, DJI's Vice President of Policy and Legal Affairs. Officials from the company, which is based in China but has its North American headquarters in Los Angeles, note that previously commercial drone operators had to wait months to get an FAA exemption for drone operations and had to employ a pilot with a license to fly manned aircraft. That caused frustrations for business owners, but now the new rules will be of a great help.
The FAA reports that the drone regulations may help the industry add $82 billion to the American economy, as well as 100,000 jobs, over the next decade. "AUVSI, an agency which actually put that study out, said that an economical potential of $80 billion over the next decade is expected," points out Nanduri.
For instance, Dr Christoph Strecha, CEO and founder of Pix4D, a company specializing in drone mapping software, says he is seeing a rise in business. "There was lot of demand in getting professional outputs of drones and we are on the wave. We also actively participate in educating the market that drones are something that has great value for professionals."
Every industrialized country in the world is making investments in drones, thus driving the scope and technological developments for applications in the commercial UAV market. The European drone sector is expected to directly employ more than 100,000 people and economic impact will exceed €10 billion per year, mainly in services, within next 20 years. Kurtovic believes this will happen because the numbers of applications which are possible or will be possible to be performed with a drone are increasing weekly and as soon as the regulatory standards will be established, this high target will be achieved.
Drone rules in United States
Drones are no longer toys. The FAA has finally let them out of the box. Now, they are officially tools. The New Small UAS Rule (107), which came into effect, on August 29, includes all pilot and operating rules for drones weighing less than 55 Ibs that are conducting non-hobbyist operations. Drones weighing between 0.55 lbs and 55 lbs must also be registered with FAA. The rule's provisions are designed to minimize risks to other aircraft and people and property on the ground. The regulations require pilots to keep an unmanned aircraft within visual line of sight. Operations must take place during daylight hours, or within the hours of civil twilight if the drone has anti-collision lights. The new regulations also address height and speed restrictions and other operational limits, such as prohibiting flights over unprotected people on the ground who aren't directly participating in the UAS operation. Under the final rule, the person flying a drone must be of least 16 years of age and have a remote pilot certificate with a small UAS rating, or be directly supervised by someone with such a certificate.
"The FAA rules are a great step forward for the industry. Trimble has been highly supportive of the regulatory efforts at the FAA and our customers will benefit greatly from the clear regulatory framework," says Todd Steiner, Marketing Director of Imaging and Optical for Geospatial Division at Trimble. Trimble, which was a big player in the UAV market, recently sold its Belgium-based Gatewing UAS engineering and manufacturing business to France's Delair-Tech.
"I think FAA is moving lot faster now. The 107 rule is very well defined, but even then it is still about visual line of sight which means that an operator has to see where the drone is," says Nanduri , who feels over the time the rules will start to become more relaxed where you can fly beyond the operator cannot even see and start the journey toward full automation.
Rules for flying drones and UAVs in Europe
Currently, the European Union (EU) does not regulate the civilian use of remotely piloted aircraft (RPA) with a mass of 150 kg or less. Such aircraft are governed by national rules adopted by the EU Member States. RPAs above the threshold of 150 kg fall within the mandate of the European Aviation Safety Agency (EASA).
"The EU is working on harmonizing laws and coming up with a pan-European framework," explains Wade. Currently it is on country by country basis. For instance, in Switzerland, you can fly commercially if you have line of sights, with an altitude ceilings and not flying close to the protected sites like airports. In France, any flight over the city of Paris needs authorization from aviation authorities. In Germany, drones cannot weight more than 25 kg.
"It's a pity that right now every country [in Europe] has its own legislation. But I think there is strong pressure from big players in industry to come to legislations that allows professionals to use drone because it really saves money for big companies when they use them," agrees Dr. Strecha.
The European Union is set to remedy the lack of coherent regulation that some believe has hindered the European drone industry. The new package of Remotely-Piloted Aircraft System legislation may not be completed by the target date of 2016, but it is coming, and the EU hopes it will further boost an already growing sector.
United Kingdom drone laws
The number of near misses involving aircraft and drones has quadrupled in the past year. According to statistics released by the air regulator, some 23 near misses between aircraft and drones between April and October last year were investigated by the UK Airprox Board (UKAB), including 12 given an A rating — meaning there was "a serious risk of collision".
However, the restrictions are still pretty straightforward. Drones are covered under a patchwork of English laws, including aviation laws, which are regulated by the Civil Aviation Authority (CAA). Aircraft that weigh 20 kg or less are covered by articles 166 and 167 of the Air Navigation Order. This is an order that provides basic safety measures, such as prohibitions on dropping articles from the drone that would endanger property or person. The 400-500 meter altitude that you can operate away from the pilot is similar to what the restrictions are in the United States.
Drones with cameras attached must not be flown within 150 meters of a very congested area in UK, or within 50 meters of a person, vessel, vehicle, or any other structure that is not under the pilot's control. Any person using a drone for commercial purposes must obtain a license from the CAA.
Rules for flying drones in Australia
The Civil Aviation Safety Authority (CASA)'s new rules governing the operation of RPAs in Australia took effect this year on September 29. It came as a surprise that within two weeks after the new regulations came in force the Australian government launched a wide-ranging safety review into the RPA laws. The new regulations introduce a risk-based framework for regulating commercial RPA operations in the country. The aim was to make regulations less restrictive and reduce the cost and legal requirements for RPA operations that are considered to be "lower risk". Under the new legislation, small commercial drone operators would not have to pay the current $1,400 in regulatory fees and landholders could operate drones of up to 25 kg on their properties without the need for approvals. If you are not making any commercial gain from your flying, then you may fly your UAV without requiring certification. However that "commercial gain" can include flights for advertising purposes or even uploading videos to YouTube — there does not have to be a direct payment involved. Any flights for commercial gain require certification of both the pilot (UAV Controller) flying the actual drone, and the business which is conducting the operation.
There has been much discussion in recent months about the effect of the new rules Many have welcomed the flexible regulatory approach adopted by CASA, claiming that it will reshape the RPA industry to become more competitive by easing the administrative burden on CASA, particularly in the market of "excluded RPA". There are many industries likely to benefit from the changes, such as agribusiness, building and construction, mining, environmental research, emergency services, and oil and gas. The flexible regulations will present opportunities for a wider range of RPA users to invest in drone technology that is tailored for use in their own industry.
However, pilots and air traffic controllers have called for the regulations to be scrapped, warning they could lead to disastrous mid-air collisions. Joseph Wheeler, Aviation Special Counsel for Maurice Blackburn Lawyers, says the move towards deregulation would significantly increase the risk of a crash between a drone and a plane or a helicopter.
China drone regulations
In January this year, an unmanned aircraft crashed into power lines and caused a massive blackout in Sichuan. The crash came just after China's Civil Aviation Authority released new drone regulations in December 2015 to be implemented on a trial basis. The incident sparked off a debate over drone regulation. The UAS Operation Rules add to a substantial and growing body of new rules applicable to the rapidly developing UAS industry in China by setting forth what qualifies as lawful operation, with the aim of normalizing the authorized flying of UAS and preventing the unauthorized flying of UAS, which has been a frequently occurring problem in recent times.
The new regulations address concerns about smaller consumer drones, although they set guidelines around a threshold of 7 kg, or approximately 15.5 pounds, a significant difference from the US registration threshold of 250 grams, or approximately 0.5 pounds. The regulations are the first to categorize UAVs into seven types according to their weight class; and restrictions vary by location. Restrictions are loose in rural or less populated areas, while major cities like Beijing and Shanghai have strict regulations about time and location of drone flights.
While the new regulations clarify a number of issues such as the allowed applications of drones, and penalties for non-compliance, a highlight China's newly-developed Cloud-based drone monitoring system, showing the country's willingness to combine technology solutions with regulation to insure airspace safety.
Drone regulations in Japan
Japan has been aggressive in creating regulation that will encourage the growth of the drone industry, after Prime Minister Shizo Abe called drone business part of the Fourth Industrial Revolution and pledged to support it. Since then, Japan has formed special de-regulation zones for testing drone technology, and is considering designating bandwidth for commercial drone use.  However, concerns over terrorism has caused lawmakers to enact strict regulations on recreational and hobby drones.
The strict drone law that bans drones from flying over government buildings and important facilities was passed in 2015. The law also allows law enforcement officers to destroy drones if necessary to keep them away from prohibited areas.
Under the amendment, a UAV operator is prohibited from flying, if he does not have permission from the Ministry of Land, Infrastructure and Transportation. Flights may be made only between dawn and dusk. Also, in-flight UAVs must keep more than 30 meters' distance from people and objects. If the rules are violated, the UAV operator is liable for a fine of up to ($4753.82) 500,000 yen.
Japan could offer a large market in hobby drones due to wide interest in recreational photography, and drone manufacturing giant DJI has begun to introduce its products there in the hopes that the market will expand despite regulations.
Drone laws in India
Drones are becoming very popular in India. Despite a ban imposed in 2014 by the Directorate General of Civil Aviation (DGCA) on the civil and commercial use of drones, they are being actively used by police forces for monitoring difficult law and order situations. Several government agencies pursuing mission mode development projects have also started using UAVs after obtaining permission. Now, in an attempt to regulate the operation of drones and make it easier, DGCA is planning to register all civil drones and issue permits for operating them. The agency came out with draft guidelines for operation of UAS in May this year. The 8-page draft guidelines invited stakeholders to send in comments before the regulator releases a final version.
The draft paper says ― every drone sold in India must have a Unique Identification Number and every person flying a drone must have a permit. For flying a drone below 200 feet from ground level, a permit from local administration is required. If the flying is above 200 feet, permission from the DGCA is needed; also an application for this permit needs to be submitted at least 90 days before actually flying a drone. Only Indians or companies controlled by Indians can register their drones under the suggested rules. The DGCA is currently in the process of reviewing the responses to its recommendations from the stakeholders.
Flying high
It is expected drones will be the most dynamic growth sector within aviation within a few years. For this emerging industry it is inevitable way forward through partnerships — with industry, with government and with law enforcement. The drone fraternity is well versed with the benefits unmanned systems can bring to every sector of the economy. But outside the drone industry, the public has some serious privacy and security fears, which can halt innovation and stop the growth of the industry. To enable the commercial drone space to really grow, the industry needs to take hold of its own future.
"The more the drone becomes intelligent the more the people will see the value of it. Drone companies put lot of efforts in research and developing technology that allow safe operations and good applications of drone," believes Dr. Strecha.
The fear of invasion of privacy by these devices is powerful. The drone industry needs to counter that with good examples by doing safe, respectful and meaningful work. The future of drones is tools and not toys, and that the world for the professional market needs to look more like aviation than recreation. It is about walking that balance between the public trust and safety and enabling innovation.
It is expected drones will be the most dynamic growth sector within aviation within a few years.