There is a growing trend of young individuals in India who are working on the NewSpace agenda with vision and drive, surmounting challenges they meet as they travel through uncharted 'space.
In India 'Space' means Indian Space Research Organisation. However, space activities, especially the upstream ones, could not have been done without the involvement of Indian industry. Globally the technology is highly protected because of its dual use capability. Even if it was not, it would be prohibitively expensive. Thus, beyond a few Nike Apache and M-100 rockets launched from Thumba under the UN auspices, India had to look for solutions within India. This not only included big names like Larsen and Toubro, Walchand Industries and Godrej but countless MSMEs who turned out subsystems for launchers and satellites. Downstream as well, industry supports both satellite communications and remote sensing applications with hardware and software.
Of late this story has a new chapter, NewSpace. The NewSpace revolution began globally as entrepreneurs like Elon Musk and Richard Branson began talking of space activities as independent profitable commercial ventures. NewSpace is a jargon describing the disruption caused by commercialization of space ventures through reusable launchers and small satellites using COTS hardware which results in lowering of costs thus opening the field to many more players other than the government institutions and high net worth individuals. However, downstream, there is much more to NewSpace in terms of innovative technology, commercial applications and capacity building.
In India too there is a small but growing band of young and not so young individuals who are working on the NewSpace agenda with vision and drive, surmounting challenges they meet as they travel through uncharted 'space'. Most of them grew up as India began to take its first steps in space.
Interest in space
Prateep Basu, Chief Strategy Officer at SatSure Limited was in the first batch of students of the Indian Institute of Space Science & Technology (IIST). He was inspired by Dr. Vikram Sarabhai vision "that we should be second to none in the applications of space technology, and use space technology for national development". Basu says, "I found this concise statement by Dr. Sarabhai to be relevant even today, with the caveat that we should also be second to none in the commercialization of space technology, while continuing to walk on the path of using it for socio-economic development globally". Divyanshu Poddar, Founder Rocketeers, another IIST alumni says, "I was always interested in space and wanted to become a rocket scientist… hence took up IIST as the opportunity that would lead me to this industry". Kiran Tikare, a member on the Space Generation Advisory Committee (SGAC) of the UN, was enthused by Space after his stint as an intern in SHAR, ISRO apart from his interest in Physics and Astronomy.
Gadhadar, CEO, NoPo Nanotechnologies India Private Limited takes a philosophical view when he says, "I have always wanted to find answers to questions such as Why I exist? Why does the universe exist? I have been drawn to deep oceans and space from early childhood as they seemed to hold answers." Narayan Prasad Nagendra, COO, Satsearch, was drawn to Space through Space Sciences. In his words, "In my undergraduate studies, I had a chance to work with Indian Institute of Astrophysics in designing a structure for a micro-satellite which led me to loving the space sector and eventually traveling to Europe to pursue higher studies".
Kartik Kumar, Co-founder & CEO, Satsearch, had "always been fascinated by space since I was a young child. Having completed my BSc and MSc in Space Engineering, and approaching the end of my PhD, interest in space comes to me naturally". This fascination with space science also mirrors in Rushi Ghadawala, Executive Chairman, BR Aerospace Group who went on to study Aerospace Engineering. Rohan M Ganapathy, Director, Bellatrix Aerospace, was enthused by Neil Armstrong and Buzz Aldrin at a conference in Washington. "A meeting with Dr. Kalam inspired me to do something for the nation" he adds. For Nikitha C, CEO of Society for Space Education, Research and Development, the driving force was the poor level of education relating to space in schools and wanted to, "do something to spark that interest in space tech or science".
On the legal side, Ranjana Kaul, Partner in the legal firm Dua Associates, studied Air and Space Law at McGill University and was inspired by her professor, Dr Ram Jakhu.
Views of Indian entrepreneurs on NewSpace
The road to space entrepreneurship
Basu and Poddar did join ISRO briefly before the entrepreneurial bug bit them. Basu preferred the fulfilling experience of working on and realizing his own vision, rather than executing the vision of others. "It is the journey as an entrepreneur which counts the most, and hence my choice of treading this path (rather) than repenting later about lost opportunities," says Basu. For Poddar, "Indian industry needs and wants more than ISRO and I saw entrepreneurship as the way to go".
Other space entrepreneurs took a different route. Gadhadar set himself an audacious goal that is slightly beyond reach and pursued it relentlessly because, "I figured that trying to realize the goal through a publicly funded organization reduces my chances of success significantly due to a large number of irrational unknowns". This view is also shared by Rushi who worked on projects with ISRO and DRDO but preferred the freedom to become an entrepreneur even when the word 'start up' did not exist. Rohan voices a similar philosophy.
Similarly Nikitha, an Aerospace Engineer, chose to work as a space entrepreneur in her own 'space domain', while Kumar wanted to "break new ground, be my own boss and challenge the existing structures within the industry, to try and push beyond the status quo". Tikare chose to become a part of the IT boom and remained there for 10 years before going back to his love of Space to become a space facilitator and mentor. Govindarajan, President, Aniara SpaceCom, was already in the satellite service sector for 20 years before taking the plunge into space entrepreneurship.
Kaul has consistently advocated an enabling and appropriate regulatory framework and institutional mechanism to harness the private sector which would enable growth and development of a balanced and robust space industry. She set up a Space >Law practice in Dua Associates, a leading law firm.
Nagendra sums up the entrepreneurial drive succinctly when he says, "I saw the rise of NewSpace with several young folks trying to commercialise their experience of building sman>ll satellites. At the same time, the cost of access to space was plummeting, investors across the world started to become more interested in investing into space, which led to me to think if we can utilise India, the way IT industry did, in exporting space> products. Doing this as a start-up was therefore a logical beginning".
Goals of NewSpace India entrepreneurs
These Spacean> entrepreneurs have set goals that cover both upstream and downstream areas including capacity building and mentoring young students.
Govindarajan wants to "launch small GEO satellites under Indian Satellite System (ISS) License. Our idea is to launch small GEO satellites in a cost effective manner and gradually build them in India". Gadadhar has a single minded goal of developing and manufacturing "…a material that is significantly stronger than anything in use, radiation resistant and light-weight. Carbon Nanotubes are such a material". His ultimate goal is to use this technology in spacecraft that will take humans to Mars. Rohan aims to develop innovative solutions to provide affordable and reliable access to space.
Prateep is keen on bringing together Space and IT and create a company that touches the lives of people while monetising Space assets. He says, "space assets are not only monetisable, with the right understanding of the market gaps, but a space services business is also rapidly scalable". Rushi says, "My goal is clear and simple – develop and promote R&D and Innovation in Space, in order to make it accessible to everyone".
Kartik, through his company Satsearch, offers to "democratise access to the space industry, generate greater transparency within the supply chain, and ultimately help bring the sector closer to other mainstream high-tech industries".
Narayan Prasad who returned to India to set up Dhruva Space in 2012 has set himself the goal of taking up "space-related activities that are more long-term projects that make a small difference to a lot of people and short-term projects that can help a sub-set of users". To this end he likes to take up different projects and also curate the NewSpace India community.
Nikitha and Divyanshu prefer to address young students and demonstrate that space is really within their reach. Nikitha's organization reaches out to all communities of students. Among other activities she plans to "…have SPACE STUDIO__INDIA, this is mainly to give the real feeling of technology development, Astronaut training, Micro gravity sensation, etc here in India at very affordable price".
Divyanshu wants to "build a space to build for space. A place where everyone can come and be a part of a community and learn and build for space and using resources and data from space for the world".
Ease and Unease of Setting up a Space Business
"In space, being an entrepreneur has unique challenges relating to funding, gestation period, mainstream understanding, and industry mindset. There are also great opportunities however, as the sector has only just started to break out of its niche. I think over the coming years, we're going to see the space sector impacting other industries increasingly, and this will hopefully also help alleviate some of the challenges in building the next wave of ventures" says Kartik.
For Prateep setting up a venture was easy but running it was a different story. His company, SatSure, is based in the UK and as a MNC, taxation, compliances, and labor laws are quite complex for a technology entrepreneur. That said, he finds that "learning about the necessary paperwork that comes with setting up and running a venture, which are life-long lessons in my opinion". He finds that having to route all satellite imagery acquisitions through NRSC is a drag as it takes up to 30 days and feels that ISRO needs to step up to global standards.
Gadadhar faced so much of resistance from experts and bureaucrats when he set out to develop and manufacture carbon nanotubes for Space use that he named his company NoPo, shortened from 'Not Possible'. He learned "…to fix negativity, I built my own ecosystem and extend it to nurture bold new Ideas". He invested private funds and once his development was successful he "could see people getting excited that significantly advanced tech was being developed in India. In 2017, we won the IIGP 2.0 and Elevate 100. In 2016, a stint at Singularity University opened flood gates of access".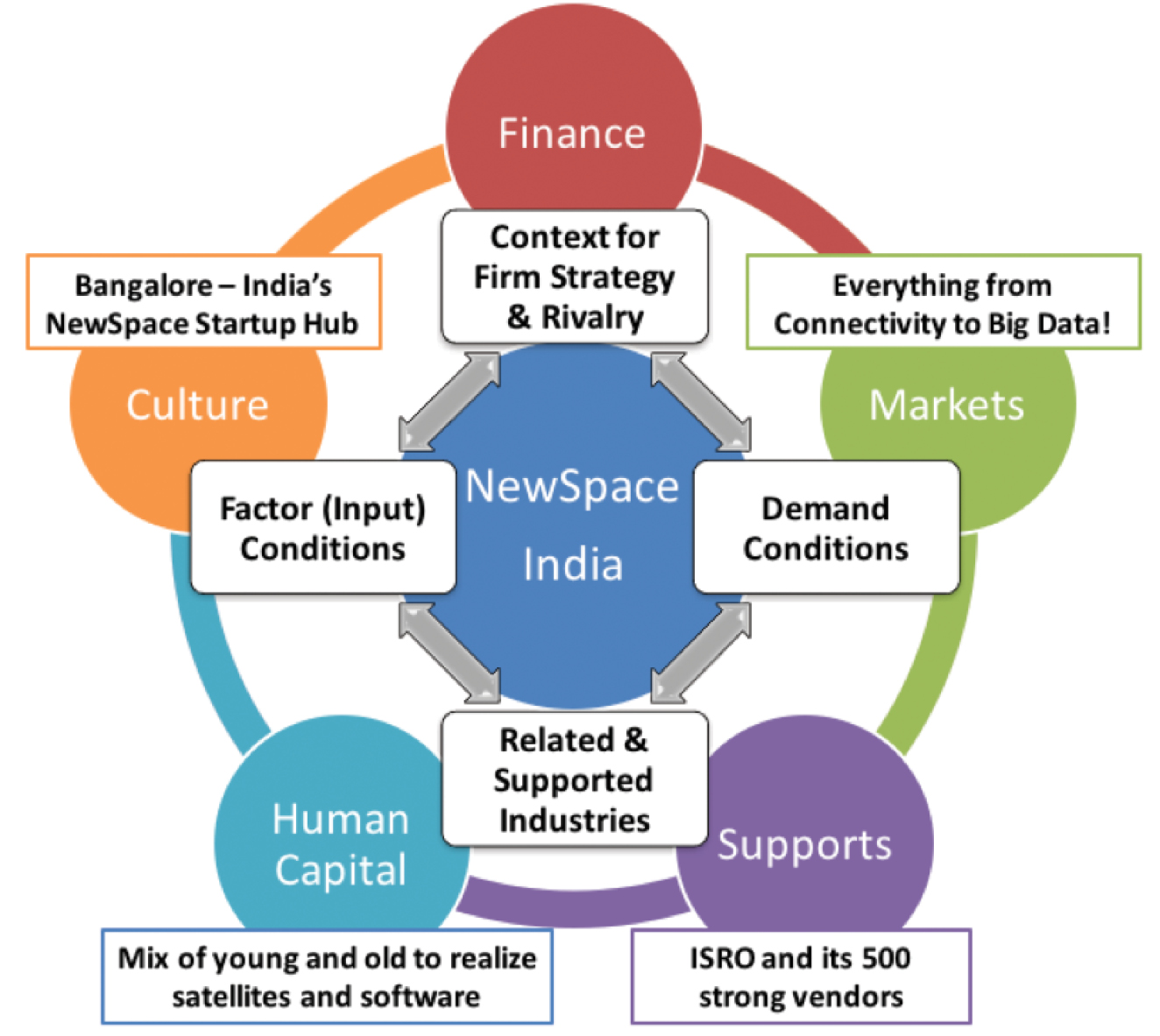 Rohan says,"Bellatrix Aerospace has been a great journey. A major challenge in setting up a space business in India is funding. Space industry is capital intensive and upstream activities come with a long gestation period". The absence of an Indian Space Act, is a potential roadblock for commercialization. However, after producing a prototype they got an order from ISRO. Scaling up, international marketing and funding are challenges. Rohan is confident that Bellatrix will overcome these challenges in becoming a major global aerospace company in the areas of satellite propulsion and launch vehicles.
For Narayan Prasad having a supportive international partner and like minded local partners helps to set up a space business. However, the Indian ecosystem has no incubation support nor pointers to seek support of leaders such as ISRO for space start-ups. "We had to learn how to do business the hard way".
Rushi too found better support in the UK where his venture was treated as a complement to big organizations and not a competitor. In India he easily set up relationships with academic institutions for industry based Space education. He established a few joint projects with other institutions but generally he found political and bureaucratic hurdles limiting his operations in India.
Divyanshu counted the ability to work on cutting edge technologies and the glamour of Space exploration as positive drivers but negatives were regulation, lack of support from ISRO and the government, and failure of the masses to understand the industry. Similarly for Nikitha had difficulties with the name of the organization and getting registration till the Kerala State Government registered them as an NGO.
The lack of clarity among the investors and lack of the ecosystem required for significant contribution leads Ranjana to say, "there has been no progress at all in the matter. However, the government and think tanks are now open to discussing the question of whether India should have national space legislation. While, all agree with that proposition, the actual draft national space law bills presented at least on two earlier occasions do not support the spoken words".
Market Opportunities
Gadadhar feels that aping the developed countries is not a solution. India is the best market for breakthrough technologies that solve basic problems using new and cutting edge technology. The growing demand for satellite capacity in the SAARC and ASEAN regions will enable large users and small nations to use small satellites, as cost of ownership reduce according to Govindarajan. Rohan is also upbeat. Bellatrix Aerospace is working on development of Microwave Plasma Thrusters, Hall Effect Thrusters and Green Monopropellant Thrusters for satellite propulsion. They are developing 'Chetak', a reusable and affordable micro launch vehicle for India, SAARC and ASEAN from a launch friendly location operating out of India.
Narayan Prasad  of Satsearch has partnered with Antrix Corporation "…to bring Indian space products into the international market using our Electronic Datasheet (EDS) technology. We hope to help all emerging players in their mission, spacecraft and operations via the tooling that we are building". Adds Kartik, "Stakeholders within the sector struggle with finding the right products and services, irrespective of location. The market opportunities in Asia are tremendous. As new countries join the ranks of space-faring nations, there will be greater need for a consolidated supply chain platform like ours".
With SatSure working and engaging with various government stakeholders, Prateep sees, "…a huge market opportunity for our risk management and decision intelligence products, that make use of satellite Big Data, IoT, weather, and socio-economic datasets, among many. In India and APAC region the addressable market is about a billion dollars, as per market research firms like NSR".
Rushi says, "Our products and services have already been tested and/or been used by many developing nations across the globe. We aim to provide cost effective and innovative solutions to the present challenges of using space based technologies". A good market exists for customised and efficient solutions of earth observation at lower costs in India, and different countries. "We are already in communication with different countries in Africa, South America and Pacific, and we will be happy to explore ASEAN, SAARC and other interested countries, for joint ventures, with both government and private agencies" he concludes.
Divyanshu strikes a cautious note when he says, "Indian industry has the potential and capacity to lead the industry in the ASEAN ecosystem but ISRO and Antrix will have to take more pragmatic approach and be more industry friendly".
Ranjana regrets that even though there has been attempts at 'satellite diplomacy' like the SAARC satellite, engagement with the UN in capacity building and support for cooperation in SAARC and ASEAN, "India would likely not be able to optimize the opportunities for its own industry and private sector without an appropriate institutional and regulatory framework".
The Road Travelled
Rushi, having set up his first company in the UK in 2008, in India in 2010 and now with operations spread out over UK, India, USA, Canada, Italy and Mexico, looks back and says, "In the last ten years the Commercial Space Sector has welcomed me with a warm heart! I learned new things from new challenges, this leads to innovation and finding effective solutions to push the limits beyond the boundaries. We have worked with various government and private agencies in India, UK and Europe under different consortiums for various application projects in Irrigation, Agriculture, Disaster Mapping, Propulsion, etc". Prateep says, "We developed strong market traction in India and APAC region within a year of announcing our geospatial Big Data platform services. We are in the final stages of closing a MoU with Antrix, which is ISRO's commercial arm. Since our founding team is mostly ex-IIST/ISRO, we would love to engage more closely with ISRO, whose work in satellite remote sensing area set the foundation for home-grown companies such as SatSure to come up. We are also having ongoing discussions with couple of other space agencies to collaborate on research & development activities, since SatSure has legal entities outside of India too".
Narayan Prasad says, "We are today working with companies in four continents apart from space agencies such as ESA, CNES, DLR, ISRO. We have a working agreement with Antrix Corporation of Government of India. Similarly, we are working with the Concurrent Design teams at CNES (French Space Agency) and DLR (German Aerospace Center). We are supported by the European Space Agency and we are exploring a number of projects with them too. We are also keen on working with new actors such as Portugal, Australia, UAE, which is in our pipeline at the moment. We have won various awards from being International Space University's Startup competition award, graduated from Y Combinator's Startup School, Startup Space Weekend award and recently we were the first startup to enter the European Space Agency (ESA) sponsored Rocket Program. As a start-up, we have been very lucky to work with small companies, large corporations, space agencies which bring us tremendous perspectives on their roadmap and requirements. Overall, it's been a fun ride and hope to learn more".
Adds Kartik, "So far it's been a true rollercoaster ride. We've learned a lot about how businesses in general work, and what's required to become a success in the space industry. We've also learned that you need patience, especially when you're building something that disrupts the way the industry works currently. Everyday is a challenge, which makes it a fulfilling endeavour for problem-solvers".
Rohan adds, "ISRO has been highly supportive to us. ISRO has placed a contract with us for development of Microwave Plasma Thrusters. This is the first time where ISRO is working with a startup company for joint technology development. We are happy to have more of such contracts with ISRO. We are also supported by DRDO. We are open to work with other government/space agencies".
Gadadhar is now working with ISRO-LEOS to create a new class of super black coatings for use on spacecraft. He feels that he will be able to work with more organisations because nanotubes have a wide area of applications.
Divyanshu plans to work with various emerging actors in space for capacity building and training. They are already in talks with Bin Rashid Space Centre in the UAE.
Currently Nikitha gets requests to conduct programs in schools but a major challenge is funds. Recently, their organisation has received best NGO award for their events aimed at promoting space education at the Corporate Volunteering Conclave 2018 organised by Youth for Seva, supported by Infosys and ONGC.
The Road Ahead
As we can see most of the NewSpace India participants are testing the waters. They have been learning by doing. Now the time has come for a more structured approach that enables better incubation. Fortunately, Antrix is open to such ideas. Various policies and acts need to change from being restrictive to being enabling.
Prateep adds, "The education of the customer about space-based services is limited today, both in India and abroad. Unlike navigation services, which was valorised by the onset of the smartphone, imaging and satellite communications are still limited in their reach". He envisages a future where entrepreneurs and space agencies will increase the understanding of how space technology can improve the lives of people and businesses, "without having to send a sports car in deep space".
Ranjana would like to see India as represented by ISRO-DOS and the Indian private sector in the international Big Boys Club! This requires that we 'connect the dots' "from school curriculums to university specialization in new ways and with new updated content". She stresses the importance of a regulatory framework which allows Universities to innovate and invent, transfer technology for commercialization, be joint patent holder/licensors and "benefit financially from the fruits of their genius and labour".
Kartik would like to see "increased awareness of what space can offer, as a place and an industry". The space sector must become more mainstream and more companies look at space as an opportunity for growth, thus accelerating growth of the sector for greater ROI, which in turn will attirect more investors. "Ultimately, it would be great to see space as just another sector within society, rather than a niche area off in the corner".