A New Delhi-based motorbike taxi service, Bikxie, is utilizing what3words' award-winning addressing system to help females travel more safely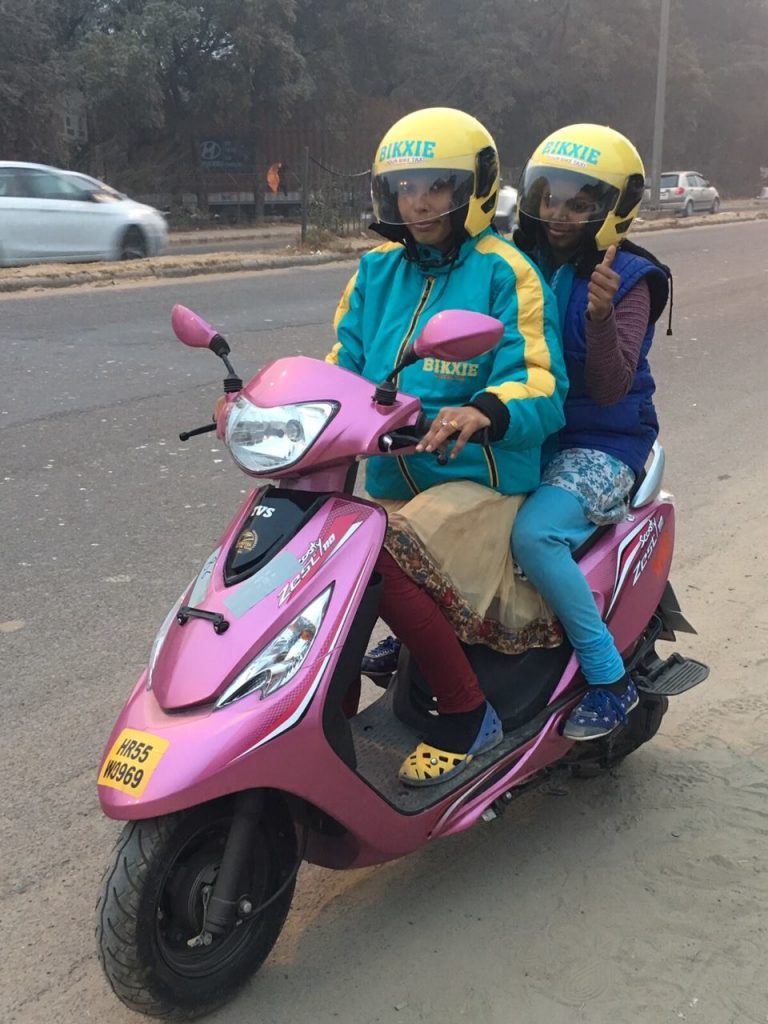 If you are a regular on-demand taxi service user, you would know how frustrating it is to explain to the driver where you are standing. Not only is the exercise exasperatingly time-consuming, if you are a female traveling alone in Gurgaon (now Gurugram) — an Indian city perennially plagued by last mile connectivity hurdles — being stranded alone at night could be potentially unsafe as well.
A New Delhi-based startup is vying to solve these issues by providing a two-wheeler taxi service called Bikxie. The company dishes out a unique service called Bikxie Pink, offering bike rides for women with only female drivers chauffeuring them around. Their other service, Bikxie Blue, is piloted by men and is directed at male riders only. With every ride tracked through a GPS device, Bikxie has joined forces with UK-based award-winning addressing service, what3words, for precise pick-ups and drop-offs.
A botheration becomes a business
Founded by husband-wife duo Mohit Sharma and Divya Kalia, along with promoter Dennis Ching, Bikxie started its operations in Gurgaon in January 2016. "When I used to travel 35 kms from my home to my workplace, reaching the last mile was more than just an inconvenience. Gurgaon autowallahs are notorious for charging any amount of fare they like. Often, you would even end up shelling out more on that last mile than what you had spent on the entire public transport journey till there," explains Kalia, who worked with Genpact, the Royal Bank of Scotland and the Boston Consulting Group before starting this venture.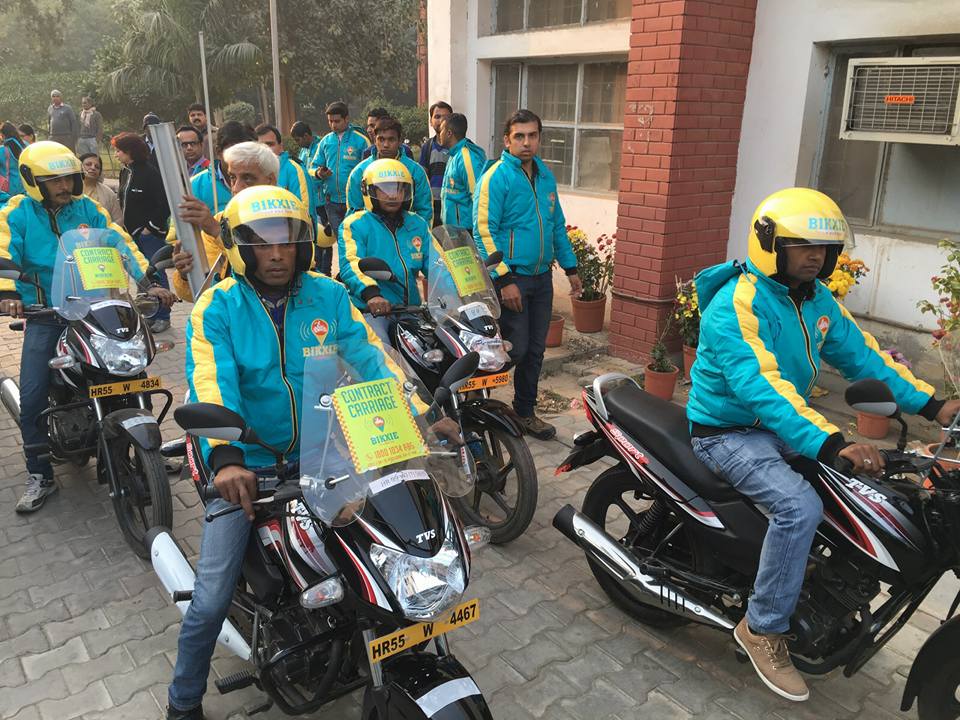 Public modes of transport are anyway running to the brim in New Delhi; it is next to impossible to get any breathing space in them during peak hours. "And if you travel in your own vehicle, you encounter so much congestion on the roads that reaching your destination on time becomes an uphill task," the Economics postgraduate points out.
Kalia was definitely not looking forward to spending four hours every day trapped in a steel cage, listening to the incessant honks of other cars around her. "That is when the thought of a motorbike taxi service struck us," she says. "Mohit and I would stand outside metro stations and discuss our idea with the commuters there. People really warmed up to it. Several women told me that they wouldn't mind riding behind a male pilot also. However, since I personally wasn't comfortable riding with a stranger, it seemed prudent to have a fleet of women drivers as well."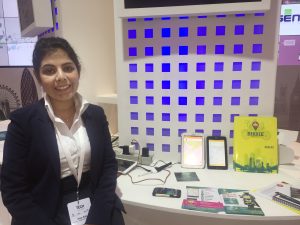 Buoyed by the response, Kalia put in her papers at the BCG and Mohit quit his job as the National Head for Strategic Alliances Cards at ICICI Bank. The duo got their company Madhatters Voyage incorporated in July 2015, with Ching joining them in January this year. Today, the service — which works both on the Android platform and on direct ride-hailing basis (you can usually spot the fleet waiting for customers at the IFFCO Chowk Metro Station) — has more than 40,000 active users.
A Bikxie ride costs INR20 for the first 2 kms, and INR5 per subsequent km. You don't have to pay any base fare or per minute charge. The highly-trained and courteous drivers offer you a helmet, along with a disposable hair net and wet wipes (no germs or sticky sweat, yay!). "Most importantly, we promise you a good riding experience," Kalia smiles.
Three little words, one big problem solved
A major part of that good riding experience comes from the hassle-free, unified global addressing system of what3words. Based on a global grid of 57 trillion 3mx3m squares, what3words gives every square a unique and memorable three-word address — making it easy for taxi drivers to find precise locations, such as, building entrances or specific points on a street.
Let's admit it. There are many areas where Google Maps do not work to a T. "Even in an area as popular as the Inner Circle of Connaught Place, New Delhi, how do you explain to someone where exactly are you standing? Beyond the Block number, you have to rely on shop names to communicate your location. Now, there are five McDonalds in that area; where is the person supposed to find you?" Kalia points to the time, energy and efficiency wasted because of an opaque and confusing addressing system. A three-word address helps expedite the process of location identification much more effectively, especially when the customer is directing the driver remotely.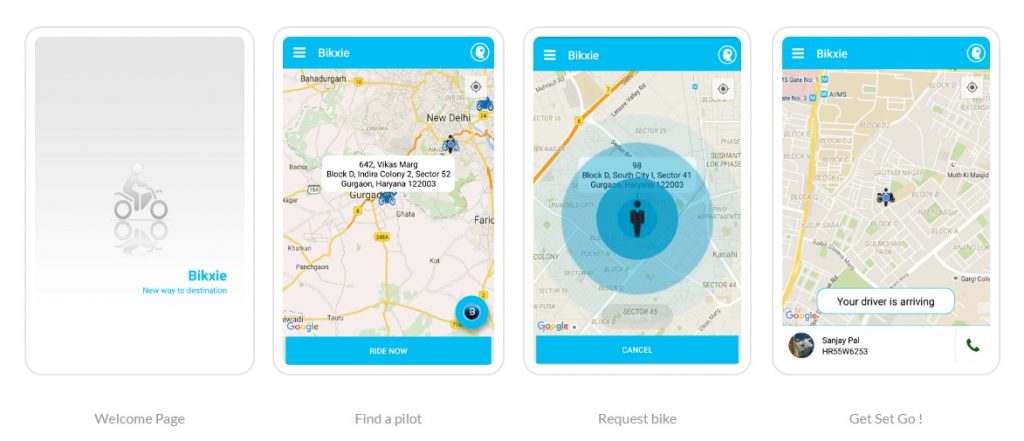 With over 100 drivers in its fleet — of which, 30% are females — Bikxie has received around 7 rounds of angel funding till date. "But, we are at a juncture where we are looking to raise strategic funds on a bigger level," Kalia tells. "We have just started our services in Faridabad. And we are looking to expand aggressively as and when the regulations around Contract Carriage Permits for two wheelers open up in states other than Haryana."
Bikxie is currently available on Google Play Store, with an iOS app expected to launch early next year. Happy riding!