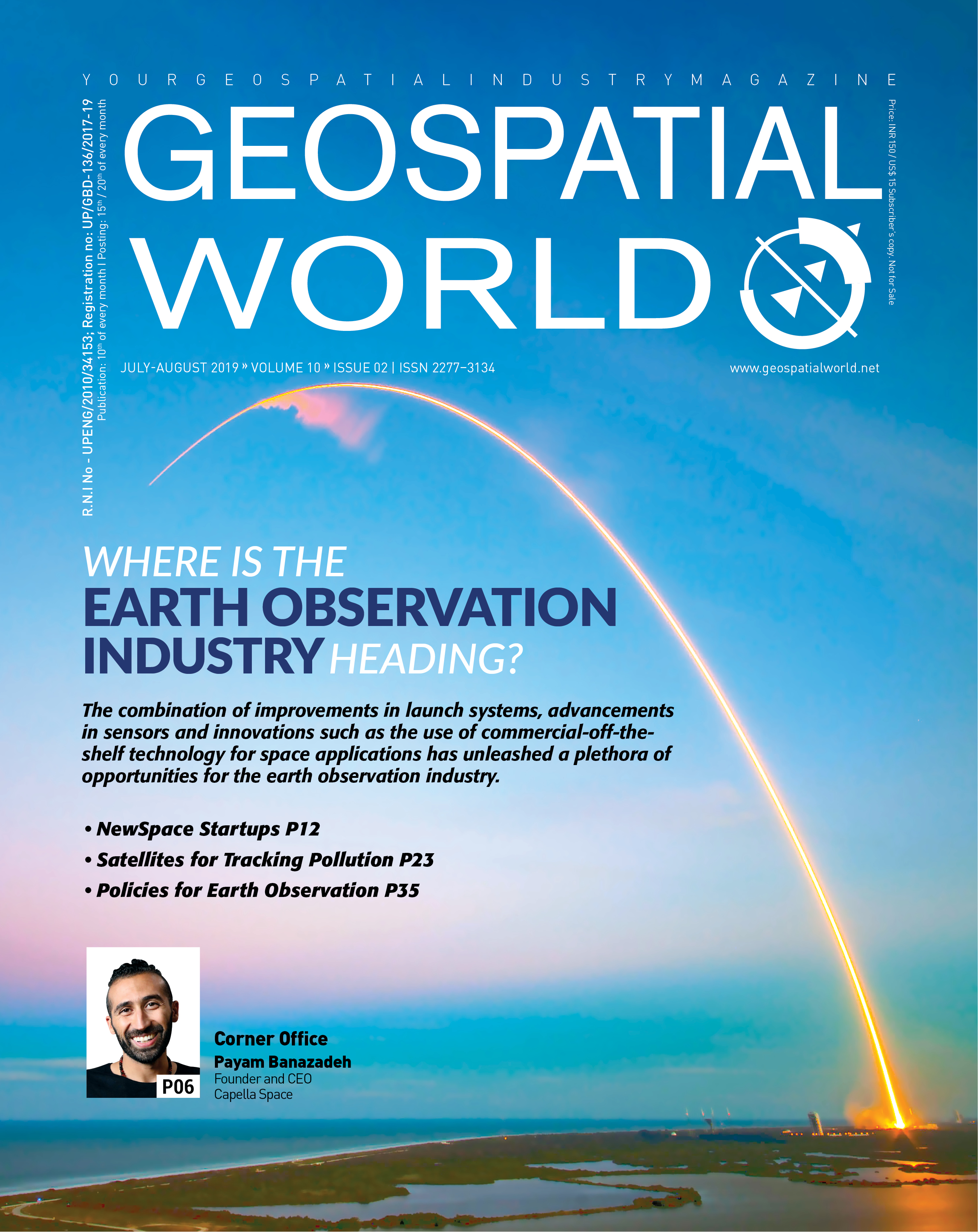 One of the geospatial highlights of the month of July is the Esri User Conference at San Diego. This time, there was an interesting conversation between Jack Dangermond, Jane Goodall and EO Wilson. In a freewheeling discussion, they talked about what ails the Earth and what we can do about it. Kicking off the discussion, Wilson spoke about the major dangers that included Climate Change, water shortage and mass extinction of species. He spoke about a project called 'Half Earth', which aims to create reserves all over the world to foster and protect the biodiversity of different ecological regions. One of the key factors in this effort is the mapping of biodiversity and the identification of possible reserve areas.
This brings us to the theme of this edition of Geospatial World, earth observations — the most important tool for all mapping. Though earth observation has been around for several decades, somehow, one gets the feeling that we haven't seen the best yet. It is not about sensors, their variety, their radiometric, spatial and temporal resolutions. It is more about the accessibility of data and applications. Capella Space Founder & CEO Payam Banazadeh has made an interesting comment in an article in this issue. He says that in a world where business is conducted through emails and text messages within seconds, waiting eight hours to receive a satellite image just seems "archaic and impractical". It might be added here that for some users, even an eight-hour wait is magical, when the norm is days and weeks, if not months.

What holds up the data delivery is the centralization of data processing and the regulatory environment and the processes therein. Earth observations and its applications are no longer the preserve of national governments. Private industry has made significant inroads, but the irony is that governments are the biggest, and in many cases, the only customer. Thus G2B and B2G rule, while B2B and B2C are expected to become significant only by 2025. Meanwhile, global enterprise and national laws often work at loggerheads, thus complicating the process of assimilation and institutionalization of the technology.
Add to this the discovery of the Middle Earth Orbit by both EO and communications players and we have a scenario for the Kessler Syndrome to kick in. As CubeSats abound and SpaceX and Amazon get into the game, the challenge will be faced both by Planet, the company and planet Earth. Thus the interest in space environment has become significant enough for the UN to address long-term sustainability of the space. So far, 21 out of 28 recommendations have been adopted by consensus and await the General Assembly's nod to turn into principles. When these will become part of the Outer Space Treaty or a treaty by themselves is an issue to be addressed.
Returning to terra firma, the UN efforts on Sustainable Development Goals need to be better addressed and while earth observations can play a strong role, the actual scenario belies this hope. Efforts by the UNGGIM in addressing this lacunae show promise. EO can be used very effectively for providing actionable information for three major goals for public good: Climate Change, water and sustainability.
This requires both government and non-government agencies to work together and address these areas. It goes without saying that these three are interlinked. For example, Climate Change is affecting biodiversity and causing flora and fauna to migrate to cooler climes, a fact brought out by Jane Goodall. This brings about the unsustainability of present practices to the changing scenario. The water crisis is also an effect of Climate Change, as precipitation patterns change causing both drought and violent weather events to become common all over the globe, with both hitting vulnerable populations.
Earth observation is an excellent tool for commerce, administration, natural resources management and environmental management, but it is not a magic wand. It needs governments, industry, academia and the public to put their efforts together to make the magic work. It needs enabling policies and regulations for both Earth and space environments.