Abstract
The GIS and data systems section of the Department of Infrastructure and Property Management, manages and maintains Council"s Geographic Information Systems (GIS) and Asset Data Systems. It also provides GIS services and strategic support for the whole organisation.The current structure inhibits GIS communication across the organisation. A subset of the Infrastructure and Property Management Department, the GIS & Data Systems team provides strong support to the Infrastructure Directorate, but finds difficulty in providing the same level of strategic support for the organisation as a whole, as the group is not represented at management levels. Infrastructure and Property Management Department is primarily focused on asset management, with limited knowledge of GIS, and as such, is not aware of valuable connections that should be made. The GIS & Data Systems Team has the ability to offer specialist advice on GIS opportunities that will increasingly have high impact on all corporate functions. The specialist advice comes with high level industry consideration that is based on directions from the Victorian Spatial Council, as well as Federal and State Government. This will help to address the challenge of acting as one organisation.
Geographic information is the key to better decision-making; just about everything a community, business, or public agency does, whether in day-to-day operations or long-term planning, is related to its geography.Examples of use are:
GIS may allow emergency planners to easily calculate emergency response time and the movement of response resources (for logistics) in the case of a natural disaster;
GIS might be used to find wetlands that need protection strategies regarding pollution;
Imagine how maps would present the information described above in an easy to understand format.
In fact, many routine operations of business and government are tied to a location and rely on the use of geographic information to accomplish their goals. Some examples are:
Land-use planning
Subdivision review
Permit tracking
Parcel/tax mapping
Engineering design
Road and utility maintenance
Event (crime, fires, accidents)
Reporting
Emergency management
Infrastructure assessment and development
Cartography
Environment
Green asset management
Property management
For many years, personnel involved in these routine operations have had to rely on reams of printed material, hand-drawn maps and their own imaginations to consider alternatives and make choices.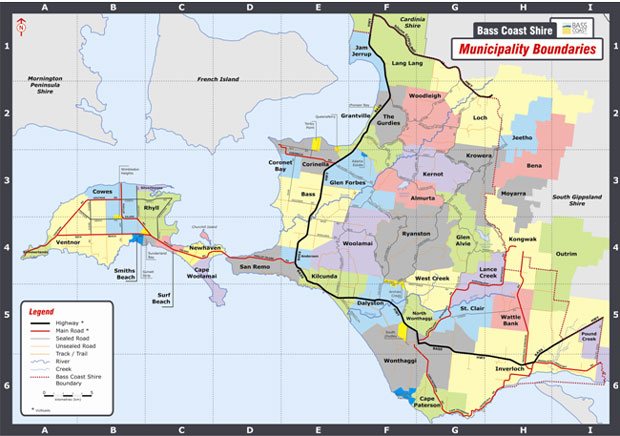 Figure: Bass Coast Shire Council Municipality boundary
GIS stands for geographic information system, a method of managing, analyzing, and displaying geographic information on easily understood, computer-generated maps.
The strength of GIS is its ability to create distinct map layers for different types of information, and then to combine them in any way desired or needed. Each layer consists of geographic, or spatial, data linked to descriptive, or tabular, information. In combining
Layers, GIS uses known earth coordinates (like latitude and longitude) to make sure each layer lines up correctly with the others.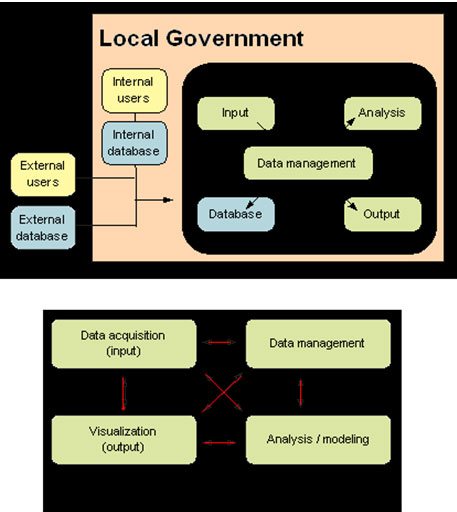 Figure: GIS is an integration software system supporting the above processes and their interactions
Local government GIS application
Asset mapping to identify strategic relationships
Strategic planning future development
Geological mapping (foreshore geology) and landslide hazards
Flood plain mapping, overland flow modeling
Vegetation mapping, wildfire fuel load monitoring
Property identification, parcel boundaries
Identification of surface drainage hidden by vegetation
Emergency management, traffic route planning
Emergency response, evacuation action plans
Customer service, location of points of interest
Demographic characteristics of population catchments
Planning scheme maps easily accessible
Strategic planning, future development
Climate change scenarios relating to predicted sea level rise
For instance, a community involved in municipal planning might want to know how suitable different areas of the town are for development. GIS can be used to generate maps showing where various conditions exist: prime agricultural land, surface water, high flood frequency, and highly erodible land (see map below).
Planners can use this information to make decisions about zoning designations and building permits.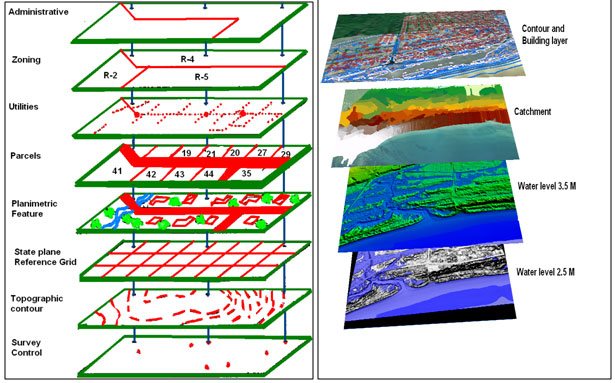 Figure: GIS database layering concept
To compare that information with data showing where development is already occurring, GIS could generate another map or series of maps showing where permits have been issued, when, and for what kinds of development. GIS can also help businesses research retail markets. By entering customer survey data into a GIS database, marketing research staff can see where customers are coming from, and decide where their marketing efforts will have the most impact.
The Sandwich Analogy
Using GIS is a little like making a multi-decker sandwich? The person desiring the "sandwich" can use any type of layer or number of layers required. The toothpick holding the sandwich together is the coordinate system that guarantees the layers line up properly.
How is GIS different from using traditional, hand-drawn maps?
Traditional paper maps exist in many different map scales and projections, making it next to impossible to superimpose or overlay them the way GIS can. GIS can mathematically transform map features from one scale or projection to another, to allow map layers from different sources to be used together. Traditional maps are also less efficient because changes require starting from scratch with a brand-new map. Once information is entered into a GIS system, it is a simple matter to change the data on the computer and produce an updated product. GIS can produce maps at any size, depicting an entire community or only a selected area using information from different scales.
Identifying vulnerable infrastructure using GIS
Identification of Council assets i.e. foreshore assets, roads, bridges, drainage, buildings, boat ramps, jetties etc
Identification of private infrastructure i.e. houses, surf clubs, impervious areas (hard surfaces)
Identification of Population density to identify community concentrations
Identification of vegetation as a natural barrier to sea water intrusion
Identification of geomorphology to understand where erosion will occur due to sea level rise and storm activity
Identification of Bushfire Prone Areas, to understand where wildfire may present risk to development
Identification of rainfall intensity and locality to understand stormwater runoff
Identification of water bodies (i.e. swamps etc) to understand mosquito habitat
Identification of coastal biodiversity to understand the probable changes that will occur due to Sea Level Rise
Identification of tidal recurrence and patterns to extrapolate changes in tidal flows
Identification of Stormwater Drainage Catchments to see what amount of water flows where
Identification of Overland Flow Paths associated with Council drainage to identify infrastructure at risk
Identification of Community Relief Centres to provide emergency accommodation in large storm events
Identify the true shape of the land using high resolution elevation data (LiDAR) to understand natural water flows and drainage
Local government key directives
Key directives for the strategic directions of GIS at local government (LG) were identified and summarised in Table 1: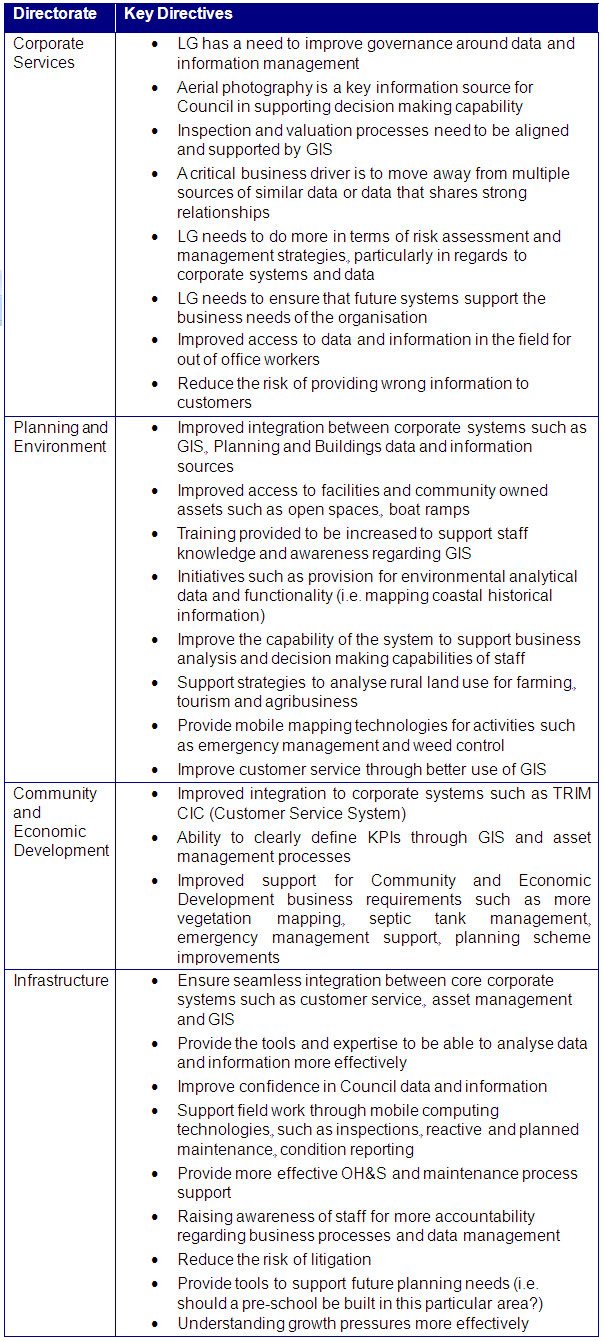 Table 1 – Key directives
Assets to be managed within the GIS system
Local government requires an Asset Management System that ultimately meets the requirements of all its assets. These assets include but are not limited to: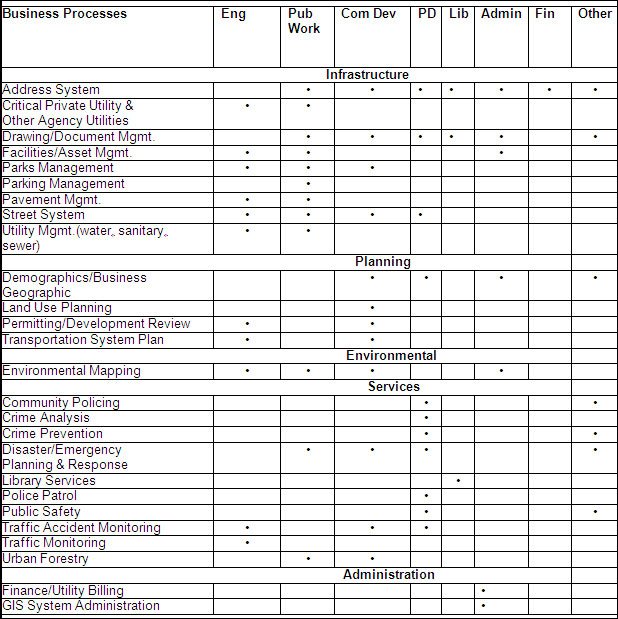 Council Business process involving GIS
Current infrastructure property management department structure
The Department currently provides infrastructure management including the maintenance of infrastructure to meet required levels of service, together with valuation and forecast modelling.
The Asset Management team is currently responsible for;
Co-ordinating the implementation of approved Council Asset Management Program;
Co-ordinating the production of Asset Management Plans for all major asset groups;
Providing strategic and maintenance management recommendations to cater for the long-term sustainability of the community's infrastructure;
Provide fixed asset financial report requirements such as the end-of-year fleet and plant, infrastructure asset valuation reports, Grants Commission and Essential Services Commission;
Coordination of Council's property acquisitions and disposals, and leases (both as lessor and lessee); and,
Naming of roads, localities and features.
GIS & Data Systems is currently responsible for:
Providing Geographic Information Systems across the organisation as a Tier 1 Application,
Providing mobile computer solutions for field applications of GIS across the organisation,
Ensuring that GIS integrates with all corporate datasets and applications,
Developing the current corporate GIS to a web based service to provide live access to all corporate databases via live links to the SQL server,
The provision of Climate Change expertise to the organisation, including sea level rise modelling, with close liaison with Environmental Planning.
Rural Road Numbering including close liaison with Council Rates Department and DSE to provide accurate and current rural addressing for Emergency Response location,
Coordination and management of the current Asset Management Systems,
Providing GIS logistical support to LandCare, Council contractors and consultants,
Managing and maintaining corporate Asset Databases, including roads and road reserves, footpaths, bridges and culverts, buildings, drainage and hydrology, trees, playgrounds, council reserves and council land, and open space,
The provision and maintenance of high value datasets such as the property database, planning zones and overlays, Aboriginal heritage data, high resolution elevation data (LiDAR) and high resolution aerial ortho-photography, to the organisation,
Providing spatial data standards and quality assurance including metadata and data interoperability rules across the organisation.
Responsible for the strategic directions of GIS and the application interfaces
Responsible for GIS & Data Systems budget preparation, and project management to proactively develop opportunities for data and process improvements, and develop wider relationships with the spatial industry (including Academia) to provide opportunities for future innovation and productivity gains.
GIS knowledge is power
Finally, GIS in itself is very interesting. Most people are graphically oriented and are drawn to maps which present information. It's easy for people to say there are ready to embrace GIS technology. However, accompanying GIS is a significant amount of learning and understanding about how it works, and how it will function within the council. GIS can bring with it a considerable amount of technical jargon. This communication strategy will take this into account and adjust communications to the particular audience. Likewise, these communications provide the opportunity to introduce the layperson to basic GIS concepts and help build the collective knowledge base within the organisation.