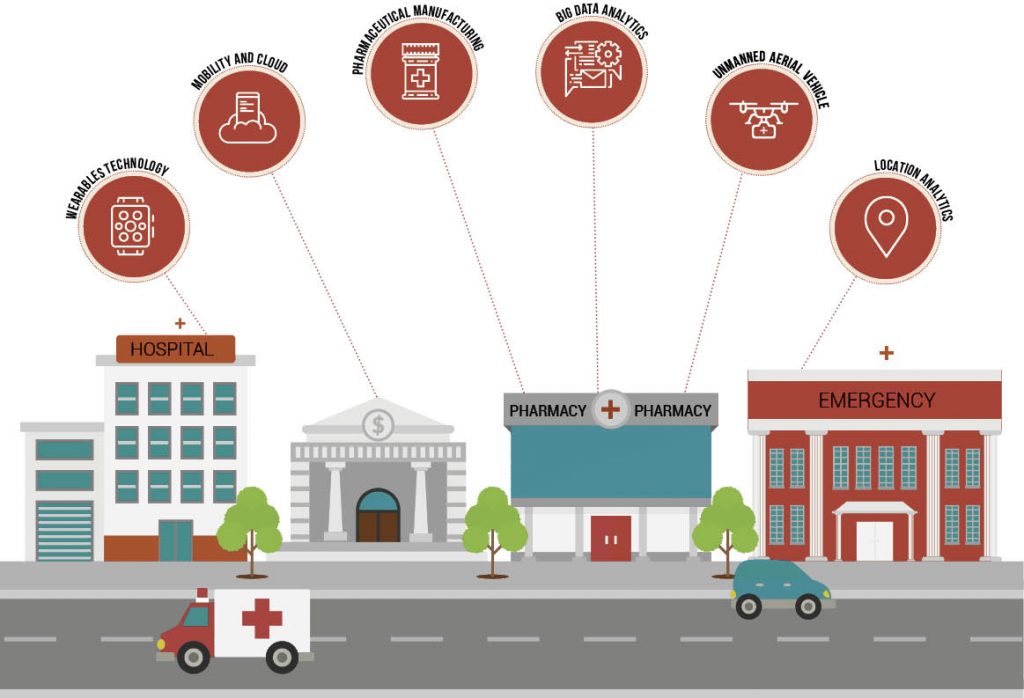 While public healthcare is an early adopter of geospatial technologies, the private sector is using disruptive technologies to help improve the quality of health care and curtail soaring costs, while maintaining operational efficiency. 
"Declare the past, diagnose the present, foretell the future."




― Hippocrates 
Technology and health care go hand in hand. The boon of technology range from those that improve the comfort of patients to those that saves their lives. Interestingly, amongst numerous technologies, geospatial technologies and IoT are becoming important tools for modern healthcare sector to run more efficiently and effectively. While public health care is an early adopter of geospatial technologies, the use of it in the private sector has grown substantially in the last decade. The private health care sector is using these disruptive technologies to curtail soaring health care costs, and improve quality while maintaining operational efficiency.
"GIS has been used for years by global health organizations — federal, and state and local public health agencies — to support population health improvement efforts," emphasizes Dr Este Geraghty, Chief Medical Officer & Health Solutions Director, Health and Human Services Sector, Esri. The private sector has traditionally used geospatial technologies in strategic planning and marketing. However, health reform have had a significant impact in the number of private sector organizations looking at the technology to support population health and community benefit initiatives. As the move to accountable care and value-based payments takes hold, providers and health plans are getting increasingly interested in applying geospatial technologies to assess risk based on geography and the populations that live there, reveal where the greatest need is, and prioritize areas for interventions.
"Location-based intelligence is critical. Everything happens somewhere. Insight into 'where' makes all the difference in access to care, quality of care delivered, and the opportunity to achieve a positive healthcare outcome," she underlines. There are many examples, from simple calculations of travel time to get to a clinic, to more unique uses — such as setting up a geo-fence to keep individuals suffering from Alzheimer's disease safe. Newer technologies even make it possible for smart drones to deliver emergency resuscitation equipment to heart attack patients using spatial intelligence technology.
Dittoes Atanu Sinha, Director, Hexagon Geospatial, India & SAARC: "All health care issues have an inherent geospatial element to them. When we think of health care as an industry, we tend to think of issues that are localised to hospitals, doctors' offices, and other medical establishments." In a number of ways, medical analysis of imagery is closely related to the geospatial discipline of remote sensing. Both are searching remotely sensed images for change, abnormalities, and endemic patterns.
Health geoinformatics is an emerging discipline that uses geospatial technologies to investigate health issues. GIS allows the analysis and display of complex information in a visually exciting format. It presents the ability to uncover patterns that might not have been initially apparent to the interpreter.
Managing the management
Lack of knowledge of patients, equipment, or staff location and status can increase the average length of stay, procedure completion time, or bed turnover time. Such was the case with Ipswich Hospital NHS Trust (IHT), UK. The hospital had been using spreadsheets to capture insight on where demand was coming from. The escalating demand faced by the hospital's A&E department continued to ramp up financial pressures on the IHT system. To overcome this, the Trust implemented Esri's location analytics solution. The information is visualized as a hotspot analysis and the dashboard also provides a set of Key Performance Indicator (KPI) reporting tools, giving managers a dramatically improved understanding of the status of demand in the hospital by enabling them to break down A&E attendees by number of cases, average waiting time or mode of travel, and then split the figures down by timeframes. This enabled better resourcing processes, bringing in more clinical support staff to meet increased demand on certain days of the week, and therefore alleviate resource pressure. Ultimately, minimizing costs while maintaining performance and clinical standards.
In another case, Loma Linda University Health (LLUH) in the US turned to HERE to eliminate weeks of manual data validation and build a robust community asset database to support key community health initiatives. With StreetMap Premium for ArcGIS, there was no longer a need to validate or geocode data. Rather than search and scrub Websites for weeks in an attempt to locate data, LLUH used readily available point of interest data. In addition to mapping the locations of pharmacies, community clinics, schools, and hospitals, the team identified and mapped areas that lack such assets. It mapped these resources in areas where there are high concentrations of patients with asthma, diabetes, and heart failure. The team also identified regions that lack health resources for addressing obesity, diabetes, mental health issues, and respiratory illnesses.
"Before we implemented StreetMap Premium for ArcGIS, data quality was a major problem. Now we don't have to worry about validating data and can focus on what matters most — improving the health of our community," says James Martinez, Population Health and GIS Analyst, Loma Linda University Health.
"As the relationship between location and healthcare continues to receive recognition, providers need ways to integrate social determinants and community-specific information into their population health management strategies," believes Dr Geraghty. GIS enables hospitals and health systems to develop location-based population health strategies and insight that goes deeper than simply what happens inside of a hospital or doctor's office. Both spatial and temporal analytic tools require strong data management. For example, it is important to determine the frequency of data refreshes and establish standardized coding for time and location. When the data is properly maintained, stakeholders can easily perform retrospective analyses to discover patterns.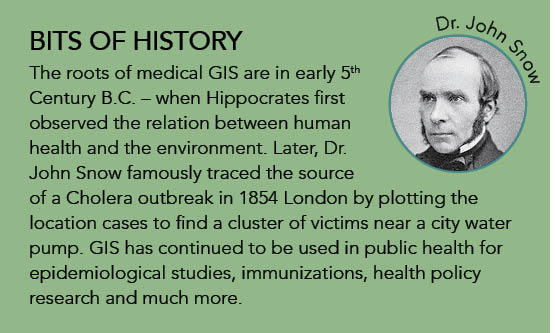 Dr Este adds that healthcare providers are using GIS as the platform for integrating and analyzing clinical data — alongside environmental, behavioral and socio-economic data, to gain a more complete, holistic view and understanding of their patients' needs, the non-clinical factors that influence poor health outcomes and places that should be targeted with community-based interventions.
"Real-time locating systems (RTLS) deliver contextual awareness and operational intelligence to the IoT to increase efficiency, improve quality management, and reduce cost. Intelligent medical devices can remotely monitor a patient's health parameters and enable health service providers to make an informed decision on diagnosis, prognosis and medicine prescriptions for the ailing patient. They can even ensure that emergency personnel can be deployed before the patient even knows that there is a problem," believes Sinha.
In developing countries, however, the demand for health services outstrips the available resources, and priority setting is one of the most difficult issues faced by health policy makers. "At present the infrastructure for networking among various health care service providers is too limited to use geospatial technologies. Currently what we are using is centralized networking for accessing patients medical records within the hospital database," says Dr Sandeep Attawar, Director and Founder, Cardio Vascular Thoracic Surgery, Fortis Memorial Research Institute. He believes the biggest obstacle right now is the investment in infrastructure to create such a network among hospitals where in the data related to the patient can be freely transferred. The other problem is the accessibility for the patient to such a network. With the cost-restraint health services in India, any investment in this regard might not be considered profitable let alone legible. Dr Attawar also thinks in a country like India there are not many network providers for data management and networking for healthcare providers.
Site analysis
Practitioners at clinics and hospitals need to understand their surrounding communities because, for most, that is where their patients are. An investment in geospatial data analysis has provided a significant improvement in decision-making as Melbourne-based Epworth HealthCare scoured the state of Victoria for the ideal location and services mix for a new private teaching hospital. MapData Services helped Epworth HealthCare to research the target population likely to seek private healthcare services. It provided a valuable visual representation of where private health patients live and what services are available in their immediate area. A series of maps reflecting Epworth's market analysis research, which included up-to-date collected information, as well as demographic data available in the 2011 Census basic community profile dataset from the Australian Bureau of Statistics were produced. The analysis revealed where and how to increase the hospital network and provide health services. This information has since informed the design and specification of the project, which represents a significant element of the group's 20-year planning vision.
"While the use of geospatial technologies had long ago become common in public health authorities, it was relatively recently that private health groups were warming to the value of the technique in proactive service planning," highlights Cassandra Barker, General Manager, MapData.
Drug manufacturing
There are clear opportunities for drug manufacturing companies to embark on an IoT journey, with the increasing use of sensors on the manufacturing floor. This network of sensors which can radically improve patient outcomes is referred to as the Internet of Things for Pharmaceutical Manufacturing (IoT-PM). The starting point centers on condition monitoring, predictive maintenance and analytics. Drug production supervision, remote diagnostics and effective drug flow management are some of the important use cases of IoT-PM. Other cases include improving plant compliance and enhancing information flow across the entire value chain.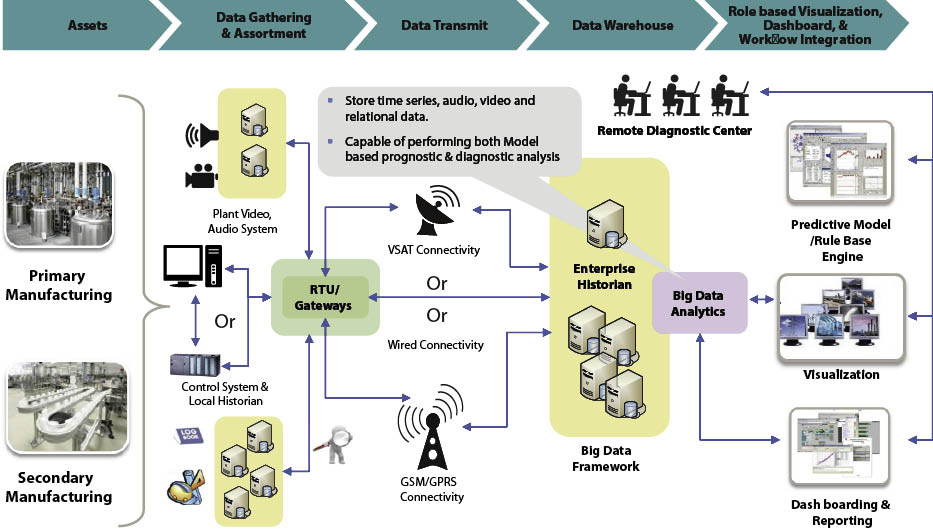 "With the rise of Internet-connected devices we have a unique opportunity to get a better understanding of the location and frequency of healthcare issues. This doesn't just imply a faster response to outbreaks; it means that we can get a better glimpse into the needs of each community so that we can have the proper healthcare personnel, materials, pharmaceuticals, and machinery on hand," elaborates Sinha. The challenge will be in the immense influx of geospatial data that the IoT-enabled diagnostics will bring. "We will need faster, simpler, more sophisticated tools for analysing and visualising data in meaningful ways. Once we 'see' patterns in the data, we can begin making better decisions."
IoT offers the opportunity to connect equipment and sensors on the manufacturing floor and aggregate data over multiple cells in and across manufacturing plants world over. This enables convenient supervision of manufacturing activities from any location, at any time. Real-time monitoring from anywhere will improve the quality of life of healthcare customers. Exceptions can be addressed in real-time, minimizing waste, improving equipment utilization and lowering production costs. Healthier pharmaceutical operations will ensure that drugs are more affordable for patients. Undoubtedly the advances in sensor, Internet, Cloud, mobility and Big Data technologies have led to affordable sensors and connectivity devices, vastly increasing the potential of IoT-PM to influence further changes.
Predictive analytics
While the landscape is changing for healthcare predictive analytics as more organizations figure out how to harness Big Data and implement the right infrastructure for generating actionable insights from a slew of new sources. Big Data is an issue not just in the geospatial sector, but for organizations across the globe. This is true of the healthcare field. Each and every patient carries with them a lifetime's worth of data, including terrabytes of imagery associated with MRIs, CAT scans, X-rays. In addition, doctors and healthcare administrators need to be able to analyse their data in a repeatable, efficient, and intuitive way. The ability to string together a number of analytical processes and present them in a dashboard view is key to communicating complex information in a simplified fashion.
"The answer isn't to simply populate your systems with GIS data, because without context, that data is simply a value in a spreadsheet or report. Insight from stronger predictive analytics means everything; especially when it comes to better outcomes for patients," explains Dr Geraghty. The key to making your GIS data actionable is to uncover the relationships and patterns that traditional healthcare IT systems can't detect. That is where analysis and resulting insight from GIS provide the key value drivers in healthcare.
Agrees Dr Attawar: "Considering the variance of the unstructured medical data, which at present is difficult task to understand and structure, any predictive analytic software will be difficult to create, but software to structure and store medical data will be extremely helpful to healthcare providers to assess and understand the patient problems and profile, this subsequently will improve the quality of the health care provided."
Flight of life
The distribution of healthcare services around the world is uneven. Challenging terrain and gaps in infrastructure are common. Drones are potentially a solution to these logistical problems. Tech companies and international health organizations are testing the use of UAVs around the globe, from island nations, including the Dominican Republic, Papua New Guinea and Madagascar to isolated populations in Nepal to Peruvian jungles.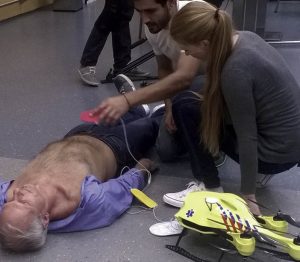 Alec Momont of Delft University of Technology in the Netherlands designed a prototype used for delivery of potentially life-saving automated defibrillators. The drone would also be equipped with a two way radio, camera and video screen that could be used to help out in case of emergency, whilst waiting for the paramedics to arrive. This would allow someone at the other end to instruct members of the public on the use of the defibrillator and how to perform CPR.
Rwanda witnesses the death of an estimated 325 pregnant women per 100,000 each year, often from post-partum haemorrhage. That's somewhere about around 15 times the rate in the U.S., according to the CDC and the WHO. Zipline, a robotics company based in California, works directly with Rwanda's National Center for Blood Transfusion to make 50 to 150 deliveries a day of red blood cells, plasma or platelets to the 21 transfusion facilities in the western half of Rwanda.
Drones have delivered small aid packages after the Haitian earthquake in 2012, and in Papua New Guinea, Doctors Without Borders used them to transport dummy TB test samples from a remote village to the large coastal city of Kerema. In a developing country like India where estimated 500,000 people are in need of organ transplantations every year, drones could be lifesavers. But due to regulatory issues the ambitious projects seems to have been put into cold storage. "Currently drones are not being used in India for medical services, but with improvement in technology and reliability drones can hold a major position in delivery systems in healthcare services for swift and timely deliveries in cases like an organ transport, device transport etc.," says Dr Attawar.
Wearing the cure
Wearable technology plays a prominent role in today's healthcare transformation. They are becoming smaller and more mobile, opening new alternatives to traditional ways providers have interacted with patients, performed tests, collected data and delivered treatments.
Location-enabled devices are a lifesaver for people suffering from memory loss or disorientation, particularly dementias like Alzheimer's or Parkinson, and autism. Using GPS tracking, wearables allow seniors to be found quickly and safely. Project Lifesaver, Mindme, GPS Shoe, Safe Link and many more are new solutions to address wandering and help keep dementias patients safe and secure. The US Justice Department (DoJ) said in 2014 that it would cover the cost of GPS tracking devices for children with severe autism and other similar conditions. In the US, over 1 million children under the age of 17 are on the autism spectrum. These children often times fail to recognize basic facial emotions. A research team at the Stanford School of Medicine is using Google Glass to help them. Group of scientists at the Autism Glass Project, led by Dennis Wall PhD, have built facial-recognition software for Google Glass to help children distinguish between seven different types of facial expressions.
Wearables are closely intertwined with an evolving healthcare delivery model. While adoption levels are growing, the wearables market is still in the early phases of expansion. A report estimates that global shipments will increase at a compound annual growth rate (CAGR) of 24.8% over the five years, reaching 162.9 million units in 2020.
Foretell the future
"If properly used geospatial technologies can far outreach to a more global patient-base which physically is impossible for a health care service provider to ever reach out to," believes Dr Attawar. Such systems should be installed, developed and maintained to improve the quality and to standardize and individualize the quality of care provided to the ever enlarging global patient base.
The landscape is changing for healthcare predictive analytics as more organizations figure out how to harness Big Data for generating actionable insights from a slew of new sources
However, that is a still far cry in countries like India where healthcare system, even in the private sector, is more of a subsidized system with the burden of cost-cutting and cost restrains. "With such low expenditure for proper infrastructure any change to establish any system, targeting the distant future and the expenses for it, is considered futile and losses," he adds.
As Sinha sums up: "Health care is a tremendously dynamic field. The data is continually updated and the analytics need to reflect that. We need not just an answer, but a dynamic answer, and GIS can provide us with the tools for mapping, visualising, and analysing the data across time." And once we can understand the past, we get a better view of the present, which will enable us to map out a plan for the future.
Meenal Dhande
Assistant Editor