The power of the World Wide Web, automated machines and smartphones in every hand have made the world a big sensor network — bringing location to the center of everything. How do CEOs and geospatial business leaders view this progressively interconnected world and how are they adapting to the changes?
Maps are not just driving apps today; they are driving economies too. Geography is a component of every major decision that organizations and individuals must make every day. So, it's only a matter of intuition for any forward-thinking company involved in technology today to incorporate spatial analytics into their offerings. "Location intelligence allows other capabilities to be what we call 'geo-enabled'. It means that normal business intelligence gets supercharged with a geographic component that allows a holistic situational awareness, providing real-time insights into operations and systems," explains Jack Dangermond, President, Esri.
In the past one decade, core geospatial technologies have evolved exponentially, and they have rallied with a host of mainstream IT and digital disciplines to complete the puzzle. Specifically, the past four to five years have seen constant innovation and transformation in the geospatial landscape and business environment, simultaneously, giving birth to exciting opportunities and formidable challenges. This innovation cycle has further re-energized, reorganized and at times completely redefined the composition, character and business models of the geospatial industry.

"We have seen industry consolidation, technology integration, near-ubiquitous connectivity and an increased focus on providing industry-specific solutions. I believe that this 'evolutionary process' has been primarily driven by data collection, analysis and project deliverables where each of these phases were loosely federated and integrated," believes Steve Berglund, President & CEO, Trimble.
Disruption: nudging forward or causing stress?
Industry leaders have mixed feelings about the technological disruptions. While 50% have welcomed them as new growth opportunities, 3% see them as increased competition, and 44% view  them as both (Graph 1). An overwhelming 85% of the respondents feel that the geospatial industry has gone through a disruption in the past few years (Graph 2). However, a number of people also called this transformation an "evolution" process.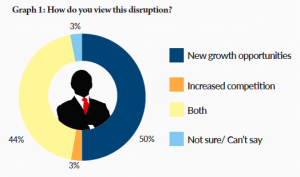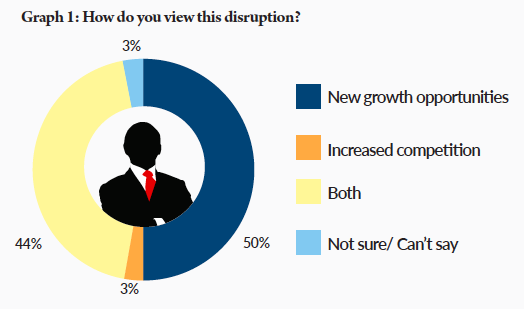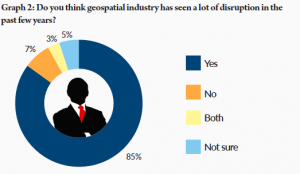 While democratization of geospatial provides many growth opportunities, with those opportunities come new entrants into the market, both from established non-geospatial players as well as startups.
About 65% of the respondents agree that some of the innovation and much of the disruption is being generated from outside the core geospatial industry, mostly by venture capital-backed start-ups.
The start-up community has fostered a more rapid pace of innovation, and Space 2.0 realm, in particular, has challenged the incumbent cost structure for geospatial data and analytics.
While this is expanding the geospatial industry, our analysis of the responses also show young companies and leaders are excited about any new opportunity or innovation. A lot of traditional players seen to be bound by legacy issues and view outside innovations as competition. This is because a lot of these companies still have a product-centric approach and have not invested enough to move up the value chain. They lack deep pockets for total transformations to sustain the breakneck speed of technological innovations.
Collaboration the key mantra
Geospatial data capture and maintenance is in the process of being dramatically reshaped by ubiquitous sensing technologies, and the nature of geospatial data is radically changing also. Traditionally there have been barriers to accessing geospatial data, which have curbed the potential of innovation. However, in recent times open data movements and advances in managing large datasets such as satellite imagery and distribution have made it feasible for organizations to look for opportunities to leverage geospatial data and push the boundaries.
As Ola Rollen, CEO, Hexagon, explains: "We live in a data-driven world and geospatial data is critical to our most vital industries, including defense, oil and gas, agriculture, mining and smart cities. The proliferation of location-based technologies has raised awareness and accelerated the development of applications for user-based needs." Location technology is going into chipsets, cars, drones, enterprise software, tragic management systems, and collaborations are becoming essential.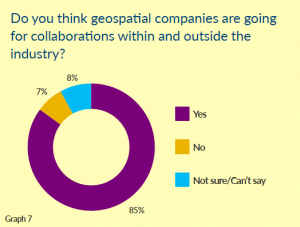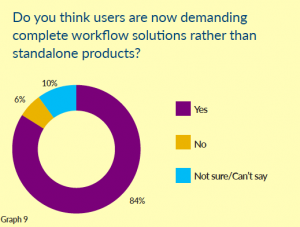 To thrive in the competition, businesses realize they need to build whole solutions, and 85% of the respondents believe that the smartest, most effective way that can be achieved is through collaboration (Graph 7). Even though much of the industry is still product-centric, over 80% of respondents agree there is a clear demand from users for services, system integration and complete workflow solutions (Graph 9).
The increasing interests in the technology industry drives awareness amongst potential user communities, draws talented resources to enter companies and evolve the knowledge base, and creates advocates who are able to further promote the technology as a mainstream business solution, points out Robert Laudati, Managing Director, Harris Geospatial Solutions.
IT companies and engineering firms are good examples of organizations who are being asked for geospatial technology embedded in their offerings and/or see a competitive advantage to providing it. The geospatial industry leaders see this as a natural evolution of geospatial technology becoming fully integrated in business solutions.
Meanwhile, technology advancements are cutting down on gestation periods and, as a result, shortening product lifecycle, about 84% of the respondents believe.
"That's good especially for small, new companies developing new products," says Mathew M.O'Connell, Managing Partner at Seraphim Capital (a venture capital firm) and also the former CEO of GeoEye. The market for location information and products will continue to grow as the industry evolves from data toward finished information and analytical products.
A number of important technology-driven trends are likely to have a major impact in the coming years, creating previously unimaginable amounts of location-referenced information. The Internet of Things, autonomous machines, artificial intelligence/machine learning will only accelerate this trend as more and more people come directly into contact with location information as part of their daily lives, believes Francois Lombard, Senior Vice President, Head of Intelligence Business, Airbus.
"Geospatial industry's strength lies in its ability to integrate technologies," points out Berglund. Cameras, satellite positioning systems, optics, and many others have been developed by industries outside for other purposes. Geospatial companies innovated by integrating these technologies to domain-specific workflows for meeting the needs of the industries or enterprises.
Low awareness the biggest hurdle
However, understanding the complexity and potential about this technology amongst those technology innovators is still limited. "The geospatial industry is still undervalued and under-appreciated by the world at large. The onus is on us to collectively demonstrate how location data and tools can be applied to make dramatic improvements to society from making every journey safer and our air cleaner to helping businesses operate more efficiently," underlines Edzard Overbeek, CEO, HERE Technologies.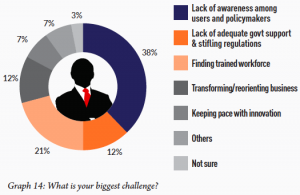 As expected, lack of awareness among users and policymakers remains the biggest challenge for the industry, with over 38% listing it as a primary hurdle, and about 12% say lack of adequate government support and stifling regulations were holding them back (Graph 14).
Cost and ease of use remain another issue, with just over 50% leaders agreeing that they are restricting factors in the exponential uptake of geospatial technologies (Graph 4). However, about 33% are confident that these were not significant causes holding them back.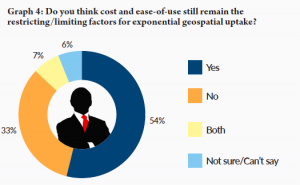 "Cost and ease-of-use are important factors; however proven RoI, higher quality, safety, less waste, mitigating risk these are the issues that our customers care about most," states Rollen. Lowering cost will accelerate uptake, and ease of use will accelerate adoption at a broader level, but the solutions must be effective.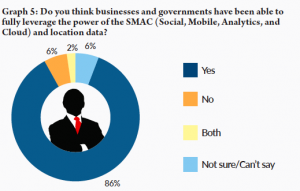 About 86% respondents agree businesses and governments have not been able to fully leverage the power of SMAC (Social, Mobile, Analytics and Cloud) and location data (Graph 5). This is because the products weren't sufficiently advanced and the users were stuck in traditional mindsets about how information should be created.
"Many businesses and governments still put their spatial strategy in a 'corner' sticking with the tools skills and techniques of the past. Until these organizations free themselves from the shackles of this prior generation mindset, SMAC data will remain underutilized resource instead of a differentiator," thinks Javier de la Torre, CEO, CARTO.
How the future looks?
Disruption is not without its risks, especially in a fast-changing, cut-throat market when the majority of competitors are also planning to out-innovate each other. About 75% of the respondents expect the next three to five years to be of accelerating disruption, and a marked uptake in geospatial data and technologies.
"In the next three to five years, advances in sensors will enable Autonomous X, systems that enable us to understand and respond beer to every change in the environment and to engage in a broader variety of tasks. Computing will be pushed to the edge of the network and connect with the Cloud to exchange information and learn collectively," Rollen elaborates.
Cutting-edge technologies such as Cloud, IoT, robotics & automation, and artificial intelligence are opening up new horizons, driving the geospatial industry, and at the same time getting enriched by it.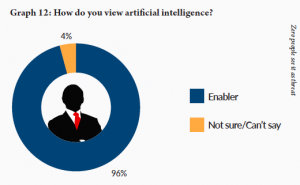 All the warnings and negative reports about artificial intelligence are not dampening the enthusiasm of geospatial business leaders for the still-evolving technology. A staggering 96% believe AI to be an enabler something that can absorb the location/position data and convert it into actionable outcomes (Graph 12).
"When combined with advances in artificial intelligence, AI, Cloud computing, and even Blockchain technology, geospatial data will have broad impact on human endeavors starting with utilities, the insurance industry, agriculture, conservation and national defense," emphasizes Howard Lance, CEO Maxar Technologies.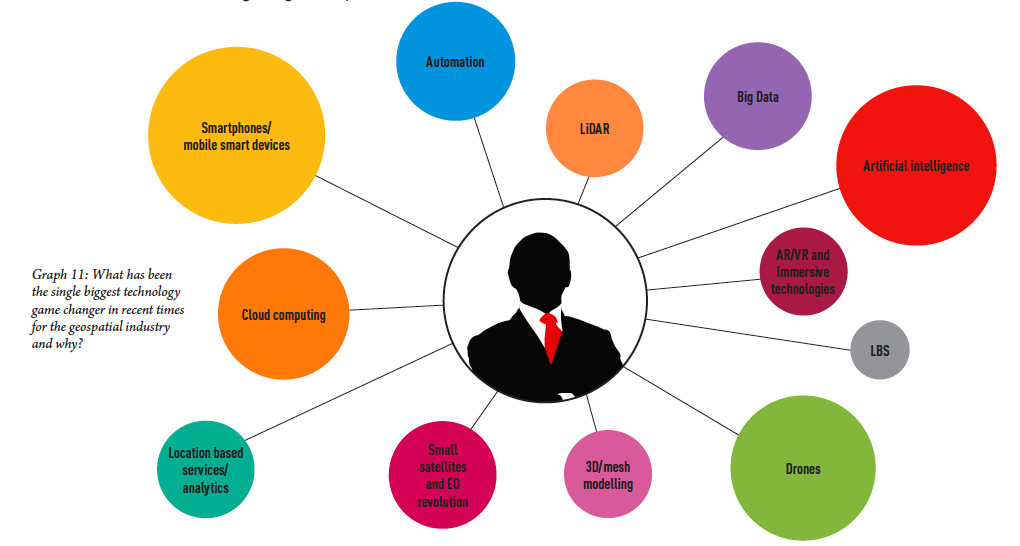 Smartphones/mobile smart devices emerged as single largest game changers for the geospatial industry in recent times, closely followed by drones and AI (Graph 11).
Our survey suggests that technology advancements and disruptions are already influencing operating decisions. While business leaders can identify the trends, many of them are also reorienting their business strategies, consolidating or focusing on new technologies and markets. The demand for the analytics and real answers that geospatial industry can provide will significantly increase over the next few years and beyond. The market for geospatial intelligence is only at its beginning and tools like machine learning and artificial intelligence are driving the next generation of capabilities.