Every morning as one steps out there is a bizarre feeling that creeps in – Problems, challenges, and issues all around. Be it civic amenities, utility networks, transportation networks, and the list goes on. As we navigate our way to workplaces, huge hoardings along the way stare at us with catchy graphics and phrases "Best City to live in", "Smart City" "City of Joy" and so on. On social media, the city administrations are trying hard to sell their dreams and achievements, while at the same time irate citizens post pictures and hard-hitting comments with the state of affairs on the ground punching holes to the claims made by the administration. These are two sides of today's cities we live in.
Interestingly it does not stop here. As we look at the larger picture the situation is no different. State and district administrations hard-sell their achievements, while the ground realities are very often contrasting. Where does the problem lie? Is it with the intent or the ability to deliver? Intent cannot be blamed, but the capability to deliver does come under scrutiny. One of the major challenge the administration today face is a reliable "Decision Support System" which can help them plan, execute, monitor and deliver their wish-lists and meet the expectations of their stakeholders realistically. And unless this is done, the contrasting two sides of our cities are inevitable.
Setting the context
By virtue of digital initiatives and IT implementations, administrations today are faced with a challenge of large volumes of unstructured data coming from multiple disparate sources which are difficult to make sense of. Traditional systems report problems but are not capable of "showing them", which adds to the troubles of the administration in a situation where they are flooded with loads of data constantly. In many cases by the time administration has figured out the exact location along with an action plan, the ground situation would have already changed. The best way out is – implementation of a "Spatial Decision Support System (SDSS)" which offers a huge potential to bail them out. But is easier said than done.
One of the major challenges for a good SDSS or as I prefer to call a "Geo-enabled Decision Support system (G-DSS)" is availability and access to geo-data. For various reasons geo-data continues to be the first hurdle in realizing benefits of a G-DSS. Geo-data needs to be easily available, accessible and updated at all times, which is a big challenge administrations face due to various reasons. As it always happens, taking the path of least resistance, people navigate their way from these limitations and are developing and deploying "deformed versions of Geo-enabled systems" with a hope to scale it up when the geo-data situation improves. Though deployed, it is no secret that these are not as effective and efficient to their potential, in serving the purpose.
Constraints of "Geo-Data" has been one of the major bottlenecks in realizing the full potential of G-DSS. These are 3A's – availability, access and aspect (quality). These constrain have been preventing users from getting the best out of their investments on Geospatial Technologies. For a country which has demonstrated its global leadership in the IT sector over last few decades, the contribution of the geospatial technologies has been very minuscule. This has been rather unfortunate. There have been very few start-up's in India, who has forayed into innovating and developing applications around Geo-data. When compared to the total IT start-ups in the country, the geospatial start-ups are negligible, which is shameful. This despite, the hype that surrounds "Make in India" and use of GIS in the government of India's digital initiatives.
In times when computing has become faster and affordable, a proliferation of location intelligent devices is at the peak and utility and significance of location and intelligence around it is widely recognized and acknowledged, it is a sorry state of affairs – Start-up ecosystem for geospatial applications is virtually non-existent. This undoubtedly is a big threat for sustainable growth of the industry in India and needs to be addressed on a war footing by governments and industry together.
Ground Situation
It is important to understand the current situation on the ground. Multiple projects for geo-enablement have been undertaken by different departments within a city/state over a period of time. In recent times there has been a trend to web-enable these applications and scale them up as decision support platforms.
Geo-Data creation, has historically been driven by a purpose in most cases by user agencies. And this purpose has always defined the quality of the geo-data. In some situations, the same data has been acquired more than once by different agencies and is not interoperable. Having acquired the data there has hardly been any effort to update the data in most of the cases, which diminishes the value of the geo-data over time, especially when urbanization and urban development is taking place at a rapid pace.
Though these projects are funded by taxpayers, seldom does an ordinary taxpayer gets access to the same. In many cases, other governmental agencies to find it cumbersome to gain access to existing data from elsewhere in the system. And eventually end up acquiring data once again, duplicating the effort. Effort duplication undoubtedly adds to the redundancy and additional cost burden on the taxpayer, which otherwise can be judiciously used for the sustainable economic development. Ironically this is in spite of the fact that the administrations are constantly under financial pressures.
The access to these applications and the data is largely restricted to the immediate project stakeholders and the geo-data rests in multiple silos scattered across the departments. There is no centralized inventory which can at least give information on the data that is available. Neither is there a nodal body at a state level or city level, that monitors the geospatial technology implementations and geo-data creation nor does a mandate exist to consolidate such information.
Net result, these "deformed geo-enabled systems" deprive the stakeholders of the value for their money and potential benefits that could have reached them in an ideal situation.
Many factors have attributed to the current situation. 3A's (availability, access, and aspect of Geo-data), Poor awareness and lack of vision, Processes in place, Policies in force, the Poor competence of the management consultants/ GIS experts engaged by the user agencies and Sales strategies by vendors being the major ones.
To overcome these challenges the first step should be to – Democratize the geo-data. Unless the "Geo-Data" is democratized, we have no choice but to live with these "deformed Geo-enabled systems".
Why Democratize?
Geo-data happens to be at the core of a G-DSS. It is a known fact that the biggest advantage geo-data provides is that same data set can be used by multiple stakeholders for different applications. Eg. Transportation layer can be used by – Roads and Buildings Department for managing road networks, by the Police department for managing traffic, public safety and emergency response, by Urban development for managing urban sprawl, Utilities for managing utility networks and so on. While the details required may vary, completeness, quality, and interoperability of the geo-data play a vital role in such situations.
The current situation of inaccessible geo-data, scattered in silos, restricts administrations and prevents them from realizing the optimal potential of geo-enabled systems. "Geo-data democratization" provides the ability for geo-information in a digital format to be accessible to the stakeholders as and when required, breaking the barriers. Deemed as a process of empowerment, easier and faster the stakeholders can access the geo-data to get the insights they need without help, quicker and efficient the administrations would be in delivering efficient and cost effective governance and services. Once democratized the three constraints of geo-data – Availability, Access, and Aspect can be transformed to facilitate Enablement, Empowerment, and Engagement.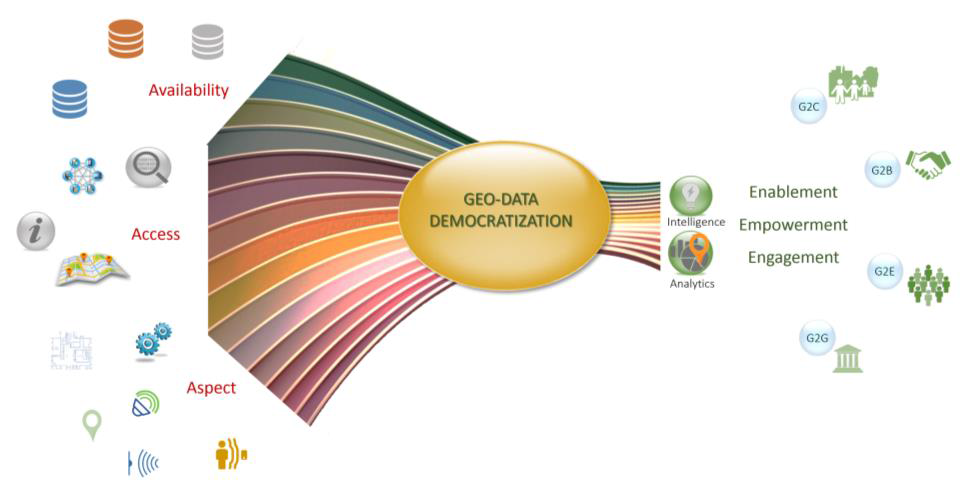 Access to multi-disciplinary themes and real-time data (from sensors, IOT devices, etc) with ease significantly improves the collaboration between stakeholders and enhances the capabilities of a G-DSS multi-fold. Geo-data democratization provides the administration with an enhanced situational awareness and actionable intelligence for a robust decision support and policy formulation. Powered by geo-analytics and geo-knowledge discovery, multi-disciplinary data can aid in the accurate prediction of scenarios and their mitigation.
Geo-data creation and maintenance is an expensive and time-consuming affair. The scale of operation is large and complex, it always calls for strict process and quality control. "Geo-data democratization" can optimize processes of creation and maintenance, improve availability and access, improve the quality, eliminate redundancy and above all make the entire geo-data value chain cost-effective.
Technologies like Virtualization, Data federation, Cloud Storage and BI applications make it possible to overcome the traditional challenges and democratize the data with ease in a shorter span of time. Supported by a robust data governance and a policy framework, geo-data democratization can be a game-changer.
Way forward
State government's being the major beneficiary should take the ownership of geo-data democratization. To start with a State Geospatial Excellence Centre (SGEC) should be established as a nodal body to steward the cause. This should ideally be a sub-set of the state's IT Mission, to align the GIS with another state-wide and national digital initiatives.
Below are the high-level functions SGEC should undertake:
Shall be one-window-stop for all Geospatial technology related issues and shall coordinate with data owners and other stakeholders to facilitate availability and access.
Shall define a geo-data governance framework interoperable with NSDI and consolidate the information on geospatial applications and geo-data available across the state.
Shall create and hold a centralized inventory of all geospatial technology related implementations and geo-data availability.
Shall design and build an institutional and technological framework for collation and integration of the disparate geo-data sets available with multiple stakeholders across the state.
Shall coordinate and steer harvesting, creation, and updating of the geo-data across the state.
Shall facilitate dissemination of geo-data to potential users.
Shall facilitate technology evangelism/advisory to assist users in adopting geospatial technologies in best possible manner and help them maximize ROI on their investments.
Shall also serve as an incubation center for encouraging innovation and start-up economy.
It is ideal that Geo-Data creation and maintenance be mandated to the educational institutions across the state with defined geographical boundaries of operation and adequate funds provided to them for building required infrastructure. Universities/Colleges offering Geospatial programs should include the data acquisition and maintenance as part of the project for the students. Industry can partner with these educational institutions and collaborate. This will ensure that the data is updated at all times in a very cost effective manner.
The bigger benefit that this approach will provide is that while the geo-data is democratized, it will also give much-required boost to the quality of education in the universities, which has been crying for attention for some time now. With better infrastructure and hands-on experience in different aspects of geo-data creation, the students can improve their "employability" and be better poised for the industry. This can be a major step in bridging the much-talked gap between the industry and academia.
In closing
As we rapidly move towards a digital economy, administrations cannot afford to be crippled by deformed and ineffective decision support systems due to lack of geo-data. Stepping out in the mornings should be a memorable experience and with an intent to deliver supported by a robust capability to deliver, administrations can make the phrases like "Best City to live in", "Smart City", "City of Joy" a reality. Geo-data democratization holds the key.
The emerging data-centric scenarios flooded with location information, demand dynamic, real-time and cost-effective geo-enabled decision support systems which will be vital to the success of the digital revolution. The silo and need-based approach to the geo-data are thing of past and has outlived its utility. It is proven that this approach is unsustainable and can no longer continue. Time has come to unlock the potential of geo-data democratization, let's do it. Geo-data democratization was required as of yesterday, but better late than never.