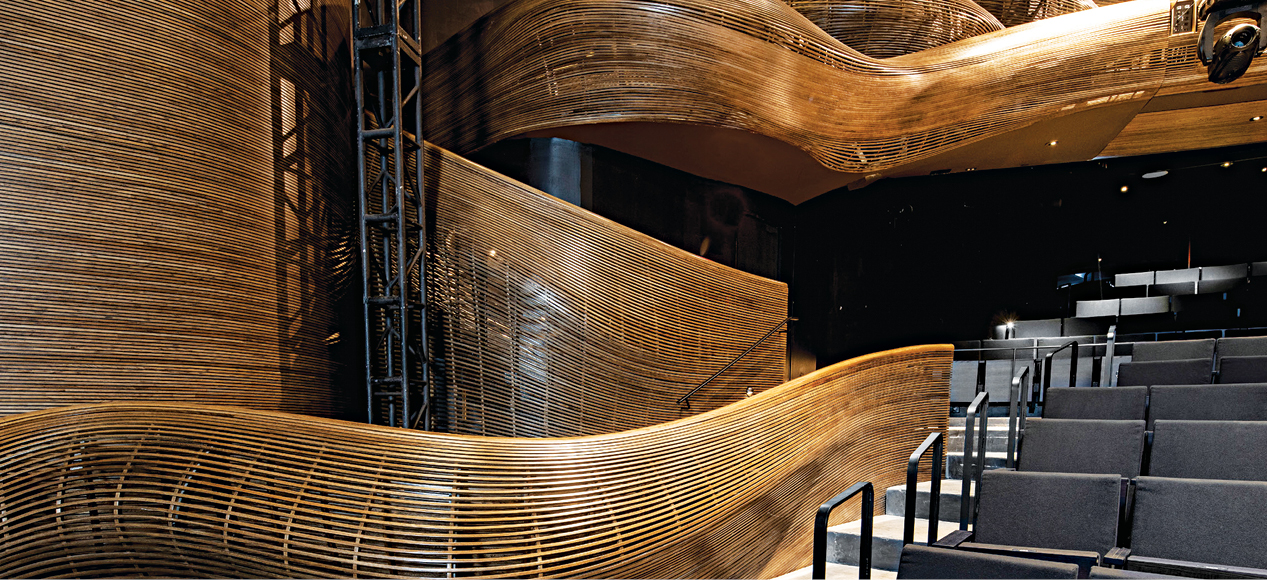 The $32-million transformation of Atlanta's Alliance Theatre is a master class in design and prefabrication collaboration
The Woodruff Arts Center is the cultural heart of Atlanta, Ga. The storied Midtown campus opened its doors in 1968 and serves as the home of the Grammy Award-winning Atlanta Symphony Orchestra, the High Museum of Art, and the Tony Award-winning Alliance Theatre.
The 650-seater Alliance Theatre stages large amplified musicals as well as spoken-word theatre that are reliant on natural acoustics. To maintain the venue's national reputation, the Woodruff's leadership authorized a comprehensive top-to-bottom renovation of the theatre in 2015. The objective behind the first such exercise since the theatre's opening was to improve the patron experience through an assortment of design enhancements, updations and innovations.
Woodruff officials conducted a national design competition to determine the architect for the $32 million project and chose New Orleans-based Trahan Architects. The founder and principal of Trahan Architects, Trey Trahan, FAIA, says, "The theatre will truly be a one-of-a-kind place for creating community in the performance space."
Audacious Vision
What Trahan envisioned for the "one-of-a-kind" distinction is audacious in scope and ambition. The bold concept marries two disparate forms – handcrafted woodworking with cutting edge design and prefabrication – to create a showcase of nature and technology that reinvents the theatre-going experience.
Trahan worked alongside practice colleagues Leigh Breslau, AIA, an expert in public and cultural space design, Brad McWhirter, AIA, technical director, and Robbie Eleazer, AIA, project lead and design architect, as well as staff designers. "It's an arts campus with very sophisticated architecture," explains Eleazer. "We wanted it to be humanistic and inviting."
The owner also challenged the Trahan team to create an enduring work of beauty exemplified by the woodturning art created by the acclaimed Moulthrop family. "The trick was how to make this affordable. Our budget was less than half of what initial estimates projected," says Breslau.
The design solution pointed to wood, but what form and shape should it take? "I remembered the work of Matthias Pliessnig and his beautiful benches of reclaimed wood," recalls Trahan. Pliessnig is a Brooklyn artist who creates free-form furniture and sculpture. With Pliessnig, the Trahan team devised a concept that involved the integration of 100,000 linear feet (nearly 19 miles) of expertly milled white oak threads in the theatre chamber's design form.
To help sell the idea, Pliessnig was commissioned by the architect to create a single panel of shaped threads. The panel was presented to the board in a dramatic 1:1 scale, demonstrating what the reimagined theatre could look and feel like.
Success Through Iteration
The swooping, swirling wood-threaded panels now had to be created and installed at scale. The magnitude dwarfed anything Pliessnig had previously accomplished on his own. Eleazer says a call went out to three millwork fabricators. Soon, one clear-cut favorite emerged: a family-owned and operated design assist and fabrication company out of Plaistow, N.H., CW Keller and Associates. The New Hampshire fabricator counted on an assortment of in-house advantages, including:
- Major investments in computer numeric control (CNC) milling processes
- A team of skilled woodworking and engineering professionals with a 40-year history of applying innovative solutions to challenging customer assignments
- Trusted alliances with leading manufacturing technology names, which was to prove indispensable in the design and assembly work that was to follow
Working from construction drawings of the reimagined theatre chamber created by the Trahan team, CWKA teams set out to understand the workflow, materials and fabrication process. There were questions like how much would it cost, what tools do you use, and how do you safely transport the prefabricated parts from a New Hampshire workshop to Midtown Atlanta, a distance of 1,110 miles? Also, how do you accurately prefabricate so it perfectly syncs with the work of the steel fabricators and concrete contractors? The construction plans called for more than 200 customized panels representing nine design types, each type formulated to meet strict acoustic requirements.
Let Laser Light the Way
The key to next steps at CWKA was a reliable understanding of the existing theatre's precise dimensions. Around 2010, CWKA purchased a Focus Laser Scanner from FARO® Technologies. "The ability to go to a job site, laser scan it and bring that data back to the shop is something we built into our workflow very quickly," CWKA president Shawn Keller explains.
Keller adds, "We ran some quick numbers. If the laser scanner saves us five field survey trips or change requests in the first 18 months, it's paid for itself." According to Keller, the goal was met by a "10-fold factor at the end of the day."
Keller's Lead Engineer on the project, Matt Arsenault, agrees, "Our craftsmen are more effective because they're more confident. It's integral to our workflow now."
The team at Trahan designed the 200-plus theatre panels using an assortment of software. The principle applications were Rhinoceros 3D® (Rhino), Autodesk® Maya®, Grasshopper®, and Autodesk® Revit®.
"We don't have a single platform that gives us everything we need," explains Eleazer. "Every platform does some things great and other things not-so great."
Arsenault says, "We do nearly all our modeling with Rhino and Grasshopper. We can adapt site conditions to our tolerances since all our modeling is computational."
The software used for scanned point Cloud data and registration was FARO SCENE. Arsenault singles out another FARO software application, FARO BuildIT Construction, as a key project application. BuildIT wasn't introduced to CWKA until after panel prefabrication work was well along. However, it proved to be hugely instrumental in not only fabrication but also installation, thanks to the hardware it supports, the FARO TracerSI Laser Projector, or Tracer for short.
Tracer to the Rescue
Input vs. Output: To understand the value of Tracer, it's important to contrast the differences between laser scanning and laser projection. Ben Parkin, a FARO applications engineer, says, "A laser scanner collects a point Cloud of data within the environment you're investigating, like the Alliance Theatre chamber. It's an input device, gathering information.
"The FARO Tracer, by contrast, is an output device, projecting data from a model Trahan may provide and literally projects that information. It's a virtual templating solution," Parkin says.
Architect Eleazer likens the functionality to a "spatial mold" that eliminates the waste of hundreds of registration rips, pallets, and plywood sections. "The technology allows us to work in a more responsible way with a level of digital honesty no one could argue with," Eleazer says.
For Arsenault and CWKA, Tracer advanced the project on two fronts.
Fabrication: A Prayer Answered: The CWKA team wondered how they were going to bend and place each white oak thread with the required level of precision. "We didn't know the Tracer existed at that point. It changed everything," Arsenault recalls.
Installation: Leap of Faith: Virtually templating – projecting extremely accurate templates on a manufacturing surface – is the gold standard for fabrication precision in aerospace manufacturing. The idea of applying the same technology to construction is still in its infancy. "The Tracer is vastly quicker and more effective than laying out with a tape measure and checking it three or four times only to discover weeks later the manual tape measure reading was wrong," says Arsenault.
CWKA immediately applied the Tracer to panel fabrication, precisely bending and setting each white oak thread with digital precision thanks to the projected green-illuminated template. They also quickly reasoned, if the Tracer works wonders for panel fabrication, why not panel installation back in Atlanta? Keller says applying laser projection to panel assembly "was the only place we made a leap of faith."
West Coast Lifeline: However, that leap of faith had a safety net: the Autodesk Technology Center at Pier 9 in San Francisco. Working alongside Autodesk researchers at the facility was CWKA design engineer and Pier 9 Innovator in Residence Noni Pittenger. As templating issues surfaced in Plaistow or Atlanta, a call to Pittenger put in motion some of the industry's top minds in solving the question. "We needed to apply digital tools in the field to confirm digitally designed work," Pittenger says.
For Autodesk, as well as FARO, the insights gleaned from the Alliance Theatre project are helping inform new ways to innovate product for construction customers.
Faith Rewarded: Meanwhile, Keller's leap of faith was quickly rewarded. The projection system proved to be an essential element to panel installation in the theatre chamber. Arsenault says the effect of seeing templates projected on theatre walls was galvanizing to an audience beyond CWKA and Trahan. "Other trades ask us if we can do it for them," he grins.