High-accuracy GPS- or GNSS-based fully autonomous or robotic field machines are a hit with small-scale, high-profit agriculture
Agriculture is a big business. Today, it is highly driven by technologies and tools like satellite imageries, aerial imageries, GIS, GNSS/GPS, automated sensors, high tech machineries. The latest buzzwords for the sector are drones and robots. High accuracy GPS- or GNSS– based fully autonomous or robotic field machines have begun to be employed in small-scale, high profit-margin agriculture.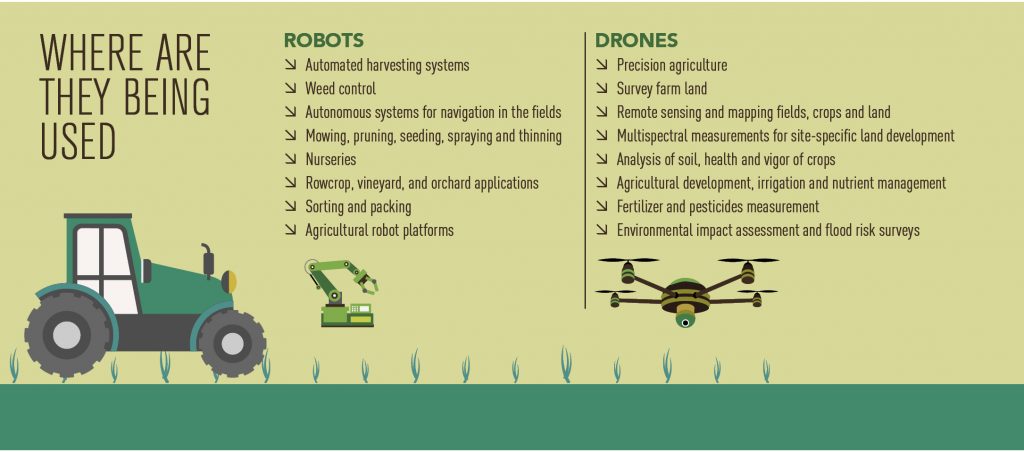 Agricultural drones are Unmanned Aerial Vehicles (UAVs) used for precision agriculture, which is a modern method of farming that uses Big Data, aerial imagery and other means to optimize efficiency. They offer powerful data processing capabilities afforded by Cloud-based computing to deliver aerial monitoring, inspection, and intelligence-gathering capabilities.
A report published by the Association for Unmanned Vehicle Systems International (AUVSI) indicates agricultural drones are expected to capture 80% of the commercial UAV market and has the potential to generate more than 100,000 jobs in the US.
On the same lines, the need for electro-mechanical machines that operate automatically by a computer program and contains sensors, control systems, manipulators, power supplies and software all working together to perform a task resulted in development of robots.
According to Debashis Das,  Founder and CEO, Bharati Robotic Systems (India), "Robotics in agriculture is a subset of the precision farming set of technologies used in every stage of crop yielding from soil assessment to ploughing/seeding to harvesting and packaging." The stages include usage of various types of robots (including drones) to increase overall productivity, he adds.
Varied applications driving growth
Staring from collecting insightful crop data from fields with automated sensors to interpretation of the data, analyzing and making real-time, more accurate assessments and decisions on the field, these technologies have revolutionized farming. The full or partial replacement of human labor on the farms is a clear indication of the automization in the sector. This helps to bring greater level of accuracy, consistency, safety and reliability.
"Drones are bringing new insights to the farmers by collecting data on plant level and generating advice on square meter scale instead of on field level," emphasizes Bert Rijk, Co-Founder and CEO of CropZoomer.farm.

The major advantage is that smart machines are capable of sensing each individual crop, instantly determining its health, structure and needs in real time, and apply the precise amount of care — nutrients, insecticide, pesticide, water, etc. The advantage of using agricultural robots is that they are capable of collecting crop and soil samples because they are small in size, which allows them to be able to accumulate data close to the crops with the equipped cameras and sensors. They are also capable of mowing, spraying pesticides, finding diseases or parasites, and performing mechanical weeding.
The benefits of automization and mechanization can be seen spreading to crops like tomatoes, peppers, strawberries, etc, thus making them more affordable; dramatically reduced loss of soil to erosion; reduction of agriculture's contribution to CO2 production and reversal of the loss of soil carbon, helping to soak up some of the extra CO2 already in the atmosphere; increased system resilience for a more robust response to climate change; and increased respect, and a far more interesting livelihood, for farmers.
Benefits galore
With the global population expected to touch 9 billion by 2050, there is a greater demand for food resources. Add to that rising urbanization putting a constant stress on available land resources for faring. In order to keep with the challenges, there is need to find ways to improve our current farming practices and processes. Developed regions like the US and Europe are already observing a strong bend towards automated farming devices and services, which are helping to increasing productivity rate and declining expenses by eliminating the need for human labor.
Rijk believes that there exists a supporting environment in terms of policies and conducive plans, and this is growing. "Both agriculture and technology as well as high-tech farming have been on the top priority of the national agenda in the Netherlands. With the slow and unrealistic regulation however we see a lot of innovative start-ups moving to countries with less strict regulations," he adds.
Robotics Business Review stated recently that "the US Department of Agriculture's (USDA) National Institute of Food and Agriculture (NIFA) announced $2.5 million in grants to advance the use of co-robots that benefit and assist stakeholders in America's production agriculture field."
Toward systems integration
As we have seen elsewhere in the geospatial industry, there is a clear move towards system integration here too. More and more hardware companies are partnering with agriculture software and service providers with offer complete solutions for customers.
Industrial drone manufacturer MMC recently announced a partnership with "agricultural intelligence" company Agribotix, to provide a dedicated agriculture drone solution, including camera and analytics.
DroneDeploy, a leading provider of Cloud-based drone software and mapping solutions, has partnered with agriculture-focused analytics company Aglytix and ag-tech company AgriSens to provide new tools in time for the growing season. The two new tools, designed to offer actionable insights about plant count and stand establishment, demonstrate the growing influence that drones are having on precision agriculture.
DJI and PrecisionHawk are teaming up in order to make life on the farm easier. The companies announced plans to link DJI's drone hardware with PrecisionHawk's software. The new DJI/PrecisionHawk solution will include PrecisionHawk's new DataMapper Inflight app, access to DataMapper's library of analysis algorithms, and a one-year subscription to DataMapper. The DataMapper Inflight app is designed for data collection, allows users to create a flight plan that autonomously collects geospatial data, and is compatible with the entire line of DJI hardware.
Big geospatial market players like Topcon, Trimble and Hexagon Geospatial have also in recent times geared up in the precision agriculture field and are moving toward complete solutions. In addition to addressing all-season crops, terrains and vehicles including tractors, applicators, and harvesters, agricultural solutions from Topcon provide complete crop management and control solutions.
Hexagon Geospatial has released seven different types of Vegetation Health Hexagon Smart M.Apps which make use of remote sensing algorithms to identify plant and crop health from a variety of different sensors. The apps focuses on the burgeoning precision agriculture movement and the increasing ubiquity of UAVs; the Cloud-based map applications make remote sensing techniques accessible to more users.
The Trimble UX5 Aerial Imaging Solution is setting the standard for fast and safe aerial data collection by offering a complete system with powerful technologies such as reversed thrust and automatic fail-safe procedures, a robust design, and radically simplified workflow.
Advent of new technologies
Technology providers like Blue River Technology are coming up with precision agriculture technologies like High-Throughput Plant Phenotyping (HTPP) which are the integration of genetics, sensors and robotics. It is used to develop new varieties or 'lines' of a crop to improve characteristics such as nutritive content, drought, pest tolerance and plant physical characteristics like height, leaf number, size, shape, angle, color, wilting, stalk thickness, etc. The company raised $17 million in Series B to Build 4th Generation Robot for Production Ag.
Sentera LLC has released an agriculture app with autonomous flight planning to its AgVaultTM 2.0 mobile app. The company managed to raise $8.5 million in Capital Round. AgVault allows farmers to highlight a field, autonomously fly a UAV, capture precise imagery, manage data, produce QuickTileTM maps, and deliver data to a piece of equipment, all at the field edge.
Smaller drones such as those made by DJI and 3DR have proven useful in crop and livestock production. They are ideal for scouting crops and livestock, and can be used effectively to capture imagery for precision management decisions such as variable-rate in-season fertilization, weed identification, livestock inventory and identifying sick animals.
DJI, the world largest drone manufacturer, recently announced the release of the Agras MG-1, claimed to be one of the best agricultural drones. The Agras is an octocopter designed to spray large areas of farmland with pesticides or fertilizers. Because it can cover an extraordinary amount of distance quickly — 4,000-6,000 sq meter in just 10 minutes — DJI claims that it is 40-60 times more efficient than manual spraying. The DJI Agras MG-1 is dustproof, water-resistant and made of anti-corrosive materials. It can be rinsed clean and folded up for easy transport and storage after use.
A Japanese company called SPREAD is to open the world's first 'indoor lettuce robot farm' in 2017, and the fully automated farming process would make the lettuce cheaper and better for the environment.
Going by the geography
Realizing the potential, countries are pushing to increase automation in the agricultural sector, with government support and initiatives and active participation from the industry.
Europe: The EU-funded CROPS project envisages intelligent sensing and manipulation for sustainable production and harvesting of high value crops aims to develop a highly configurable, modular and clever platform comprising a modular manipulator and 'intelligent tools' (sensors, algorithms, sprayers, grippers) that can be easily installed onto the carrier and that is capable of adapting to new tasks and conditions. It has a separate robotic platform which is capable of intelligent spraying (targeted spraying only on foliage and selected targets) and selective harvesting of fruit.
Asia-Pacific: China is seen ahead in the race of developing nations for integrating more self-driven solutions into its field and agriculture endeavors. The market for plantation unmanned aerial services in China is worth 30 billion yuan ($4.5 billion) per annum with the government pushing to increase standardization and automation in the agricultural sector, according to a report by Guotai Junan Securities.
South Asia: Among the most stated in India is the joint effort of Agriculture Insurance Company of India along with Skymet, a weather forecasting company pilot project in parts of Gujarat and Rajasthan to see how drones can be used to survey crops and help map crop diseases along with helping insurance companies settle claims.
Other most stated project KISAN- C(K)rop Insurance using Space technology And geoiNformatics, initiative by Mahalanobis National Crop Forecast Centre (MNCFC). The project envisages use of Space Technology and geoinformatics (GIS, GPS and Smartphone) technology along with high resolution data from UAV/drone-based imaging for improvement in yield estimation and better planning of Crop Cutting Experiments (CCEs), needed for crop insurance programme.
Key Players: 

Blue River Technology

Agribotix: MMC partners with Agribotix for high-end drone agricultural offerings

AGCO Corporation

Vision Robotics Corporation

3D Robotics

Precision Hawk
DJI
North America: The region currently produces the most UAVs in the commercial industry in general and in the agricultural sector in particular. North Dakota State University (NDSU) launched an agricultural research project incorporating drone technology. The project is the most recent effort by NDSU to determine the role of UAS in agricultural production and help strengthen the state's economy. The current project flies a Hermes 450 from Elbit, a small roto-copter and fixed-wing UAS to capture image data of a 4×40-mile corridor in east-central North Dakota. The plan calls for collecting data every two weeks during the 2016 crop-growing season.
Latin America: Agribotix LLC's Latin American venture, Agribotix LatAm (an Eco BCG company), is helping Panamanian farmers use agricultural drones, data and analytics to boost crop production and reduce costs. The agricultural intelligence company is working with the Inter-American Institute for Cooperation on Agriculture (IICA) to show growers the benefits of using the technology as a basic tool in precision agriculture programs.
The Drone Technology Development Program for Precision Agriculture was launched in Sao Carlos, Brazil in June this year. It is a collaboration between Qualcomm Wireless Reach, the Brazilian Agricultural Research Corporation (Embrapa) and the Institute of Solidarity Socioeconomics (ISES).
The program aims to demonstrate how drone technologies can be applied to reduce environmental impact and increase crop yields. The on-board systems developed for drones will combine Embrapa's expertise in agriculture and image processing algorithms with the strong performance of the Qualcomm Snapdragon Flight drone platform and advanced wireless technologies to collect, process, analyze and transmit real-time crop intelligence to farmers and environmental stakeholders in Brazil.
The way ahead
For the society at a large, where drone and robotic technology is experiencing an explosive growth, there is need for a participatory approach to educate the community about the use and benefits of these technologies.
The use of these tools can bring about higher production and provide a definite method for systematic farming. More research and efforts pertaining to these technologies to bring them under the purchasing power of the poor farmer can help to bring a change in the farming community.