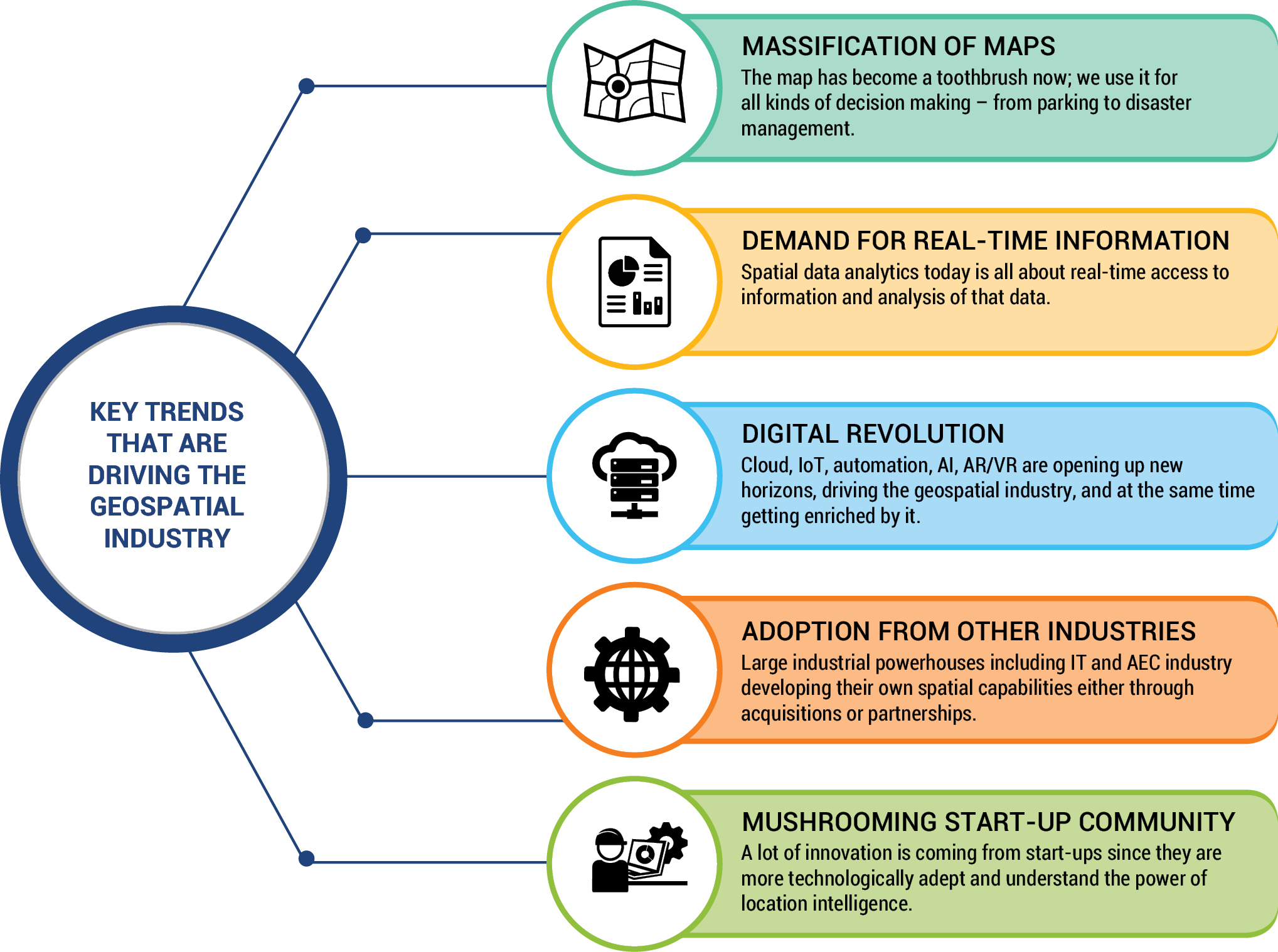 As new technologies and innovations are transgressing the physical, digital and biological worlds in ways that will transform mankind, governments, public institutions and businesses are finding it difficult to keep up with the pace of disruptions. How is the geospatial industry faring? 
For centuries now, maps have played a crucial role in shaping the human civilization. Then came satellite imagery. Since the times of the iconic Blue Marble photograph in 1972, satellite imagery has always produced a startling effect in people. But ever since Google Earth opened our eyes to what maps could do, things have never been the same.
And things have never been the same for geospatial industry as well.
The power of the World Wide Web, automated machines and smartphones in every hand have made the world a big sensor network — bringing location to the center of every thing. The map has become a toothbrush now; we use it for all kinds of decision making — from parking to disaster management — without even realizing the complex geospatial layers and technologies underneath it.
Maps are not just driving apps; they are driving economies too. As new technologies and innovations are transgressing the physical, digital and biological worlds in ways that will transform mankind, governments, public institutions and businesses are finding it difficult to keep up with these disruptions. Old school businesses, run by established leaders, are disappearing in a flash, as new age innovators take the world by storm. And like all industries across the world, the $500-billion geospatial services ecosystem is shaken and stirred. Stimulated by a range of new global shifts, the balance of power between existing and new players is shifting drastically as the industry is forced to move towards innovation, convergence and transformation.
We are starting to see the expansion of the industry to cover a lot more in application types than it traditionally did, points out Sandeep Singhal, Director, Cloud Storage, Google. "Companies like Uber and Lyft are being part of geospatial industry as consumers of geospatial products. We are also seeing geospatial industry expand to include infrastructure provides such as Cloud providers who are really providing the core infrastructure for supporting geospatial services."
Where did it all begin?
The world is currently deluged with data, and Economist is bang on when it says data has replaced oil as the single most valuable thing in today's world. There are many sources that predict exponential data growth toward 2020 and beyond, and all are in broad agreement that the size of the digital universe will double every two years. This means roughly 50-fold increase from 2010 to 2020.
Technological advances in the collection, distribution and management have made access to this data easier. With the real and digital world coming together there is a change in how people interact with each other or the surrounding environment. What is more exciting is the limitless opportunity that is opening up with technological innovations in the field of digital world. Now, massive amount of data is being brought together applying technologies like Big Data analytics, deep learning and machine learning to fuse the data together, draw conclusion and then present that information quickly in order to drive changes in how to manufacture, schedule resources, monitor and so on.
Regardless of whether the famous quote "80% of all data in the world has a spatial relation" — attributed to various sources — is accurate or not, it is true that over the last few years, the world has seen an exponential increase in the amount of geospatial information available, thanks to smartphones, new and cheap sensors, and automated machines.
"Also, across the developed world, converging technologies are going to open up so many different ways of looking at what we do and in terms of really transforming," says Mark Sorensen, President UAE-based GPC Group.
The question is how are we going to handle this data and what we are going to derive out of this. "We need to also see how much of this data is useful, or accurate. For instance, just like the proliferation of fake news, fake or inaccurate data is making our lives more difficult. And that is where we will find the need of this geospatial industry," highlights Willy Govender, CEO, Data World. "Our job is to make the world better understand the data we are producing, better acknowledge that data and verify that data, so that based on this data critical decisions can be taken."
Substantiates Anne Hale Miglarese, CEO, Radiant.Earth, "Data is a big part driving the digital world. And we absolutely have a role to play.  Our expertise in analyzing is what brings us to the table.  We should embrace it fully."
Geospatial is the golden thread
Traditionally the geospatial industry comprised of people who built maps, models, collected data, presented that data and provided services to understand geospatial information. Now, there is an exponential growth in both the number of data capture methods and, perhaps more significantly, in the amount of data being generated and captured. Naturally, the industry is now expanding to include people building tools for analyzing geospatial data. Further, from offline analysis about once a year or so, spatial data analytics today is all about real-time access to information and analysis of that data.
Ordnance Survey CEO Nigel Clifford is upright when he calls geospatial a fundamental part of the ongoing digital revolution. "If you look at the revolution that is going on in terms of affordable massive technological shifts, geospatial is the one really significant golden thread that is been enabling all users to find sense in some of the huge changes that are going on."
Cloud, IoT, robotics & automation, deep learning & artificial intelligence, augmented reality and reality mesh are opening up new horizons, driving the geospatial industry, and at the same time getting enriched by it. Besides, "massificiation" of maps has led to many more advancements and products around the location sphere.
Agrees Agendra Kumar, President, Esri India, "When we talk about a digital revolution, we talk about Internet of Things, augmented reality, machine learning, data captured through drones, Big Data analytics and such. In all these elements, geospatial has a role to play; it is infact an integral part of this. And it will be a key component of the new technologies."
Location intelligence along with business intelligence truly amplifies technology. "We must support business analysts with our new capabilities in utilizing Big Data frameworks in helping them get values and add to the business intelligence solutions that they are looking to find," feels Joe Francica, Managing Director, Location Intelligence Solutions, Pitney Bowes.
Naturally, companies like Google, Esri or Pitney Bowes are rightly seeing this as an opportunity for the industry to partner more effectively to deliver what customers really want — very effective and deep real-time services.
Why more and more businesses are eyeing 'location'?
Location provides the underlying fabric upon which governments or businesses can make smart decisions; it is really the lowest common denominator in that sense. Be it choosing the perfect location for setting up a new bank branch, hospital, or logistics and resource planning for agriculture, or disaster management, geographic information has become a core tool for decision-making. This trend is expected to continue as technology evolves, making capture and application of spatial data more and more cost effective.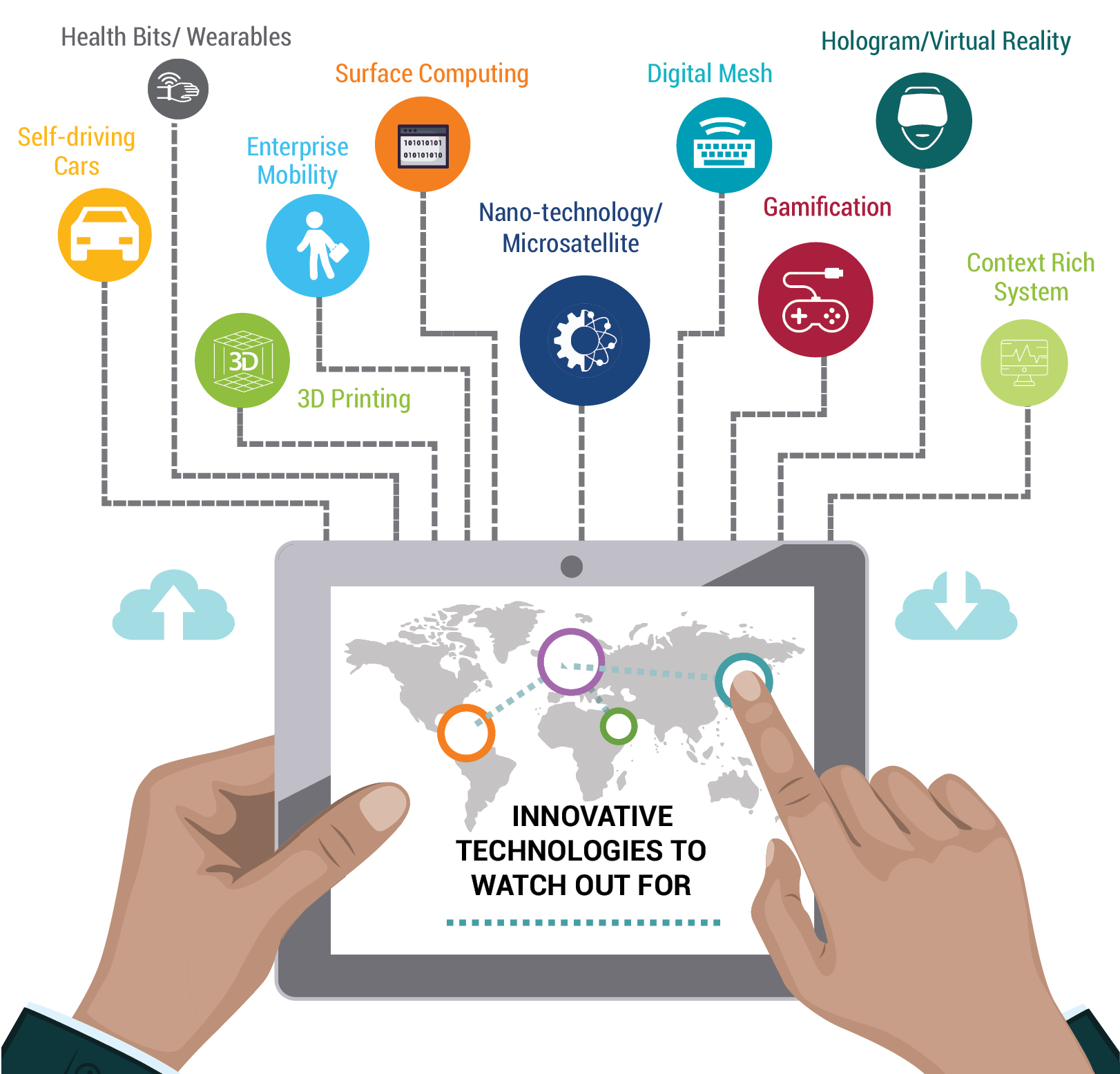 "Location is the core route of the geospatial industry. After that each of the businesses are adding their special sauce to the mix," explains John Ahlrichs, Vice President, Business Development, Planet.
"For instance, Planet brings imagery, information associated with location survey or bring multimedia to location. That's a mix from us. But at the end everything comes back to location. We all overlap in varying degrees."
It's anybody's guess then why traditionally 'non-geospatial' companies are stepping into the core geospatial territory, primarily as an enabler for their own products and services. Big industrial companies' (like Siemens, ABB etc.) thirst for new, innovative technologies has been a core driver of current merger and acquisition activity in recent times. Besides Google, there are a host of major mainstream IT companies like IBM, Oracle, Apple or Microsoft who have entered the geospatial business. And of course, there is the curious case of a bunch of automobile majors forming a consortium to buy HERE. All across, geospatial capabilities being integrated into all kinds of systems.
"What is happening to the geo industry is that lot more adoption is coming outside the industry. The IT and large engineering companies have figured out that location is an important aspect of whatever they do — whether it is their workflow or business intelligence. Because we are seen as a horizontal technology, these companies are basically leveraging that horizontal capability for thousands of applications," explains Dr Kumar Navulur, President, DigitalGlobe Foundation.
Agrees John Allan, Vice President (Sales and Marketing), GeoSLAM: "IT and engineering companies have started to use more geospatial information. But, they are not geospatial companies. The importance of geospatial information in every single application is becoming critical. As an industry we need to provide the foundation of geospatial information that can be used by everyone."
Working in silos not an option anymore
Sorensen thinks clients are looking not for pieces of technologies in isolation, but answers to the issues that they have. "So if I have a problem or a vision, I am going to look to hire those organizations that are able of offering a full lifecycle of solutions."
The potential in terms of business aspects for smaller or more specialized entities is to figure out how to cluster their offerings and expertise with the larger players. "I think there is plenty of opportunity because no industry or organization will be able to keep up with all the fast-paced and diversified developments that are happening across the whole technology field," he adds.
Kumar of Esri too sees an opportunity in this. "IT and AEC companies have a basic level of geospatial component or the visualization part, and often they miss out on a lot of other features, which we can provide. It opens a big opportunity for the mainstream geospatial companies to collaborate with these companies to take them to the next step."
Indeed collaboration is the key to how geospatial industry thinks it needs to move forward as new companies, technologies and business models threaten to disrupt the market. Collaboration is further driving new innovation as Miglarese points out. "The geospatial industry has seen tremendous amount of innovation because these companies [the outsiders] brought their expertise to our applications. And we have further added value."
Is there an identity crisis in this?
While the transformation and evolution of the industry as a whole has democratized geospatial, there is another side to this story too; a couple of hard-hitting questions that the geospatial industry needs to ask itself: Why are these businesses developing their in-house capabilities? Is the core geo industry not capable of meeting their demand?
Siva Ravada, Senior Director, Software Development, Oracle, doesn't think it's a technology issue. "The issue is how the traditional markets have grown — GIS industry grew its separate way and the engineering industry grew its separate way. If everybody is willing to build in a common platform — be it database or be it Big Data platform — then we see it easy to bring these two things together. But today everyone unfortunately try to build solutions from top to bottom and when they do that, they end up separating these two technologies into different categories."
Karthik Ramamurthy, Director & Regional Head (Middle East, Africa, India), Ipsos Business Consulting, is candid when he says it is the lack of required integrated ecosystem on the [geo] industry side and a defined industry identity. "End-user needs are evolving rapidly and geospatial context is becoming a key component of this definition. To keep up with that, considering the lack of an industry definition and capacity, allied industries are extending their envelope," he explains.
Agrees Ahlrichs. "I don't think we have made the products simple enough yet." For instance, while the earth observation industry created products that are focused on the needs of image analysts, it hasn't taken it to the next level to bring it closer to the IT environment so that the imagery could be incorporated into an application without having to understand what the imagery is all about.
It is true that the geospatial industry, which has its roots in research labs, often tends to act nerdy, and this confuses a potential user. If a user doesn't have to know the complex technology that lies underneath the covers, he is more likely to use it than if he has to know about the technicalities. "A customer is just interested in solving his problem, he doesn't need to know the complexity of the solution that's been put together to solve that," says Chris Gibson, Vice President, Trimble, who is upfront that the geospatial community or capability within that is less important to the client than the problem is solved.
The industry no doubt needs to be more agile in terms of transformation; otherwise it's always a risk, especially in the fast-transforming field. If the industry doesn't innovate and not move along, others will pickup that and invent those wheels. The geo industry has a choice of ignoring the outside disruptors and innovators, or it can join them, and teach them, add value in the process and thus enable further innovation.
How to engage with the start-up community?
A cluster of business that is really leveraging the geospatial technology for humongous benefits — not only commercially but also socially — is the start-up industry. Born in the era of computers and tablets, the younger generation is more technologically adept, and their tendency to continuously innovate and explore have made them realize the potential of location intelligence more easily.
In these cases geospatial technology may not be particularly obvious — it might be behind the scene — but it plays an important part. As Allan points out, the people using geospatial information are not necessarily a part of the geo industry, but they rely on it. Companies like Uber rely on good maps, but that doesn't make them geospatial companies. "However, as an industry we need to provide them services which they can use."
Agrees Singhal: "It is important for us to think how to make geospatial data easy to access, quicker to access, more effective in the applications that those companies are trying to build."
And then there are start-ups who very much play within the core geospatial area and have completely disrupted the field. For instance, disruptions in the EO industry such as small satellites or image analysis via artificial intelligence came from start-ups before they were adopted by the core industry. This is enriching the industry — in terms of opening up new technologies, new possibilities and new perspectives.
"The whole NewSpace technologies you hear about where the industry is leveraging the latest and the greatest technologies to make space lot more economical. So, there is lot of innovation going within our industry," says Navulur. Where these start-ups are focusing on is the downstream segment or the analytics part of it. "Because we have been very focused on the horizontal capabilities, these start-ups are trying to figure out how do you take this horizontal technology and create solution for a specific application. That again is a natural progression of a technology from a very niche industry to ubiquitous technology to very specialized applications that become common players in the future."
"We need to figure out how to embrace these and how to integrate them into what we are doing, especially those of us who are involved in the development of government-wide solutions, company-wide or international organizational wide solutions," stresses Sorensen.
So how do we get the start-up generation engaged and involved?
Francica has the answer: "We need to expose to them our technology that we have traditionally created. We have to expose them to new tools like APIs. These start-ups are not necessarily GIS scientists. By helping them with the difficult part, we are just providing them a way to do geo-processing, and on their part they are helping the community of users who are looking for simpler apps."
Government agencies like NASA, ESA or Ordnance Survey have played a great part in mentoring and incubating start-ups that have brought on some of the biggest disruptions and innovations in recent times. Ordnance Survey's Geovation Hub is a great example of what mentoring can do. It is a safe space for start-ups who want to experiment with location information and technology to ensure that their businesses can really get off the ground. Clifford feels this is a model that could be copied elsewhere to encourage more entrepreneurs to come into the geospatial world.
Gibson thinks it is natural for an industry to evolve and transform, and if any player is coming up with any innovation, the industry will naturally adopt it. This further ensures those new players naturally migrate towards the core industry, which then adopts them and the together the industry as a whole continues to grow. "Start-ups have always been there; Trimble was a start-up many years ago and we transformed the survey industry when we introduced GPS in survey instruments," he elaborates.
In the end, the message is about collaboration, not competition. The industry needs to explain how it can add value in the larger ecosystem, but then leave the delivery to the end users.
"If the geospatial industry aligns its identity and recognition with the extended ecosystem, it will become more lucrative for new players to align themselves to the geospatial umbrella. To be differentiated and strong is in the interest of every player, but the industry identity has to be able to support that," says Ramamurthy.
Is better communication the key?
Most players feel the geo industry needs to communicate better. The industry needs to stop categorizing itself in boxes. To become part of the mainstream, it needs to speak the mainstream language. To break out into the world of logistics, health, epidemics, agriculture, it needs to explain the value of 'where'.
"Just making it more available to people will make it more appealing," stresses Ravada. Today when people think about GIS or geospatial, they think it is a specialized industry. That perception needs to change, making it easy for non-specialists to be able to build applications.
Interestingly, Gibson thinks that rather then just been an industry, geospatial is a capability that plays into multiple industries — government, private and the consumer — and how spatial capabilities can be integrated into a larger workflow that helps solve customer problems. Likewise, he explains that Trimble doesn't think of itself as geospatial company but an IT company that plays in five major industries and looking at another three or four as potential opportunities to grow.
"We need to have a really clear view of the value that we are bringing to the table. Therefore, focus on return on investment and use cases.  Also, talking to policymakers and decision-makers in the boardroom is really important as well as having conversations around technology and data," points out Clifford.
The industry needs to reach out to the senior decision-makers — because many of these people grew up in a world before the geospatial industry really existed as such. "They don't understand what is possible before you even get to a discussion on RoI. I find this problem very common with in a government environment," explains Ahlrichs.
The market has changed dramatically over the past five to six years. GIS itself is becoming disruptive technology in many ways. Today, everyone including manufacturing to logistics or e-commerce businesses use a location; it has become core technology for businesses like IT. "I think the criticality of technology, the necessity to have a geospatial base has to come into the way we brand the industry. The brand should communicate the criticality of the technology for every possible business whether its private sector or government," says Kumar.
Miglarese is candid: "We spend too much time worrying about how to define geospatial. We can define it the way we want to, but its main focus should be on multi-disciplinary implementation of our customers needs."
What is the road ahead?
The future of geospatial is about becoming more relevant to more varied use-cases in different areas of societal benefits, which also means the industry needs to move towards automation and artificial intelligence and embrace the tech-tonic shifts.
Miglarese, who has been part of the remote sensing industry for 30 years, thinks the industry always had the vision. What has changed now is the speed of technology to do it. "With the innovation in sensors, Cloud storage and now with machine learning, I really see convergence of these technologies the possibility of making a difference just barely over the horizon."
There are number of industries where the geospatial capability has been fundamental to helping to transform the way that industry works and help it become more effective, more efficient and more predictable in its cost base and planning etc. "We will continue to see the integration of geospatial capabilities into everyday life and that will be in the way the governments operates and the way they start to plan out new initiatives like smart cities that have to have a huge geospatial component to it for it to be successful," says Gibson.
Geospatial will only become progressively ubiquitous with varied industries leveraging it. However, the moot question is whether the industry will stand on its own or whether it will get subsumed into a larger industry. Worst still, if the industry components will get fragmented and aligned to various industries. Only time will tell us.
Authored by:
Anusuya Datta
[email protected]
Meenal Dhande
[email protected]