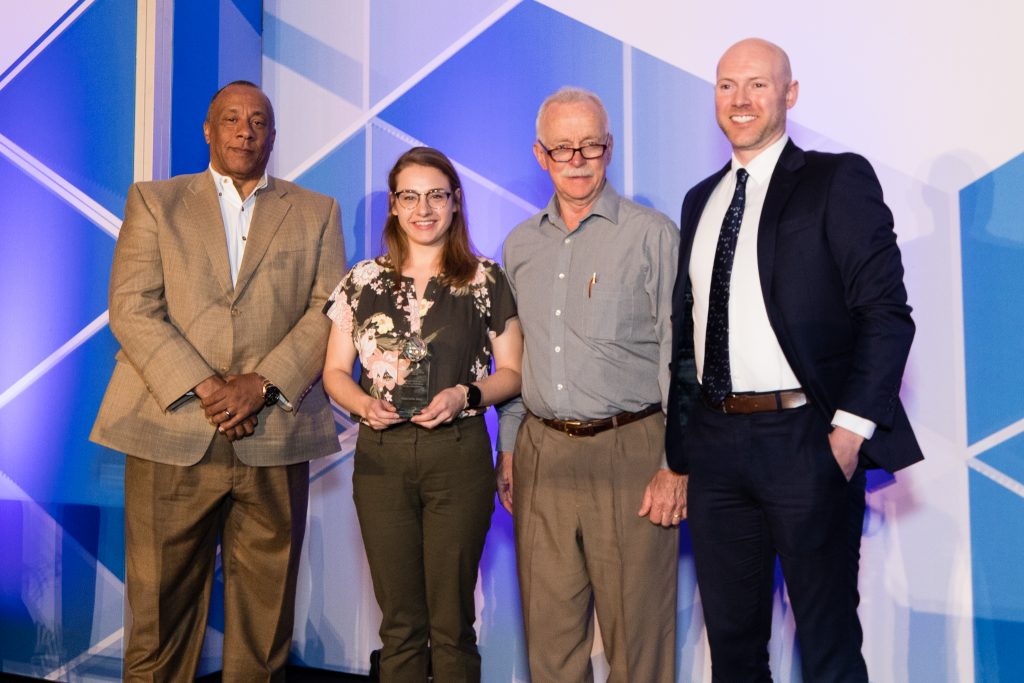 USA: Lidar News, SPAR 3D, and Leica Geosystems are pleased to announce that Gabrielle "Gabby" Getz was selected as the winner of the Younger Geospatial Professional of the Year Award for 2019. Gabby is currently working for Cesium where she is a Software Developer. The award was announced this morning at SPAR 3D Expo & Conference, the premier international event for the application of 3D technology in industry.
Gabby has a BS in Computer Science and was co-creator of a mobile game as part of the Drexel Entrepreneurial Game Studio as well as a Software Developer at Thomson Reuters and AGI. She is currently working on 3D geospatial open source software development at Cesium. Gabby has been involved with numerous volunteer efforts to promote women in computer science.
Gabby commented, "Geospatial tech is growing exponentially. I love that every day I'm doing something new that keeps me on the cutting edge. That's why I'm thrilled to get to be a part of SPAR 3D Expo & Conference 2019 and to receive this award! I'd like to encourage other young professionals to pursue this award in the future and to bring more young and diverse talent into the field."
Gene Roe, Founder of Lidar News noted, "The review panel wants to thank everyone involved for their support and interest. We regret that there could only be one winner, but the panel would like to also recognize Derek Shanks, Product Manager at Trimble and Ryan Rideout, Arch III at Perkins and Will who make up the YGP of the Year Top 3 for 2019."
After accepting her award, Gabby delivered a short presentation entitled "Why 3D?" which explored the need for 3D mapping across many industries and why maps which claim to be 3D are actually 2.5D.
In addition to the creation of the Younger Geospatial Professional of the Year Award, a LinkedIn YGP group has been created to encourage, promote, foster, and mentor the education, training, and development of younger geospatial professionals around the globe. "Members of the geospatial community, young and old, are encouraged to join this group to be kept up-to-date on additional exciting events," said Roe, the group's administrator.