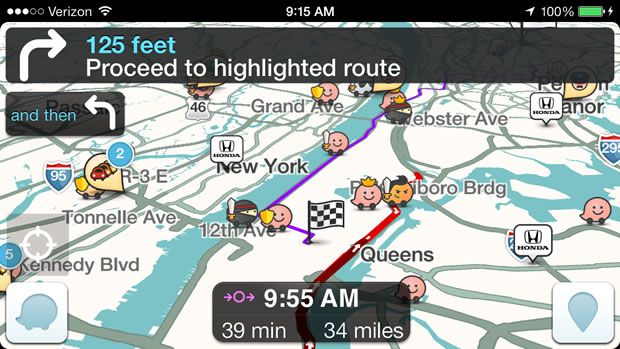 US: Google-owned navigation app Waze has released in-app voice recorder feature for iOS users that will allow you to record and use your own voice for various navigation commands in a language that you understand. Enabled with voice recorder support, the Waze update on iOS allows you to make voice packs for navigation and even allow you to share them with friends.
With version 4.26, Waze for iOS users can record their own voice (or someone else's) for different direction commands, and use them instead of the robotic one that Waze supplements as default. The voice recorder option can be found in the Voice Direction option by tapping the speaker icon at the bottom right of the main screen.
The default Waze voice for users in India is in Hindi going by the name Priya, but you can change to any other by going into the Voice Direction option. Apart from the other default languages, there's now a new Record new voice option in the app as well. Tapping on it cautions you to be extra clear for safety reasons, as these voices are used to guide you on the road.
After reading the warning, the app shows a bunch of pre-selected phrases for you to record. This includes phrases like 'All set. Let's go!', 'Start driving', and instructions like 'Keep left' or 'Keep right'. Any of the phrases, instructions, distances, or reports that you don't record will default into a Waze voice automatically. You can record these phrases in any language, making it easier for users to navigate around town in their local tongue if they so prefer.
After recording, you can also play the clip and delete it if you think it's not up to the mark, and record again. Waze also gives you the option to save your voice with a unique name on the app. Once you're done recording the voice and saving it, Waze also allows you to share it with friends via various social channels who can then use and share it freely as they desire.
This feature can prove to be a nifty workaround offered by Waze to allow more people to use the app featuring their voice, irrespective of the supported app language. However, there can be some really mischievous pranks like suggesting someone to turn left while they have to turn right.
This feature can also be used to modulate someone's voice to sound like some celebrity with some software's help. In any case, this feature is now live for both Android and iOS users, and the latest versions can be downloaded from Google Play Store and Apple App Store respectively.