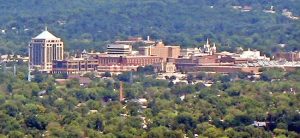 US: Informational kiosks, which hadn't been updated in about 10 years, have been replaced with newer maps at Third Street in downtown Wausau in Wisconsin, US. The goal of this exercise is to allow visitors to easily compare mobile maps and the kiosks and see a clear similarity.
As summer is a popular time for people to be in downtown, the kiosks aim to make them navigate better. The maps will include updated listings of downtown business, and are color-coded by use of property, according to the Wausau River District.
The colors correspond with food and drink, services, residential, government/information, churches/nonprofits and hotels. The maps depict about 34 blocks of the downtown area, on the east and west sides of the Wisconsin River.
The kiosks are located at the intersection of Washington Street and Third Street next to the Diamond Showcase, Jefferson Street and Third Street next to Malarkey's Pub, Scott Street and Third Street next to Vigil Trust, and at McClellan Street and Third Street next to Back When Cafe.
The maps were designed by Adrenalign Marketing, and sponsored by area businesses.
Source: WDH