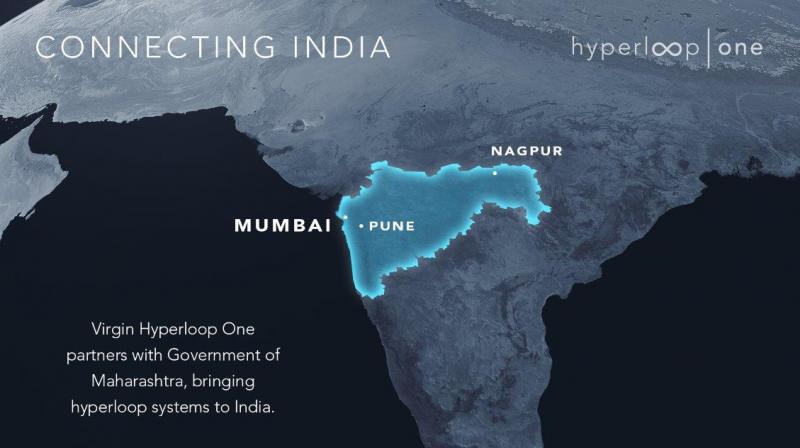 The future of transportation in India will soon see a transformation with the Virgin Hyperloop One. The Indian State of Maharashtra has announced their intent to build a Virgin Hyperloop between Pune and Mumbai, beginning with an operational demonstration track.
Indian Prime Minister Narendra Modi, Chief Minister of Maharashtra Devendra Fadnavis and the Virgin Hyperloop One team signed a Framework Agreement for the project. The hyperloop route would link central Pune, Navi Mumbai International Airport, and Mumbai in 25-minutes and connect 26 million people. Supporting 150 million passenger trips per year, it would help create a thriving, competitive megaregion.
"A hyperloop route requires high-density traffic to become viable as a means of rapid public transit. Mumbai and Pune, the most and seventh most populous cities in India respectively, have the potential to provide an optimal route with a high density," said Hon. Chief Minister  of Maharashtra, Shri. Devendra Fadnavis. "By reducing travel time to under 20 minutes, a hyperloop route will help intensify the connectivity between the metropolitan regions of Pune and Mumbai, transforming the two cities into India's first and largest Megapolis," he added.
On the occasion Virgin Hyperloop One Chairman Richard Branson said, "I'm incredibly excited about the potential to truly transform not just transportation, but wider society." Virgin Hyperloop One can Richar help India become a global transportation pioneer and forge a new world-changing industry. As our team's studies have found, the Pune-Mumbai route could result in USD $55 billion (INR ₹350,000 crores) in socio-economic benefits, time savings, accident reduction and operational cost savings, over 30 years of operation.
The high-capacity passenger and cargo hyperloop system will create tens of thousands of jobs, helping to attract new business and investment in the region. The 100% electric, efficient system will also ease severe expressway congestion and could reduce greenhouse gas emissions up to 86,000 tons over 30 years.
The Pune-Mumbai route is an ideal first corridor as part of a national hyperloop network that will dramatically reduce travel times between most of India's major cities to under two hours. Virgin Hyperloop One is the only company in the world that has built a fully operational Hyperloop system.