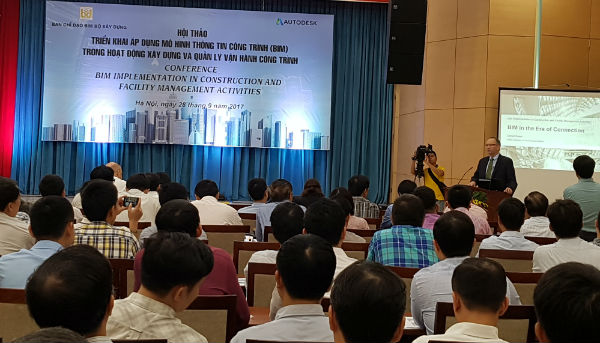 Vietnam: Vietnam government is taking the support of Autodesk to reform construction industry.  The Institute of Construction Economics (ICE), the Ministry of Construction (MoC), and the standing agency of BIM Steering Committee have collaborated with Autodesk to drive BIM awareness and application in construction and facility management activities.
Autodesk will advise on BIM global best practices, and use their experience in working with governments around the globe in successfully implementing BIM guidelines and mandates.
The BIM Steering Committee, headed by MoC's Deputy Minister Le Quang Hung, comprises of 14 representatives from the Ministry of Transport, the Ministry of Trade and Industry, the Ministry of Agriculture and Rural Development, and the Ministry of Planning and Investment.
Daniel Green, Asia-Pacific and the Caribbean director of Government Affairs of Autodesk, said "Vietnam's growth in the building and construction industry will be further accelerated with the adoption of BIM. Successful implementation begins with the right framework, technology and training. We have supported many governments on this journey and are committed to helping Vietnam's BIM Steering Committee achieve its goals."
In his position as Autodesk's APAC director of Government Affairs, Daniel Green will serve on the expert panel to advise the BIM Steering Committee.
BIM will equip Vietnamese architecture, engineering and construction (AEC) professionals with the skills and tools to design, construct, and operate buildings by creating and using intelligent 3D models. With assistance from Autodesk, the Steering Committee will overlook three key phases laid out by the PM.
The first, to be implemented in 2017-2019, is raising awareness and encouraging companies to explore BIM implementation.
The BIM Steering Committee will develop a framework and training materials for BIM training, seminars and workshops to improve BIM capabilities for construction organizations, project management, project owners, and consulting companies.
The committee will also do research and come up with solutions to improve regulations on construction investment, quality assurance, and construction maintenance, as per BIM standards.
The second phase (2018-2020) will implement and evaluate BIM in pilot projects.
Investors, project management committees, consultancy organizations, and construction contractors will receive consultation to overcome challenges during the BIM utilization process.
The third phase (from 2021 onwards) is the nationwide BIM roll-out. Based on the evaluation of the pilot implementation results, MoC will issue detailed guidelines for the wide application of BIM in construction and facility management.
Applying BIM will enhance the productivity, quality, and efficiency of investment in construction and facility management, and will serve as a central solution to approach Construction Industry 4.0.
The partnership with Autodesk, which has an illustrious track-record of supporting governments in implementing BIM, will facilitate the roll-out of the scheme in Vietnam to complete the objectives laid out by the prime minister.