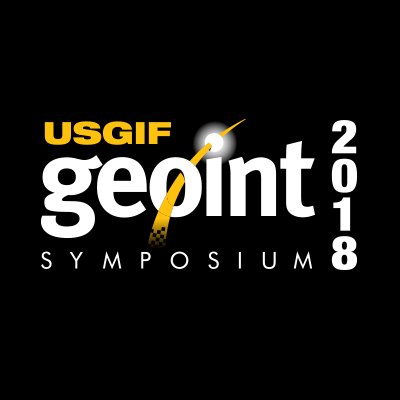 US: The United States Geospatial Intelligence Foundation (USGIF) announced this week the 2018 recipients of its annual Awards Program. Award winners were recognized on the main stage at USGIF's GEOINT 2018 Symposium, taking place April 22-25 at the Tampa Convention Center.
The USGIF Awards Program annually recognizes the exceptional work of the
geospatial intelligence tradecraft's brightest minds and organizations pushing the
community forward. Award winners are nominated by their colleagues and selected
by the USGIF Awards Subcommittee.
"As with all previous awardees, each of the individuals and teams selected for the
2018 USGIF Awards have a wonderfully unique story to be told," said Kevin Jackson,
USGIF Awards Subcommittee Chair. "Stories of exceptional achievement that
develop, promote, and advance the GEOINT tradecraft, but more importantly,
positively effect our lives and the lives of others all around the world."
The 2018 USGIF Award winners are:
Academic Achievement Award
Dr. Kathleen M. Carley, professor, Carnegie Mellon University
Carley is director of the Center for Computational Analysis of Social and
Organizational Systems at Carnegie Mellon University as well as CEO of Netanomics.
She founded the area of Dynamic Network Analysis, and her pioneering work led to the development of new theory, metrics, and algorithms for the analysis, visualization, and simulation of high-dimensional geospatial dynamic networks, which are encapsulated in the commercially available ORA tool. ORA's geo-temporal capabilities are used throughout the world and have supported missions in Iraq and Afghanistan, a Twitter-based tsunami warning system for Indonesia, NATO exercises, and assessment of medical service provisions.
Community Achievement Award
Foundation Career Service Team, National Geospatial-Intelligence Agency
The Foundation Career Service Team focuses on the technical and professional
growth of NGA employees to ensure NGA's GEOINT products, services, and technology meet today's mission needs and the agency is prepared for future geospatial trends and capabilities.The team is expanding the agency's partnerships by embedding NGA employees with industry and government programs to exchange best practices, adopt new processes, and bring that knowledge and expertise back to NGA for development and application. The team's partnership with NGA employees, foundation GEOINT mission managers, and the GEOINT Community deliver meaningful customer consequence and success.
Government Achievement Award
Glen Canyon Dam Modeling Team, the U.S. Bureau of Reclamation and Autodesk
Inc.
The U.S. Bureau of Reclamation and Autodesk Inc. collaborated on the creation of
comprehensive 3D models of the Glen Canyon Dam and Powerplant. This 50-year-old
national critical infrastructure facility on the Colorado River manages water resources and hydropower production. Using laser scanning and surveying equipment, photogrammetry, unmanned aerial and SONAR vehicles, watercraft, and a helicopter, data was gathered and merged via Autodesk software to create the first comprehensive 3D models of the facility. The models will be used for facility management, design, construction, operation and maintenance, security, GIS, and visualization.
Industry Achievement Award
SpaceNet Team
SpaceNet is an online repository of freely available imagery, co-registered vectors
identifying features, and a series of prize challenges designed to accelerate innovation in machine learning. SpaceNet was launched in August 2016 as a collaboration among CosmiQ Works, Radiant Solutions, and NVIDIA. Previously, little high-resolution satellite imagery was accessible for computer vision research. The SpaceNet team created a dataset with more than 5,700 square kilometers of DigitalGlobe imagery, 685,200 building footprints, and 8,000 kilometers of road hosted on Amazon Web Services. Algorithms developed using SpaceNet help automate foundational mapping and benefit end users from first responders to intelligence analysts.
Military Achievement Award
Dr. Richard Massaro, USACE-ERDC Geospatial Research Lab
Massaro is a physical scientist with the U.S. Army Corps of Engineers-Engineer Research & Development Center Geospatial Research Laboratory in Alexandria, Va. He is recognized for his development and subsequent fielding of full-motion video to- 3D (FMV-to-3D) mapping software. FMV-to-3D is a combination of GOTS and COTS software enabling soldiers to automatically create 2D and 3D maps from any DoD FMV streams. Massaro earned a bachelor's degree in physics from James Madison University, a master's degree in astronomy from Boston University, and a Ph.D. in computational science from George Mason University.