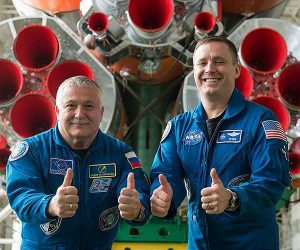 US: The United States intends to order the manufacture of Russia's Soyuz spacecraft to fly its astronauts to the International Space Station (ISS) in 2020 due to a delay in production of the US-made commercial spacecraft, a space industry source has told Sputnik.
"Negotiations are underway to order the manufacture of Soyuz manned spacecraft. Its production and flight to the ISS will be fully paid by the US side. The crew will include two US astronauts. The spacecraft will be piloted by a Russian cosmonaut," the source said.
According to the source, Russia's Rocket and Space Corporation Energia and US aircraft manufacturer Boeing are expected to sign a relevant contract.
A previous international expedition, which included Russian cosmonaut Anton Shkaplerov, NASA astronaut Scott Tingle and JAXA astronaut Norishige Kanaiwas, was sent to ISS on a Russian Soyuz-FG carrier rocket with the Soyuz MS-07 manned spacecraft last December.
Note: This was originally published on Sputnik News