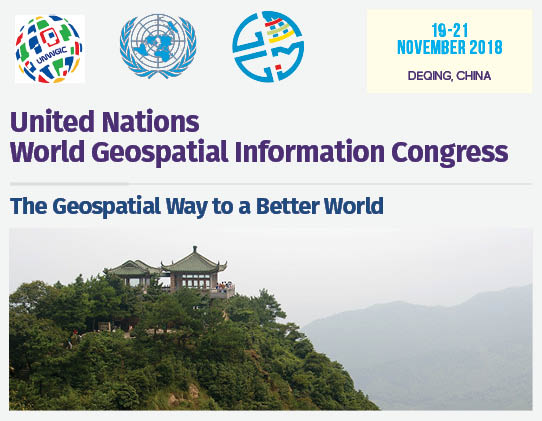 China: UNWGIC is scheduled to be held in Deqing, Zhejiang Province, China, from 19-21 November 2018. It is an excellent step by UN-GGIM to provide a convening, participatory and inclusive environment to enhance communication, understanding, knowledge and application of geospatial information management. Based on the theme, "The Geospatial Way to a Better World," the Congress is organized by the United Nations through its Department of Economic and Social Affairs, with the support of the Government of China through the Ministry of Natural Resources and the Zhejiang Provincial Government.
Going ahead, UNWGIC had its first partnership communication meeting in the last week of July. At the same, Mr. Chen Jianguo, Deputy Secretary-General of the UNWGIC Secretariat and Deputy Secretary-General of the UNWGIC, and representatives from 5 companies, including Alibaba, Qianxun SI, Baidu, Zhengyuan Geomatics, EV-Image and Shine Technology, signed a letter of intent for partnership.
UNWGIC will be a truly global event bringing together a diverse group of geospatial leaders and actors from all stakeholder groups, including: national and international geospatial agencies and systems; academia; industry; the business community; the private sector; and civil society; to exchange ideas, showcase innovations, identify solutions, discuss future strategies, and provide mutual learning opportunities on a wide variety of topics organized across 6 thematic areas of the Congress.
What's in store?
As an important part of the UNWGIC, the Geospatial Technology and Application Exhibition will be organized. It will showcase the state-of-the-art technologies, products and application solutions from the world's leading companies, academic and research institutions, as well as other related organizations from across the globe. The Exhibition will focus on four major areas: Intelligent Equipment, Smart Applications, Location-Based Services, and Future Life.
The 3-day event will include highly informative sessions for the geospatial community to engage and evolve. The Plenary Sessions will include:
Ministerial Dialogue: Towards a more sustainable world for all
Plenary 1: Sharing the digital economy
Plenary 2: Attaining sustainable development
Plenary 3: Building smart societies
Plenary 4: Growing international cooperation
The Congress will be comprehensive, comprising a series of thematic streams that stem from the overall theme of the Congress, principally focusing on strengthening national geospatial information management and systems, and national implementation of the 2030 Agenda for Sustainable Development. The intriguing themes of the Congress are:
Measuring and Monitoring the SDGs
Digital Economy, Location Analytics and Big Data
Smart, Resilient and Sustainable Societies
Growing Global Geospatial Capability and Capacity
Geospatial Innovation, Science and Technology
Digital Silk Road and International Partnerships
Sustainable Development in Action
All the geospatial professionals from governments, non-governmental organizations, academic and research institutions and the private sector are cordially invited to participate in the UNWGIC and contribute to the program, so as to work together to advance the potential and usefulness of geospatial information for sustainable development and towards a better world.
For UNWGIC press enquiries:
Geospatial Media and Communications
About UN-GGIM
The United Nations Economic and Social Council (ECOSOC) established the Committee of Experts as the apex intergovernmental mechanism for making joint decisions and setting directions with regard to the production, availability and use of geospatial information within national, regional and global policy frameworks. Led by United Nations Member States, UN-GGIM aims to address global challenges regarding the use of geospatial information, including in the development agendas, and to serve as a body for global policymaking in the field of geospatial information management
About UNWGIC
Initiated by the UN-GGIM, United Nations World Geospatial Information Congress (UNWGIC) is aimed to provide a convening, participatory and inclusive environment to enhance the communication, understanding, knowledge and application of geospatial information management to address local, regional and global challenges, and to enable UN-GGIM to better understand and address the development of geospatial information management of Member States, mobilize willingness and resources to improve geospatially enabled governance of Member States, enhance the best and highest application of geospatial information for evidenced-based policy making and citizen-centric services in Member States, enhance the regional and global geospatial information sharing systems, and crucially, support geospatially enabled sustainable development that leaves no one behind.