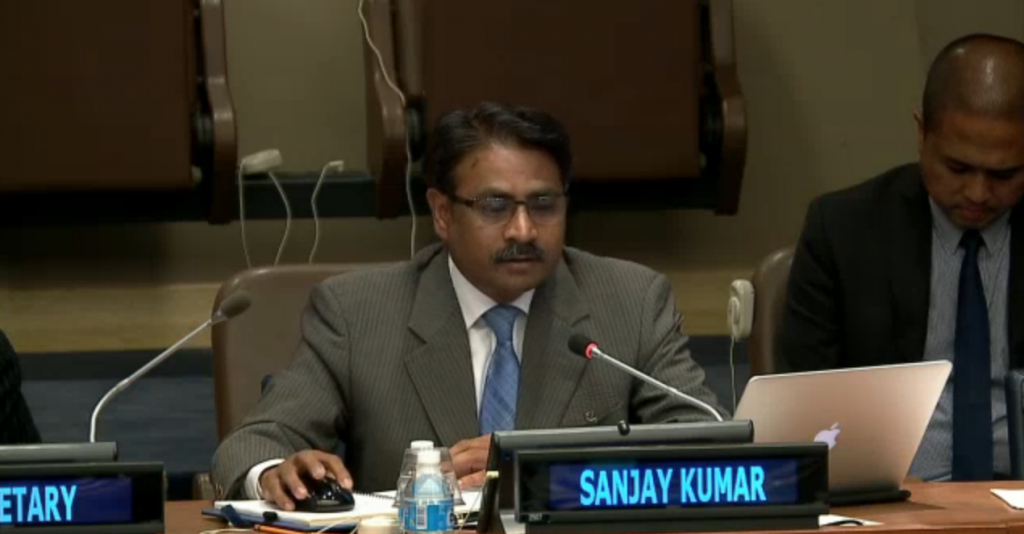 US: Members and representatives of the Private Sector Network (PSN) met at the UN-GGIM meet in New York, on Friday this week. The meeting was called to discuss the proposal of creating a UN-GGIM Private Sector Network (PSN). The agenda included the governance and structuring of the PSN.
Members and representatives of various private sector firms presented views on the need to form a body focusing on geospatial matters in the UN. Sanjay Kumar, CEO of Geospatial Media and Communications also participated in the meet. In his address, Kumar expressed the role Geospatial Media and Communications has played all these years in building business in the industry.
"I have been involved in my individual capacity as well as my organisational capacity in this whole process for last six years. I can imagine and appreciate the hardwork done by the team. Especially the ECOSOC resolution which was adopted last Wednesday," Sanjay said.
"It was a great milestone and Under Secy General in the morning emphasised about that. It is a significant contribution as well as commitment of the UN to promote and facilitate uses of geospatial information in several development objectives and especially in the light of sustainable development goals," he added.
Watch Sanjay Kumar, CEO of Geospatial Media and Communications, addressing the UN-GGIM Private Sector Network (PSN) meet.
The vision of establishing an active Private Sector Network (PSN) is to work in a mutually beneficial collaboration with the members of UN-GGIM to play a leading role in setting the agenda for the development of global geospatial information and to promote its use to address key global challenges, enable citizen services and support the initiatives of the United Nations, particularly the global development agenda.
The purpose of the Private Sector Network (PSN) is to:
Facilitate a direct connection and communication for the private sector to work with Member States towards achieving success in global geospatial initiatives;
Facilitate an ongoing dialogue for collaboration between and amongst members of UN-GGIM and participants of the PSN to develop, build and extend the world's capacity to benefit from geospatial information, enabling countries to build capacity in geospatial information, technologies and services;
Create opportunities to assist UN-GGIM in developing policies, processes, practices, capacities and recommendations for geospatial information infrastructure at national, regional, and global levels.