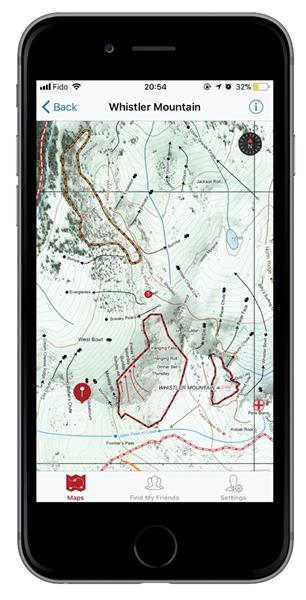 Canada: A Canadian digital adventure mapping company, ULLR Maps, has launched its first adventure maps of Whistler Mountain and Blackcomb Mountain. The app uses advanced cartography to provide detailed, topographical maps of the mountains plus real-time GPS pinpointing.
One of the most impressive and differentiating features of the app is its real-time GPS pinpointing which provides precise GPS coordinates and re-orients with the skier. Visitors, who are new to the mountain, local legends and every other mountain user, the app allow them to track each individual through GPS.
The app also has safety features including an information screen where you'll find your current location (coordinates) as well as the local agency responsible for rescues, including ski patrol and SAR. The user-friendly app also includes colour-coded maps which show the difficulty level of runs, as well as information such as ski lift locations.
"ULLR is the Viking God of snow and the honorary god of Whistler so the name is very apt. While the first maps are of Whistler and Blackcomb, we plan to branch into other locations and other adventure sports. We are already investigating other areas in the Sea to Sky Corridor, and I see applications for adventure sports such as biking, kayaking, kite surfing in remote areas like mountains and oceans where traditional maps don't provide the kind of detail adventurers need," shared ULLR Maps co-founder, Louis-Vincent Gave.
ULLR Adventures Maps offer easily-accessible and intuitive interactive maps to a wide demographic and are designed for everyone to use. This app will bring together like-minded people while offering an aspirational, global platform to entice people to seek adventure. You can learn more about this app at www.ullrmaps.com plus download the app in the App Store or Google Play.
Available for downloading, the concept of this app has been brought to market in time for the 2017/2018 ski season.