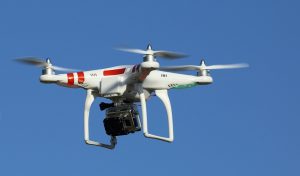 UK: The UK-based facilities management company, Mitie has unveiled its plan to offer drone service to people to check the birds nests on their roofs. The company said the drones will enable it to inspect properties and use thermal sensors to find out whether there are pests, such as seagulls, in buildings up to 400ft without the need for specialist equipment.
The data will be then processed by a smartphone or tablet, reducing the need to send people to investigate. Mitie provides facilities, property and energy management for a number of public and private sector businesses, offering services such as cleaning, landscaping and security, including for events such as the Chelsea Flower Show.
It has trialled the drone service in its pest control business, inspecting roofs for gull's nests, but hopes to extend the service across a range of its businesses. It has plans to use drones for general building damage inspections, security, looking at whether buildings need cleaning and to carry out aerial mapping for its landscaping service.
Peter Trotman, managing director of Mitie's pest control business, said: "Drone technology is great innovation which increases our safety when working at height and it also offers both cost and time efficiencies compared to traditional surveying methods."
Once the preserve of the military, the use of unmanned aerial vehicles has soared in recent years, despite fears that they pose security and safety threats.
Other pest control companies, including Rentokil, have indicated that they have considered using drones, and some companies have manufactured specialist drones which mimic birds of prey to scare smaller birds.
Royal Mail, DHL and Amazon have all mooted using drones to deliver parcels, and Network Rail has pointed to their use as a way of surveying the UK's railways. Meanwhile, companies such as Shell are trialling using drones to check on hard-to-reach energy plants.
But the House of Lords' EU committee has called for the compulsory registration of all commercial and civilian drones, amid growing concern over the use of drones by private individuals with little knowledge of aviation rules.
All of Mitie's drones will be operated by licensed Civil Aviation Authority members, the company said.
Source: Telegraph