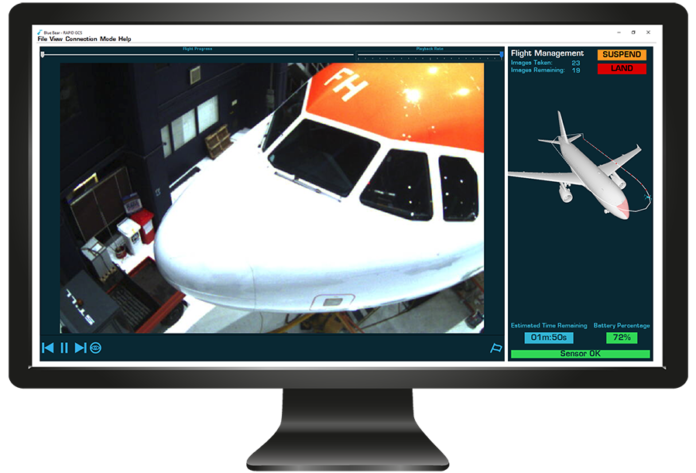 US: Ubisense Group, a global leader in enterprise intelligence solutions, has announced a partnership with pioneers of autonomy and creators of innovative aviation software products, MRO Drone, to offer the world's first 'Smart Hangar' solution, combining automated aircraft inspection with automated tool and asset management to improve efficiency and increase productivity for MROs.
Developed for operations, compliance and quality teams, Smart Hangar combines MRO Drone's Remote Automated Plane Inspection and Dissemination (RAPID) drone, which Easyjet has successfully trialed and is now considering implementing at its European bases; Ubisense's Enterprise Location Platform SmartSpace for tooling, asset and compliance management and Dimension4, Ubisense's best-in-class precision real-time location system. Ubisense's technology is used by 9 of the top 10 global automobile manufacturers around the world plus leading aerospace manufacturers including Lockheed Martin and Airbus.
With Smart Hangar, drone-based aircraft damage inspection reduces Aircraft on Ground (AOG) time by up to 90% and introduces measurable efficiencies across fleet maintenance. It enables increased productivity and reduction in delays through real-time visibility of tools and equipment, reliable staging of work packages and, sensor-driven feedback of work-package execution.
Richard Petti, CEO of Ubisense, said: "Location is a key enabler for new solutions coming to market in the MRO space and SmartSpace's ability to work with other systems makes it the perfect software platform for many new technologies. SmartSpace enables OEMs and MROs to close a fundamental data-gap between their production systems and the real-world physical activities that drive their product and value creation through the creation of digital twins. Our partnership with MRO Drone forms part of our ongoing strategy to link with other leading technology developers to offer best-in-class solutions that meet our customer's specific challenges."
Gavin Goudie, CEO of MRO Drone, said: "The vision of MRO Drone is to produce innovative, integrated hardware and software tools to allow Airlines and MROs to conduct safer engineering inspections more efficiently than traditional methods. Partnering with Ubisense both compliments and enhances our respective technologies and creates world-class next-generation engineering capability for airlines and MRO"
Ubisense SmartSpace is proven to remove many of the challenges faced by operations, compliance and quality teams in MROs, including:
Wasted time searching for roaming tools and equipment
Incorrect staging of tools and equipment in work zones
Uncoordinated use of shared tools and equipment across multiple work zones
Tools and equipment not returned to approved storage locations as scheduled
Inability to tie maintenance and calibration schedules to real-world utilisation
Incorrect parts or subassemblies being fitted
Complex and time-consuming paper-based build and attestation records
Using out-of-calibration tools
Cost of supporting certification and compliance audits