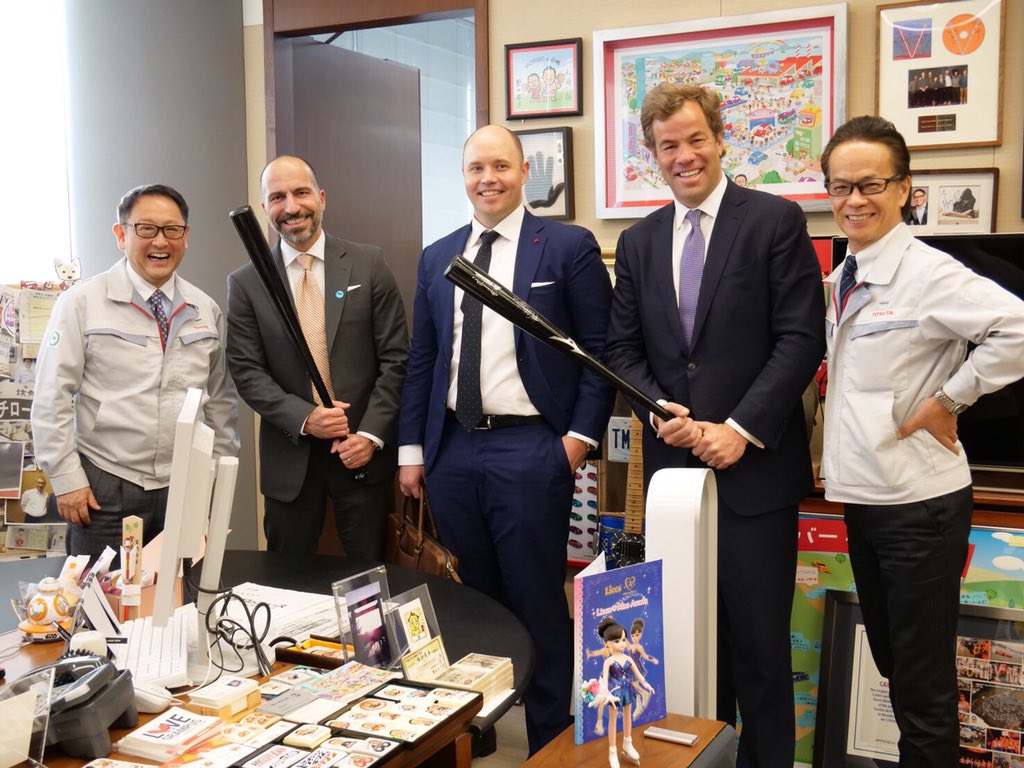 Japan: Japanese Motor Corp. Toyota has joined hands with Uber Technologies to make the autonomous driving technology sweep through the transportation industry. Uber and Toyota have given few details of their collaboration on autonomous technology before, though both have been active in the field separately. Toyota bought a stake in Uber in 2016, without disclosing the size or the reason for the investment.
On Thursday, Dara Khosrowshahi, CEO for Uber Technologies, posted a photo of him on Twitter with Toyota Motor Corp. President Akio Toyoda, along with Executive Vice President Shigeki Tomoyama at the automaker's headquarters. The Uber CEO is smiling and holding a black baseball bat from local hero Ichiro Suzuki, while Toyoda laughs at his side.
"Having fun with Akio-San and Tomoyama-San @ToyotaMotorCorpHQ," he wrote. "Great discussions about growing our #autonomous partnership and lessons 4 me in building a great culture. And yep, those are Ichiro's bats."
Khosrowshahi is looking to move past an embarrassing legal battle with Alphabet, which alleged that Uber stole autonomous driving secrets from it. Having settled that case this month for about $245 million (about ¥26 billion), Khosrowshahi's meeting with Toyoda shows his commitment to continue developing the technology with partners. For Toyota, closer ties could help it keep up with rivals like Nissan Motor Co., which is working on its own autonomous solution.
"We have a very budding partnership with Toyota," Khosrowshahi told investors at an event on Tuesday. "We have to make sure we have access to leading autonomous technology. And that means having access to it in a timely manner. I do believe we can develop our own autonomous technology that we're doing, and at the same time partner with other players in autonomous technology."