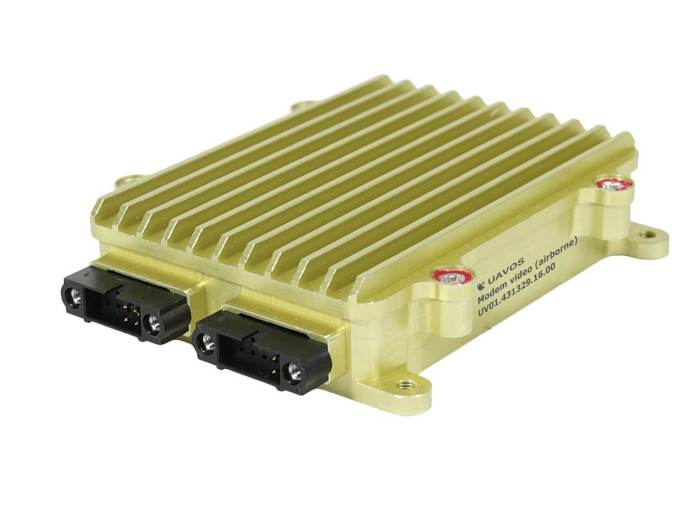 USA: UAVOS has announced the release of the pMDDLRadio Data Link, an advanced UAV communication system aimed at the unmanned systems market. The pMDDLRadio is an easy plug & play device, which gives a solution that packages all drone communication into a single RF channel, except using separate solutions for control, telemetry and payload, thereby decreasing costs and weight. 
The system uses open architecture and enables full duplex wideband with cybersecurity protection, digital link, error correction techniques and high-rate communication in the Uplink (UPL) and Downlink (DNL) channels.
Having a weight of 23g, dimensions 40x50x12mm, and power transmission of up to 1 Watts, the pMDDLRadio is ideal for UAV, UGVs (unmanned ground vehicles), and other robotic applications. Advanced system complies with aerospace standard DO-160 a range of power supply. The pMDDLRadio can be used both as an Airborne Data Terminal and as Ground Data Terminal. It can download real-time video images, data and information from most available sensors.
Aliaksei Stratsilatau, UAVOS Chairman of the board and Lead developer said, "Combining proven technologies, miniaturization, and advanced algorithms, the new pMDDLRadio Data Link System provides real-time secured information from unmanned platforms as well as from a range of different sensors, and allows enhanced situational awareness for better decision making. UAVOS's high-end communication systems have already been installed on our unmanned helicopters, as well as on Fixed Wing UAV. 
Some of pMDDLRadio data link key features include:
Superior UAV communication through N-LOS and Urban areas using proprietary radio technology that finds its way around obstructions to carry a clear and solid radio signal
Line-of-Sight range of 40 – 120 miles
Broadcast
Security and encryption with the addition of Mobilicom's advanced proprietary encryption mechanism
Broadband link enabling real-time full HD video
Single link for control, telemetry and real-time full HD video
Small form factor and lightweight