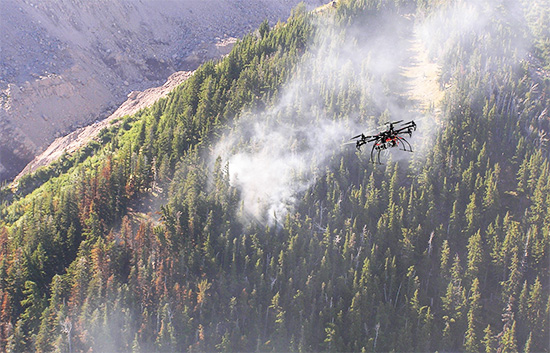 India: The Bandipur Tiger Reserve of the Indian state of Karnataka has announced of using an Unmanned Aerial System (UAS) to spot forest fire. This is the first time in the country when drones are being used as a pilot project, according to HC Kantharaju, Director, Bandipur Tiger Reserve.
In an interview given to a news website, Kantharaju said, "We are using a drone in the fringes of the forest which has proved very useful in fire prevention, conservation and also created a psychological fear amongst the 'unauthorised' persons entering the forest."
"With the use of drone every day twice for the last one month has proved very useful and has added to our conservation efforts," he added.
The drone hovers will be used to record both high definition video and photographs of the forest. They are also analysing the data using 'Hejje' (pugmark), an Android-based application for coordinating foot patrolling of forest guards and tiger tracking.
Kantharaju said that they are going to use multiple drones in future to integrate conservation and also prevent poachers from entering the forest.
According to the project director, the drone can fly up to a height of 900 metres but the authorities are using it at low altitudes and this has caught the attention of the local community on the fringes of forests, he added. The battery-operated vehicle can fly up to 40 minutes and has been used at Hediyala, Nugu, Gundre, N Beguru and Moleyuru under Bandipur forest range.