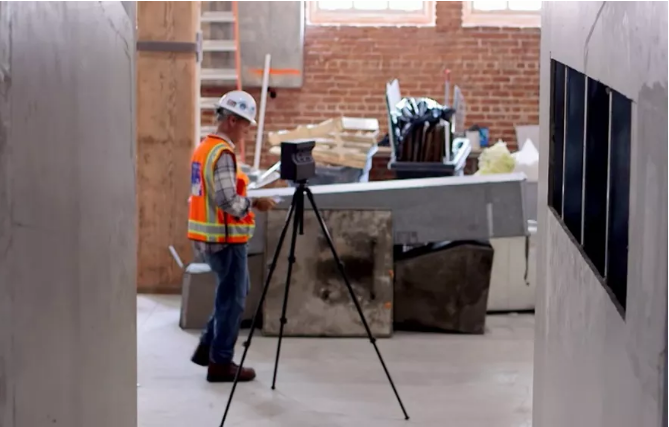 US: Turner & Townsend has adopted Matterport technology for launching 3D virtual tours as part of its documentation process for site compliance and reporting.
Matterport allows users to quickly and easily capture real-world spaces with its Pro2 camera in order to create 3D virtual tours, floorplans and precision photography.
The technology has the flexibility to integrate into BIM, helping firms more accurately document key construction milestones and effectively communicate progress to project stakeholders, providing transparency throughout all phases of a project.
The technology will be used by Turner & Townsend to create efficiencies in documentation, information sharing between project managers, and client reporting across seven different facilities.
T&T is working on a number of notable projects, including the 1.5m sq ft £470m mixed-use Sheffield Heart of the City II development, which it is project and cost managing. The project is due to be fully complete in 2024, with the initial phase scheduled for completion in 2019.
Nick Jones, director, project management at Turner & Townsend, said: "As a business, we are constantly seeking new and better ways to add value for our clients. It is our role to eliminate any grey areas in documentation and reporting. Matterport captures create a clear and absolute position which offers transparency and cuts down any contractual disputes.
"The potential for Matterport to be integrated with BIM technology makes the landscape for its future application vast. Using the Matterport 3D virtual tours means that those clients who don't want to get mud on their boots can have direct access to site progress, and we have a clear and honest depiction of work on site documented in an interactive format."
Bill Brown, CEO of Matterport, said: "Matterport technology was built to increase transparency, efficiency, and stakeholder communication, making it the perfect bedfellow for site documentation. Our 3D tours and Mattertag Posts – the annotation points embedded within each capture – allow for clear and concise reporting in an easy-to-use format.
"The software's accuracy and ability to be integrated into tech such as Procore and BIM360 make it the perfect technology for the construction sector."