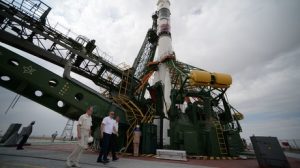 Turkey: With an eye to becoming a top player in global space technology, Turkey took a big step last week toward achieving its dream by establishing the country's first national space agency.
The Turkey Space Agency was founded to develop strategic plans with short- and long-term goals, which involve the creation of a competitive space and aviation industry.
Noticeably, the agency has autonomy in terms of finance and administration.
"Our dream of 20 years has come true," Mustafa Varank, Turkish minister of industry and technology, said at a recent meeting on the Turkish defense industry in the capital Ankara.
According to the minister, Ankara aspires to be among the top global players in space technologies with a view to developing an indigenous and strong defense industry.
In line with this vision, the new agency is tasked with designing and producing satellites, and launching equipment, aerospace platforms, simulators and space platforms, the official gazette said in its announcement of the program.
Abdullah Agar, a security expert, expected the agency, with all its potential to create brand-new projects, to make a notable contribution to Turkey's defense industry.
"The space agency will profoundly strengthen Turkey's hand against its rivals around the globe in the defense arena, helping the country to generate new partnerships," Agar told Xinhua.
In his view, every single success achieved in the field of space usually earns both a reputation and significant deterrence for a country.
"It is very apparent that in today's world, the high-technology weapons and their impact in the field are very critical for the defense industry," Agar said, referring to a technology-based race pushing the limits of creativity and innovation to new levels each day.
"Therefore, there is immense competition in the space which also includes air defense elements and annihilation systems," he added.
Turkey wants to obtain a firm position in the equation because "those who are strong in the space will have the supremacy in medium- and high-level air defense systems," the Turkish expert concluded.
Merve Seren, an academic from Ankara Yildirim Beyazit University, said the founding of the agency is one of the biggest promises of the ruling Justice and Development Party aimed at improving the country's defense industry.
Seren told Xinhua that the Turkish defense and aerospace industry has been undergoing a profound transformation since 2003 and has since launched remarkable defense projects involving the MILGEM battleship, the ALTAY main battle tank, attack helicopters, and unmanned aerial vehicles.
Additionally, Turkey has become one of the world's largest defense spenders with 15 billion U.S. dollars spent on defense in 2016, according to the state-run "Invest in Turkey" online platform.
The industry's exports, meanwhile, increased to 2 billion dollars in 2016, up from 600 million dollars in 2007.
"In that sense, the establishment of the space agency can be seen as a rather late move," Seren said, noting that Turkey and South Korea both launched their space activities in 2003, "but now South Korea is in a much more advanced position than Turkey."
In her view, the main reasons behind Turkey's delay were a shortage in human resources, insufficient research and development activities and a high level of bureaucracy.
"But from now on, the country will be in a position to overcome these obstacles more efficiently under the guidance of the agency," she said.
"It will have much more flexibility to conduct experimental space studies while being able to spend much time on sophisticated projects," Seren noted.
Turkey inaugurated its space activities in 2003 by designing and producing an earth observation satellite named Bilsat, followed by Rasat and Gokturk 2, both manufactured domestically in 2011 and 2012 respectively.
"Now the country will extend its existing cooperation with many countries, from China to Italy, and also develop new partnerships, in particular in the field of satellite diversification," said Seren.