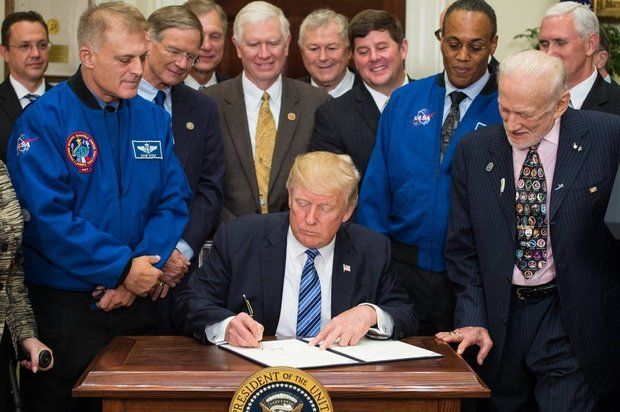 US: The long-anticipated National Space Council that will bring both military and civilian government space programs closer, was signed by President Donald Trump on June 30. Vice President Mike Pence will chair the council and become the president's chief adviser on national space policy.
The council could bring clarity and focus to the nation's space efforts, or it could create more confusion in an environment where civilian and military programs have different goals and operating systems. U.S. Rep. Mo Brooks (R-Huntsville), who represents the district that is home of NASA's Marshall Space Flight Center, attended the signing ceremony and was optimistic.
"The National Space Council will realign our nation's space policy towards national goals and assess possible gaps in government systems," Brooks said in a statement. "With the reestablishment of the National Space Council today, President Trump and Vice President Pence have put America back on a path to global leadership in space."
Here are the members of the council as spelled out in the order:
The vice president, who will chair the council; the Secretary of State; the Secretary of Defense; the Secretary of Commerce; the Secretary of Transportation; the Director of the Office of Management and Budget; the Assistant to the President for National Security Affairs; the Director of the Office of Science and Technology Policy; the Director of National Intelligence; the Secretary of Homeland Security; the Assistant to the President for Homeland Security and Counterterrorism; the Administrator of the National Aeronautics and Space Administration; the Chairman of the Joint Chiefs of Staff; and the heads of other executive departments and agencies and other senior officials within the Executive Office of the President, as determined by the chairman.
NASA is currently headed by Acting Administrator Robert Lightfoot, a former director of the Marshall center. Lightfoot praised the action late Friday.
The following is a statement from acting NASA Administrator Robert Lightfoot about Friday's Executive Order creating the National Space Council:
"I am pleased that President Trump has signed an executive order reestablishing the National Space Council. The council existed previously from 1989-1993, and a version of it also existed as the National Aeronautics and Space Council from 1958-1973. As such, the council has guided NASA from our earliest days and can help us achieve the many ambitious milestones we are striving for today.
"This high-level group advises the president and comprises the leaders of government agencies with a stake in space, including the NASA administrator, the Secretaries of State, Commerce, Defense, and others, and will be chaired by Vice President Mike Pence. It will help ensure that all aspects of the nation's space power — national security, commerce, international relations, exploration, and science, are coordinated and aligned to best serve the American people.  A Users' Advisory Group also will be convened so that the interests of industries and other non-federal entities are represented.
"The establishment of the council is another demonstration of the Trump Administration's deep interest in our work, and a testament to the importance of space exploration to our economy, our nation, and the planet as a whole."