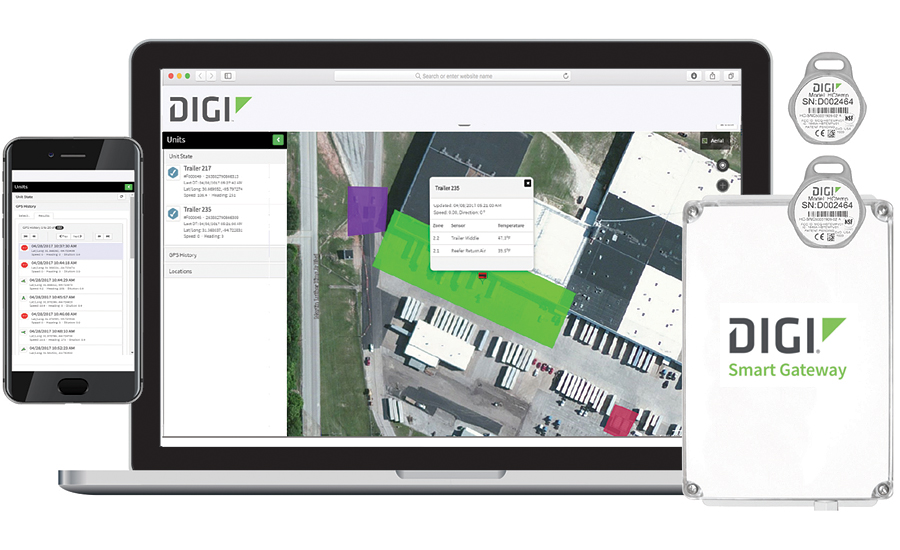 US: SmartSense by Digi®, a division of Digi International focused on the Internet of Things (IoT)-based condition monitoring, today announced that Trimble is integrating SmartSense continuous temperature monitoring for food safety systems to provide remote, real-time temperature data for their data aggregation and supply chain analytics platform. With this integration, users will have access to data aggregation via a single analytics platform providing a unified display of information from varied sources across multiple applications and environments. This heightened visibility into the perishable goods supply chain will enable informed business decisions based on analytical data to drive appropriate actions that preserve the quality of food products in transit.
This collaboration with SmartSense establishes an end-to-end integration flow of data by placing temperature sensors and cellular gateways on fleets of vehicles to collect and transmit information, making real-time temperature analytics available in Trimble's freight portal for the first time. Many of Trimble's wide range of users have a vested interest in ensuring that their goods maintain proper temperature in transit, be it to prevent food-borne illness, vaccine spoilage, or otherwise potentially dangerous situations regarding their products. As companies suffer damage to their brands following these types of mishaps, more organizations will require complete visibility into the level of care their products receive in transit.
"Our clients have the expectation that they will be able to view all of their cold chain data through a single pane of glass, and we realized that we weren't able to meet that expectation without supplying temperature data," said Joe DeBoth, SVP and GM, Trimble Transportation Visibility. "With SmartSense by Digi's cold chain monitoring solution and expertise, we were able to easily pull reliable data into our aggregation platform to offer real-time analysis and actionable insights."
"We collaborated with Trimble to create real-time shipment visibility that offers rich temperature control tracking and predictive analytics to perishable goods shippers and transportation providers," said Kevin C. Riley, SVP and chief operating officer, Digi International.
"This enterprise integration effort with Trimble allows us to expand the SmartSense brand by offering our temperature monitoring expertise to a major player in the supply chain data and analytics space."
SmartSense by Digi's IoT solutions are used for food monitoring, facilities monitoring, and supply chain visibility for the healthcare, pharmaceutical, transportation and logistics, and foodservice markets. SmartSense by Digi gives its customers a complete offering for their specific needs and allows easy access to critical data for informed, proactive decision-making across the enterprise.