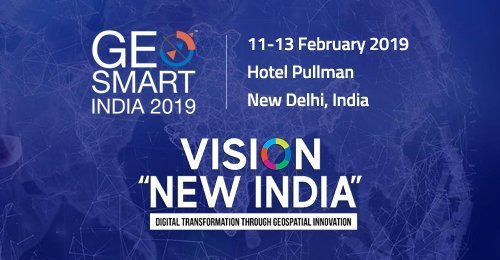 India: Geospatial Media and Communications is honored to announce 'Trimble', a global company which enables economic breakthroughs by its innovations as a Gold Sponsor at GeoSmart India 2019 scheduled from 11th-13th February'19 at Hotel Pullman, New Delhi.
The 19th edition of GeoSmart India with its' theme 'Vision New India' focuses on digital transformation through geospatial innovations. It is a platform where decision makers, policy developers, national mapping agencies, private sector enterprises, developmental organizations and academic institutions will come together to discuss policies, their implementations and impact and technological advancements and to connect these with the user communities for the benefit of all.
John Whitehead, Director- Asia Pacific, Trimble, stated that, "India is at a critical point in its adoption of geospatial technology in key sectors of the economy such as transportation infrastructure, utilities, and natural resource management, among others. There exists the potential for India to bypass years of gradual adoption of technologies such as robotics, laser scanning, GNSS, etc., their corresponding processing and analytics software and services. Indeed, the barriers for adopting these technologies along with those to come in the future have never been lower. With India's pent up demand for "smart" and sustainable development which so often must leverage geospatial information, this event provides an important platform that showcases where exactly the technology can facilitate and improve the nation's rapid development.
Trimble is ready to play our part in this exciting time. Please come see us at the conference exhibition, meet our new distribution partner, AllTerra. Take time to see the new Trimble MX9 Mobile Mapping System, the Trimble SX10 Scanning Total Station, and our C5 and C3 mechanical total stations. Share with us your challenges, understand what potential problems our solutions can solve, and get a view of Trimble's entire Geospatial portfolio."
Anamika Das, Vice President, Outreach and Business Development quoted, "I am incredibly excited to have Trimble, one of our Gold Sponsors at GeoSmart India 2019. It is fantastic to partner with Trimble as it is one of the most recognized organizations in the geomatics industry, offering many innovative solutions for a broad spectrum of applications which will fulfill our Vision of creating New India- Digital Transformation through Geospatial Innovation. I am proud to have this sponsor on board."
About GeoSmart India 2019
GeoSmart India with its futuristic themes is considered to be the most prominent stakeholder event of the Indian geospatial ecosystem. Moreover, it demonstrates the collective and shared vision of the Indian geospatial community. GeoSmart India uses the geospatial technologies as a backbone to set up systems that are efficient, comprehensive and inclusive. This will give rise to a digital world where efficient and smart systems will enable a clean, healthy, educated, complete, able and secure India.