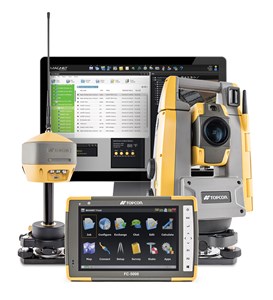 US: To provide professionals with a powerful and complete survey system, Topcon has come up with a new Topcon Elite Survey Suite that features four integrated solutions — three hardware products "fused" by a single software solution. The Elite Survey Suite, which includes the new GT series of robotic total stations, HiPer HR hybrid GNSS receiver, FC-5000 field computer and MAGNET 4.0 software system, provides Topcon flagship geo-positioning products and technology in one system.
"The individual products of the Elite Survey Suite were designed from the ground up to work together seamlessly through one software solution — a first of its kind in our industry — and one representing the fastest robotic motor total station technology in the market, the smallest and lightest GNSS rover in the industry, the latest advances in field computing and the pinnacle of software capabilities," said Jason Hallett, Topcon vice president of global product management.
The Topcon Ultrasonic Direct Drive motors available within the new GT series total station have a turning speed of up to 180 degrees per second. "It's the fastest robot on the market. The advanced UltraTrac Technology engine efficiently and dramatically increases power for prism tracking," said Hallett. "The total station is thirty percent smaller and thirty percent lighter yet still provides the highest levels of accuracy and performance. Fastest, smallest, lightest — that was our goal in building the latest GT series.
"Built on the foundation of the HiPer series of receivers, the new HiPer HR is the world's smallest and lightest GNSS receiver," Hallett said. "It is capable of tracking all constellations, all satellites, and all signals – available today and tomorrow. New GNSS technology augmentation integrated in the HiPer HR is TILTTM (Topcon Integrated Leveling Technology) functionality. TILT uses a 6-axis IMU (inertial measurement unit) and a 3-axis digital compass that together offer an advanced HiPer HR receiver with a 9-axis MEMS (micro electromechanical systems) to correct for mis-leveled measurements."
"This allows users to quickly and confidently take field measurements even in scenarios where getting the receiver into an exact vertical setup is difficult or not possible," Hallett said. The receiver comes with five versatile data communication options and an IP67 waterproof rating.