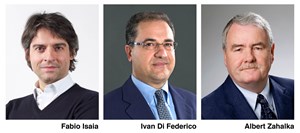 US: Topcon Positioning Group is forming the Topcon Agriculture Group that will further incorporate its precision agriculture business with recently acquired companies to create new connected field and farm management solutions for aftermarket and OEM customers. Global headquarters of the new group is Turin, Italy, with regional North American headquarters in Fort Atkinson, Wisconsin, U.S. and regional APAC headquarters in Adelaide, Australia.
"With our recent acquisitions of Wachendorff Elektronik, Digi-Star, RDS Technology and NORAC we now have the most extensive offering of field and farm management solutions in our industry," said Ray O'Connor, president and CEO of Topcon Positioning Group (TPG).
The new global headquarters in Turin, Italy, is also a result of this added emphasis on connected farming. "Our telematics division — Tierra Telematics Design — has been located in Turin since 2008 and has had great success in both the construction and agricultural markets, particularly with important OEM clients," said Ivan Di Federico, TPG Chief Strategy Officer and now also chairman of Topcon Agriculture.
"It is our objective to bring IoT (Internet of Things) solutions into the agriculture business that will link all the mechanics of farming to provide a workflow automation framework necessary to achieve sustainable and profitable agriculture."
"NORAC Systems, with its best-in-class boom height control systems," Zahalka said, "and the intelligent measurement systems produced by RDS Technology will continue to mainly provide core technologies and solutions to the global OEM markets."
Source: Topcon