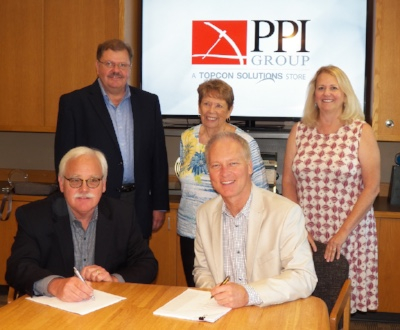 US: Topcon Positioning Group announces a new addition to the Topcon Solutions Store distribution network. PPI Group, a Topcon Solutions Store, is the latest positioning distributor to join the network with two locations in Portland, Ore. and Kent, Wash., bringing the total to 13 locations in North America.
"The addition of PPI Group to the network comes with longstanding, well-regarded customer support and business growth in the Pacific Northwest, and offers more than 90 years of experience in meeting industry professionals' needs," said Jamie Williamson, executive VP and general manager of the Topcon Construction and Retail Groups. "Now, joined under the Topcon Solutions Store business model, its strengths will be combined and leveraged with the capabilities and resources of the other locations as well."
Tigue Howe, president of PPI Group, a Topcon Solutions Store, said, "PPI Group has been offering expertise to our customers since 1927 — providing comprehensive field-to-finish solutions for the industry. As technology has advanced, PPI Group has always been at the forefront with emerging products, workflows and solutions to guide our clients to the highest productivity possible.
"Now, as part of the Topcon Solutions Store network, we look forward to enhancing those abilities with its comprehensive approach with even more resources over a much larger geographic area," he said.
PPI Group, a Topcon Solutions Store, will continue to represent and build on all the brands in its latest offering including its gold level status as a value-added reseller of Autodesk software solutions.
Williamson said, "The Topcon Solutions Store business model is dedicated to the concept of a holistic approach for exceeding the expectations of our customers. Industry professionals can count on the Topcon Solutions Store for a local partner to address all their positioning, design, and workflow solution needs. This newest member of the network in the Pacific Northwest region elevates our ability to provide that integrated service to a larger and expanding market."