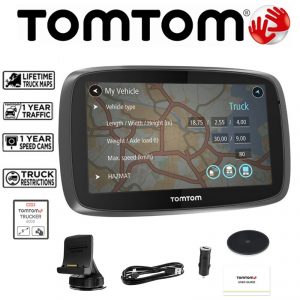 Netherlands: For heavy load trucking navigation, TomTom announced the launch of its TRUCKER 6000 Lifetime Edition on Monday. The satellite navigation is a complete package that is designed for professional truckers, which provides accurate, vehicle-relevant navigation, speed camera alerts, map updates and live traffic analysis, for the lifetime of the device.
Also, the satnav features a built-in SIM meaning that work abroad will be as care-free as a domestic trip, thanks to a lack of roaming charges. According to the company, the TomTom TRUCKER 6000 Lifetime Edition isn't only designed for professional driving though, as it can also be used in a driver's personal vehicle.
This device has a 6-inch touchscreen with tablet style pinch, zoom and swipe controls. Plus it can be docked and undocked easily with the unique Click & Go magnetic mount, making it secure. The TomTom TRUCKER 6000 Lifetime Edition is available immediately at selected retailers, and on the TomTom website.
In the four customer facing business units of Consumer, Telematics, Automotive and Licensing.